Spring brings rain, but it also brings a sense of renewal. Many rites of spring celebrate traditions created hundreds of years ago. Whether you visit with the Easter Bunny on a train ride, slide down the bunny hole or check out some very cool egg hunts, Easter offers wonderful opportunities to continue AND start new family traditions. There is something fun and exciting for everyone this Easter!
At Mommy University, we love finding holiday events that not only possess true holiday spirit, but also offer ways for kids to play, learn and grow. This season, we are sharing a list of amazing Easter events that also inspire learning. We have broken the list down into categories: museums, zoos, trains, farms, beaches and unique experiences. We will be updating this list as more events become available so keep checking back for more Easter fun!
2018 Family Fun Easter Events in NJ
Zoos
SpEGGtacular Hunt at Bergen County Zoo: On March 24th visit the Bergen County Zoo for some Easter family fun. Enjoy refreshments, story telling and crafts, then watch the zoo animals participate in their own egg hunt. Bring your own basket to collect eggs and take a picture with the Easter Bunny.
EGGstravaganZOO at Cape May County Zoo: On March 24, 10am-2pm, families can enjoy a fun and FREE Easter event at the Cape May County Zoo. The event includes an egg hunt, crafts, education stations, scavenger hunt, live animal encounters and more. Families can also take pictures with the Easter Bunny.
Easter at Rizzo's Wildlife World:  Rizzo's Wildlife World children can take photos with the Easter Bunny and for the children who are waiting can enjoy the exhibits, live animal show, and an egg hunt!  All of this is for the admission price on April 2.
Storytime with the Easter Bunny at Turtle Back Zoo: On March 30-April 1, children can enjoy stories, admission to the zoo and an animal demonstration at the Turtle Back Zoo to celebrate Easter. Children will also take photos with the famous bunny.
Museums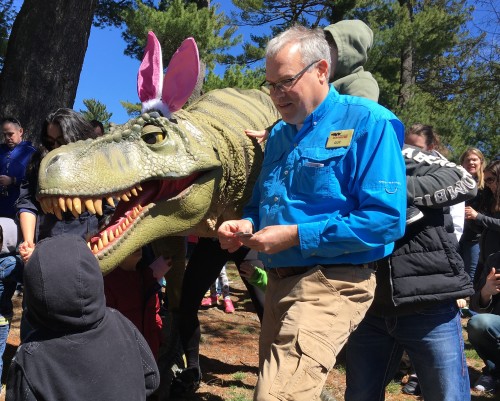 Brunch with the Bunny: Head over to the Garden State Discovery Museum on April 1, 2018 for a fun brunch provided by Silver Diner. Have your cameras ready for a meet and greet with the Easter Bunny too. When you're done, have fun exploring the museum!
Annual Easter Egg Hunt: On March 31 from the Liberty Hall Museum hosts two time slots for a Easter Egg Hunt!  Afterwards visit this historic museum that teaches us about American history.

Trains
Delaware River Railroad Excursions: Ride the Easter Bunny Train Ride and visit with the Bunny. Your ride will wind along the scenic Delaware River leaving from Phillipsburg. The destination will be the site of the historic Lime Kilns. Near the Lime Kilns is a beautiful little glade filled with Easter Eggs where each child selects four eggs.  Read our review here!
Easter Bunny Express at Whippany Railway: Join the Easter Bunny and train crew for a fun train ride through northern New Jersey! The Easter Bunny will greet everyone during the 45-minute round trip train ride.
Black River and Western Railroad: The Easter Bunny Express is a laid-back round-trip ride from Flemington to Ringoes and return. On board the train Peter Cottontail will visit each child, posing for photographs upon request. Each child receives a small candy treat. Your train ride is about 25 minutes from Flemington to Ringoes, followed by a 10-15 minute stop at Ringoes. During the layover you may use the restrooms, browse the gift shop, and visit the museum car. You will then re-board your train for the return trip to Flemington.

Farms

Easter and Springtime Family Festival at Alstede Farms: Beginning March 24th Alstede Farm presents Easter and Springtime Family Festival. Admission to the festival includes pony rides, wagon train, corn kingdom, easter egg hunt, visiting baby farm animals, photo opportunities with the Easter Bunny and much more.
Annual Easter Egg Hunt at Battleview: On March 24, Battleview Orchards hosts it's Annual Easter Egg Hunt.  Starting promptly at 1pm children ages toddler to 10 can seek out some of the 4,000 stuffed eggs in a designated area.  The event is free but they do request a donation of non-perishable food that will be given to a local food bank.
Breakfast with Easter Bunny at Alstede Farms: Back by popular demand! Families can enjoy breakfast with the Easter Bunny and then enjoy a fun day on the farm!  Meals take place on March 24, 25, 30 and 31.  It is recommended tp purchase tickets on their website.
Easter Bonnet Contest Heaven Hill Farm: Get creative this Easter by entering the homemade Easter Bonnet Contest at Heaven Hill Farm on March 31. Located in Vernon, this farm offers a full day of fun on the farm for the entire family. Join the Easter Bunny for an exciting visit with farm animals, an egg hunt and hayrides. Other fun activities include pony rides, carnival rides, sand art, face painting and more.
Easter Egg Hunts at Oasis Family Farm: Oasis Family Farm Easter Egg Hunts take place on March 24, 25, 30 and 31 as well as April 7 & 8 at various times. Meet the Easter Bunny and enjoy a safe, organized egg hunt while also enjoying a day on the farm.  Advanced tickets are available online which help avoid waiting on line the day of the event.
Easter Egg Hunt On the Farm: On Paws Discovery Farm in Mt. Laurel will be hosting egg hunts on March 24, 25 and 31 which is included with admission.
Egg Hunt Hayride: Join Johnson's Corner Farm as they offer families a fun hayride that will take little ones to a field where they can select five colorful eggs from March 22-31.  After the Egg Hunt, children can take a picture with the Easter Bunny and receive a complimentary goodie bag.  Purchase tickets onsite.  New for 2018- For $8 children can decorate two large Easter cookies in this special Easter Cookie Decorating activity.
Easter Egg Hunts at Brookhollow's Barnyard: Brookhollow's Barnyard Easter Egg Hunts take place on April 14 at various times10:30, 12, 1:30, and 3 PM in Boonton. Prior registration is required for this event. Children will have the opportunity to meet the Easter Bunny!
Bunny Chase at Terhune Orchards: Easter weekend families will have a fun FREE day on the farm as they follow treasure hunt clues around the farm that lead to a surprise. Kids can also make a bunny craft to take home, take a wagon ride, see farm animals and more!

Beaches
Easter Egg Hunt at Belmar: On March 24 be there at 11 am Sharp! The Easter Egg Hunt at Belmar Beach will be organize different age groups at different street entrances.  Over 3,500 eggs are on the beach and some include special prizes.  The Easter Bunny will also stop by for the fun!
Brigantine Beach Easter Egg Hunt: On March 24, children can enjoy the beaches of Brigantine as they find Easter Eggs! At the 42 St. Community Center starting at 1 pm make sure to bring your own basket.
Easter Egg Hunt: On Seaside Heights Beach families can enjoy an Easter Egg Hunt on the beach on March 25 at 1pm. Girls and boys up to 10 years of old can help the Easter Bunny find lost eggs in the Palm Sunday Egg Hunt. Follow the signs to the "Age Groups" to uncover the hidden eggs…up to 15,000 eggs can be found! Earn prizes like FREE ride tickets, skeeball games and food. There will also be golden eggs with seasonal beach badges in them from the Borough of Seaside Heights, and it's all FREE!
The Great Egg Hunt: On Ocean City Beach, the Great Egg Hunt takes place on March 24 and 31 at 2:30pm. The event will broken down into 5 age groups: ages 0-2 and 3-4 at 11th Street, ages 5-6 at 12th Street, and 7 year olds at 13th Street.
Easter Egg Hunt on the Boardwalk:  Families can enjoy a fun Easter Egg Hunt on Jenkinson's Boardwalk on March 31 at 1pm. Children, ages 10 and under, will not need digging equipment but will be limited to three eggs each. While there, why not head over and explore the aquarium for some brain boosting fun with family and friends?!
Elks Annual Egg Hunt: This fun egg hunt will take place in North Wildwood at 19th Avenue on March 31 at 12:00pm. This is a FREE event where kids under 11 collect eggs and can win prizes.
Greater Wildwood Jaycees Easter Egg Hunt: Children, ages 1-12, can dig into the sand to find some Easter Eggs!  At noon on March 31, be at the beach on Lincoln Ave. where they can find eggs that contain toys and gold eggs have a special prize.
Ed's Funcade Easter Egg Hunt in the Hay: This event will take place on the boardwalk on 23rd avenue on April 1. Children ages 1-11. Each egg contains a toy and a golden egg is worth a bigger prize.
Easter Celebration: Take a trip to Morey's Piers in Wildwood to attend this special Easter Celebration on April 1 from 11 am – 5 pm.  The Easter Bunny will be at the Parent's Pavilion from 12-4 pm.

Nature Centers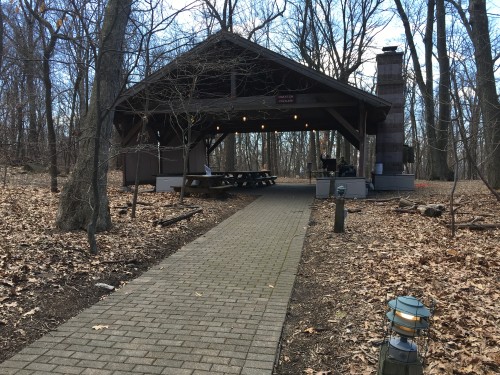 Spring Forest Egg Hunt: Essex County Environmental Center is hosting this unique Egg Hunt which begins with a story time, a visit from a live rabbit, and an egg hunt at ECEC grounds.  Children will be encouraged to turn in eggs for special prizes and a special golden egg will have a wonderful reward.  The cost is $15 and advanced registration is required for this event which takes place on March 24 from 11 am – 12:30 pm.
Camouflaged Egg Hunt: Enjoy a unique egg hunt experience as you explore the Tenafly Nature Center to find naturally dyed Easter eggs in camouflage colors. This event takes place on March 31 at various times.
Pyramid Mountain in Montville: On April 1 from 10-11:30 am, young children ages 4 and up will be invited to discover which animals lay eggs and go on an egg hunt on Pyramid Mountain.  There is a cost of $2.
Brunch with the Bunny: At Camden Children's Garden, on March 31 at 10am, children can enjoy breakfast with the Easter Bunny. Kids will enjoy crafts, rides, and egg hunt and more!

Unique Locations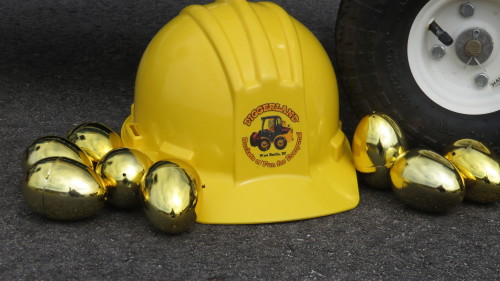 Easter Egg Hunt at Diggerland: Families will love digging into this Easter Egg Hunt on April 1 at Diggerland. There will be one giant egg hunt starting at 12 pm with over 4,000 eggs hidden throughout the park. You can collect as many regular eggs but you can only keep one golden egg (there are over 20 golden eggs!). If you're lucky enough to find a golden egg, bring the contents to our retail store and they will give you your Grand Prize!
Hoboken Grace Community Church Annual Easter Egg Hunt: Hoboken Grace Community Church's Annual Easter Egg Hunt will be announced shortly. Their will be two hunts with over 30,000 eggs. Children can also enjoy free face painting, music, games, crafts, bounce houses and pictures with the Easter Bunny.
Sonny the Bunny Colossal Carrot Adventure: On March 24, from 9 am-12pm, head over to iPlay America to hop along the bunny trail, collect Easter eggs, enjoy breakfast with the Easter Bunny, play games and more!
Flashlight Easter Egg Hunt: Nutley residents are invited to find Easter Eggs in this unique twist where the hunt begins at dusk!  On March 29 at 7:30 pm, children can meet at Reinheimer Park.  Bring your own bag and flashlight!
Breakfast with the Easter Bunny at Historic Smithville: Visit Historic Smithville on March 31 for breakfast with the Village Greene Easter Bunny.  On March 24 and 25, put on your Easter best for the parade and stroll through this historic NJ town.
Easter Egg Hunt for Children with Special Needs: Drumthwacket hosts an Easter Egg Hunt for  children with special needs ages 3-8 years old.  You will need to contact them to request a code to register.
Easter Egg Hunt at the Historic Village of Allaire: On March 31 from 11am – 4pm, families can explore this historic village while looking for over 10,000 hidden Easter eggs. Kids will also enjoy story time with Clifford the Big Red Dog, a bonnet parade and contest, a tour of the historic building and craft demonstrations.
Easter in the Park at Memorial Park at Van Neste Square: On March 31, in Memorial Park at Van Neste Square in Ridgewood from 11am-2pm the Easter Bunny will arrive and families will be able to take pictures. There will be lots of activities for the children in the park and maps available for locations of the in-store activities. Ben & Jerry's will be sponsoring the Easter Egg Hunt for children ages 4-7. For more information please visit Ridgewood Chamber of Commerce.
Watchung Plaza Easter Egg Hunt: The annual tradition returns to Watching Plaza in Montclair on March 31 at 11am sharp.  Bring your own basket for this fun egg hunt!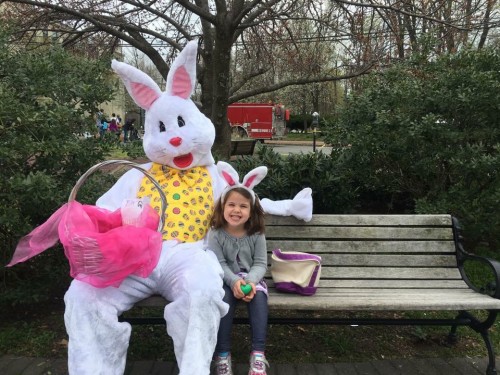 Easter Bunny Fly By at Solberg Airport: The Easter Bunny flies into Solberg Airport to visit with children on Saturday, March 31 at 3:00 pm. Besides pictures with the famous bunny, there will also be airplane rides, static aircraft displays, walk-throughs of hot-air balloons, face-painting, sand-art, a cookout, and much-much more. Gates open at 1:30-2:00pm. As always, admission is free so bring your family out and enjoy!  Canceled due to weather.
Easter Egg Hunt & Meet the Easter Bunny: This free event is open to everyone at Crane's Mill Retirement Community in West Caldwell.  The Easter Egg Hunt begins promptly at 10am on March 24 and make sure to bring your camera to snap a photo with the Easter Bunny.

You may also enjoy: