At Mommy University, we believe that everything our children play with should enhance development and aid in positive academic growth. This Easter why not fill their baskets with fun and educational goodies the kids will not only love but learn from?
For this guide, we will provide 5 themed Easter basket ideas. Each theme will promote growth and development in certain areas. Under each theme we will provide several suggestions of what to put in your child's basket. Amazon affiliate links are included to help make your shopping experience easier. We believe there is something for everyone on this list. So have fun making a themed basket or mix and match different ideas! Either way you will be happy knowing you provided Easter goodies that will have a positive impact on your child's development and academic success.
5 Brain Boosting Themed Easter Baskets
Arts and Crafts
Our first basket will focus on our love of art. Introducing kids to art helps them enhance creativity, boost fine motor skills, increase visual-spatial awareness, and let's face it, it's fun! Here are some brain boosting arts and crafts suggestions for this basket:
Faber-Castell Art Supplies: There are so many art supplies to choose from when it comes to Faber-Castell! For this year's Easter basket I recommend the gel crayons, connector paint and watercolor crayons. Another great idea is connector pens that not only allow for artistic exploration, but also allow kids to build and create!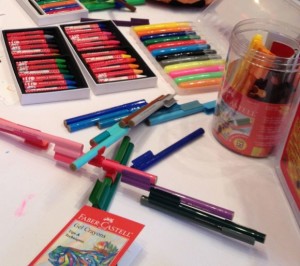 Mess-Free Glitter: Melissa & Doug have created a great way for kids to get creative with glitter without the mess. As we all know, glitter goes everywhere and you can never seem to clean it all up. With Mess-Free Glitter, kids can create fun art pieces with little clean-up needed. Styles include fairies, flowers, underwater scenes, adventure and more!
Creativity Cans: It comes in 8 designs: Motion, Music, Art, Critters, Stories, Build, the original Creativity Can and the Big Creativity Can. Each can comes with anywhere from 30 to more than 100 pieces that kids can use to develop their own creations. Creativity Cans not only spark the imagination but also boost children's knowledge in engineering, science, literacy, architecture and much more!
Home Tweet Home Birdhouse Kit: Alex Toys offers a fun and creative way to celebrate the coming of spring. Home Tweet Home Birdhouse Kit allows paint and decorate their own birdhouse that can be kept outside. This not only sparks creativity, it also helps kids learn about nature and observe the amazing world of birds.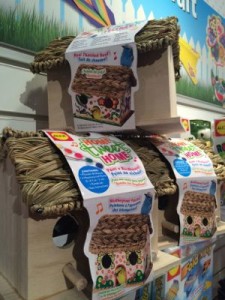 Sensory Learning
Children learn best by engaging all their senses. This is especially true for little ones. Children with special needs also thrive on sensory based learning and discovery. In this themed basket, we have come up with some brain boosting suggestions to help stimulate all the senses:
TOOBs from Safari Ltd.: TOOBs including dinosaurs, farm animals, butterflies and insects are perfect to include in sensory bins. They add texture and a pretend play aspect to sensory learning. They also help increase vocabulary and general knowledge.
Little Kids Inc. Bubbles: Did you know that bubbles are wonderful sensory-based learning tools that boost language development and visual scanning skills? Fubbles Bubbles are no-spill bubble containers that are perfect for spring and summer.  They come in mini, regular size and the bucket. Little Kids Inc. also offers Peeps Bubbles products which are perfect for your kids' Easter baskets!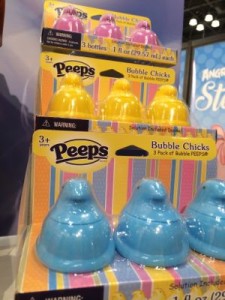 Play Foam: Educational Insights has developed a fun new play foam perfect for any sensory learning experience. Available in bright colors as well as in kits, Play Foam will allow for hours of learning through play!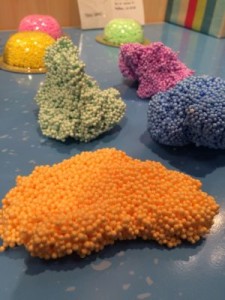 Kinetic Sand: Children who seek different textures will love Kinetic Sand.  Since Spin Master released Kinetic Sand they have been expanding the collection to include different types.  There is Kinetic Sand, Kinetic Wet Sand, and Kinetic Build.  Each one offers different possibilities and their own positive benefits.  Don't be surprised if you find yourself playing with this Easter basket item.
Egg Shakers: Skip Hop offers an adorable Easter basket option for little ones. These 3 egg shakers are wonderful sensory learning tools for babies as they offer texture, colors and sound to the play experience. They are also perfect for travel.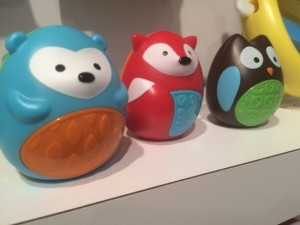 Academic
What would a Mommy University list be without academics? In this basket, we focus on toys and tools that help increase academic skills such as math, writing, reading and more. Here are some brain boosting academic goodies for your Easter basket:
Pop and Stacker Cracker Games: These games from Learning Resources are fun and exciting ways to help kids learn academic skills such as sight words, letter sounds, colors, counting, math calculations and more. It also involves cooperative play which improves social skills!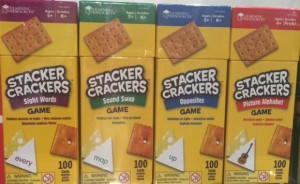 Math Dice Chase: Think Fun has developed a fun and fast paced game that help kids improve their math skills. While playing kids are enhancing not only their math calculation skills but also speed of mental operations. Math Dice Chase is also a great travel game!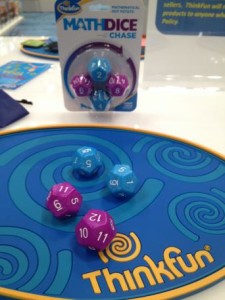 Tiggly Shapes, Letter and Counts: Tiggly offers a fun and interactive learning adventure that works with your iPad. Tiggly Shapes comes with 4 colorful shapes: circle, triangle, square and star, while Tiggly Counts comes with 5 colorful counting rods. Tiggly Words comes with each vowel in the same great durable material as Shapes and Counts. Each set comes with iPad apps/games the kids will LOVE!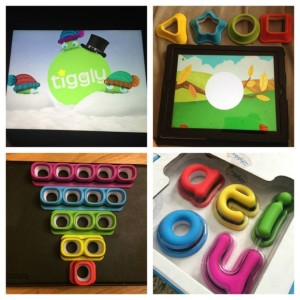 Kwan Word Game: Griddly Games has developed a fun learning game that can be played in a variety of ways. With each roll of the dice, kids learn reading, writing and spelling skills all while having fun! The storage bag allows Kwan to be brought on vacation too.
Nat Geo WILD Wild Hatchers: Uncle Milton offers a great alternative to candy eggs this Easter with Wild Hatchers. Kids will love placing their egg in water and waiting for it to hatch. The egg will hatch after about 24 hours then the animal will grow up to 4x its starting size. Kids can choose from a sea turtle, penguin and cobra.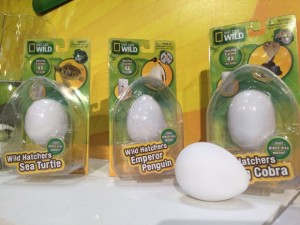 Cognitive
Let's have some brain building fun this Easter. Cognitive development is so important and essential for academic success. Here are sone brain boosting Easter basket ideas that help build cognitive skills such as spatial awareness, visual-discrimination and problem solving:
Logic Puzzles/Games: Smart Games like IQ Twist, Brain Cheeser and Bunny Peek a Boo offer a fun and entertaining learning experience. They are also perfect for long car rides, plane rides and even a trip to the grocery store!
Match Up Game and Puzzle: Peacable Kingdom has combined two fun games into one, puzzles and memory. Kids can either enhance their object recognition and memory skills with the match up game, or boost visual-spatial skills with the puzzle. Match Up Game and Puzzle comes in a variety of styles like dinosaur, fairies, numbers and princess.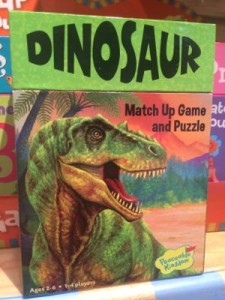 Eye Found It Hidden Picture Card Game: Wonder Forge has released a travel version of their well known board games, Eye Found It. Kids will have a blast during any road trip as they search for the hidden pictures on the cards. These cards come in two styles: Journey Through Time and Disney.
Laser Pegs Mini Sets: We are falling in love with Laser Pegs which brings a whole new look and element to building toys.  The Laser Pegs family includes many options including the 8 in 1 Construction Runner Set.  One set opens the possibilities to eight construction vehicles as well as the opportunity for open-ended building to take place.  This building toy is also compatible with other brick building toys and can be purchased on Amazon.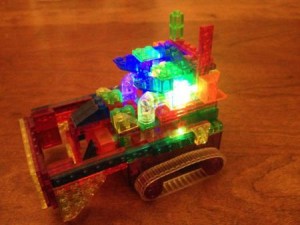 Pretend Play
Encouraging kids to use their creativity and imagination has amazing developmental benefits. Not only do they enhance language development and story telling skills, kids also increase self-esteem and self-confidence. Here are some toys that will help encourage imaginary play this Easter.
Go! Go! Smart Animals: Kids love getting stuffed animals especially little bunnies in their Easter basket. This year, let your toddler and preschooler play, learn and grow with Go! Go! Smart Animals. Kids will engage all their senses with the light-up buttons, music and sounds available on each animal. The Go! Go! Smart Furry Animals offer even more pretend play excitement as they are soft and cozy like real animals!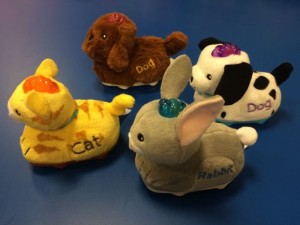 Safari Ltd. Bunny and Chick: Safari has hundreds of figurines that can be included in your child's Easter Basket. In keeping with the spring theme, you can include a bunny or duckling. If your child, loves Octonauts you can include an Octopus, Hammerhead Shark, or Starfish. If you are making a themed basket such as an animal basket, you can include an Elephant, Bengal Tiger and more.  The possibilities are endless with Safari Ltd.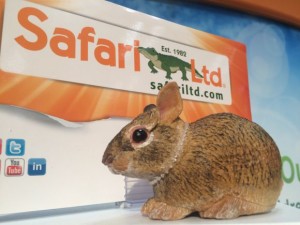 Mini Lightsaber Tech Lab: If you have a Star Wars fan in your household, then the Mini Lightsaber Lab is for you! This inventive toy invites children to make their own lightsabers while also learning about electronics. There are many options available such as the classic Darth Vader and the recently released Kylo Ren version.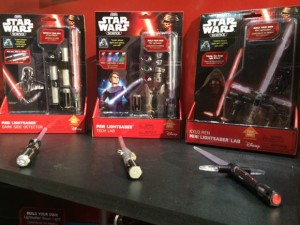 Great Pretenders: With the addition of foldable wings and a wand in your child's Easter Basket, your child can now pretend they are a fairy just like Tinkerbell! The Great Pretenders offers a variety of wings and wands that will enthrall your child as they dream of another world. There are many options for wings and wands which are available on Amazon.  Our favorite part is that the wings fold in half and come with it's own organza bag which looks fabulous in a basket!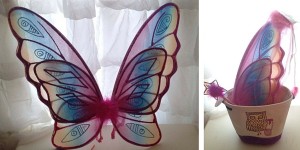 Irish Fairy Doors: It is amazing how one simple idea can transform a child's world such as a fairy door which encourages them to imagine and dream a fairy residing in their home or garden. Fairy Doors, like the closet to Narnia, enable children to create an imaginary world that represents their dreams and beliefs. As we usher in spring, a Fairy Door can be used in the home, in the garden, or to help a child transition to a new home.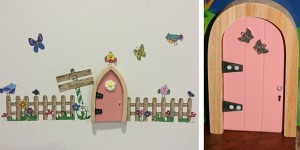 I hope you have enjoyed our list of educational and exciting toys you can put in your child's Easter Basket!