We are so excited to partner with The Franklin Institute in Philadelphia to share with you their amazing exhibits where families can play, explore and learn.
Ever wonder how a mummy is made? Better yet, ever want to see a real human mummy? Well, you can at the Lost Egypt Ancient Secrets, Modern Science exhibit at The Franklin Institute! From now through August 28, 2016, guests of The Franklin Institute can explore and learn about a lost era in Egypt's history and how modern science has played a big role in allowing us to understand this important time in history.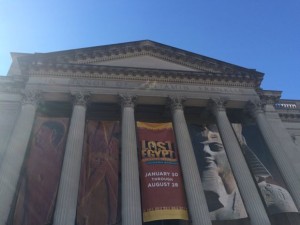 The Lost Egypt exhibit offers a fun hands-on learning adventure for all ages. Guests can see artifacts, examine authentic art work and learn interesting historical facts about Egypt. You even get to take a picture on a camel! (Ok, it's not a real camel but it's still really cool!) Guests will also learn how modern science and technology is used to unlock the secrets of the past. I found it fascinating to find out that X-rays and CT scans are used to look inside a mummy. Unwrapping a mummy can destroy it so the use of modern science to unlock its secrets is a way to help preserve the past while still gathering information. The images obtained can also be used to make detailed reproductions.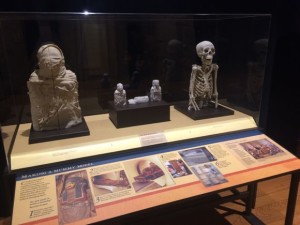 What I really love about the Lost Egypt exhibit is the multi-sensory experience kids (and adults) can truly enjoy. Kids learn best when engaging all their senses. This exhibit allows kids to see, touch, feel and hear the history of Egypt. This allows them to better understand and engage in the learning experience.
5 Hands-On Learning Experiences at Lost Egypt
Build a Pyramid
Did you know that some Egyptian pyramids took over 20 years to build? Well it won't take that long at the Franklin Institute but guests can still learn the basic principles needed to build a strong structure. Kids (and adults) can work together to use the provided blocks to build their own pyramid. Building helps build motor, visual and spatial skills while enhancing shape recognition, visual discrimination and problem solving skills!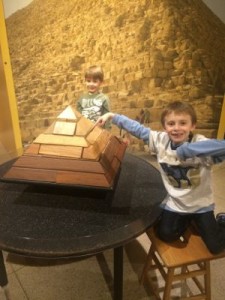 Explore Tomb Art
Egyptians used to paint intricate murals on tomb walls to depict the life of the deceased or predict the afterlife. No matter the design, each one offers exquisite detail and creativity. In the Lost Egypt exhibit, families can explore these works of art in a unique way. By holding up a reflector, guests can highlight details in the artwork. Each mural also offers a seek-and-find activity such as counting the number of Suns and finding specific animals. This enhances visual and object recognition skills.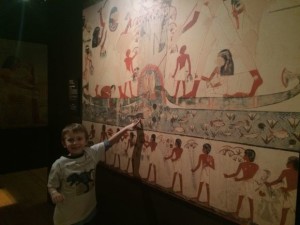 Reconstruct Artifacts
At this station, guests can take broken pot pieces and carefully piece them back together again. During this task, kids will build fine motor skills as well as enhance visual-spatial and problem solving skills. Kids are also learning how archeologists piece together artifacts they find at Egyptian dig sites.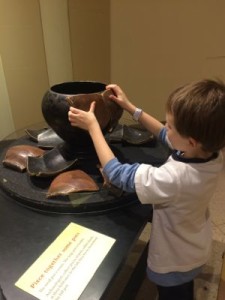 What Happened Here?
In this area, guests visit three interactive stations where they will learn about animal bones, pottery and sealings. Participants engage in hands-on activities that involve visual-motor integration skills as kids match pottery pieces to the correct pot and seals to the correct container. Guests will also analyze animal bones. Once all this knowledge is obtained, guests use what they have learned to determine which stories match the evidence. This area helps build visual, motor, academic and problem solving skills. Comprehension skills are also highlighted as kids read each story.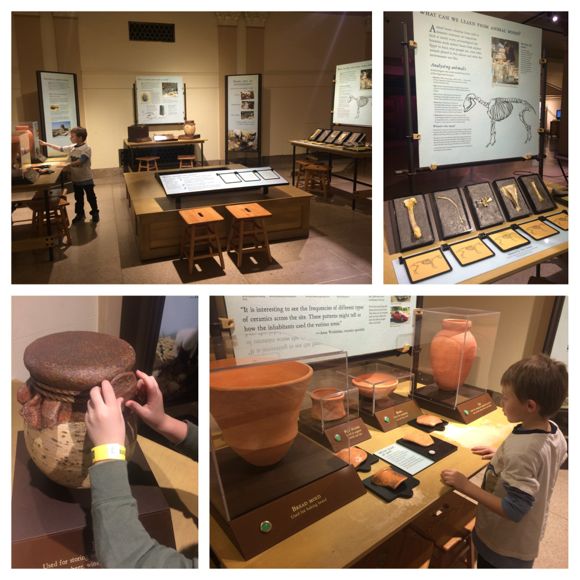 Learn To Read Hieroglyphs
Ever wonder what all those pictures and symbols Egyptians drew on the wall stood for? Well at The Lost Egypt exhibit you can learn what they stand for and how to read them. This activity involves matching like shapes and symbols then reading the statements in the proper order. Make sure you read the directions first or your translation may sound a little strange!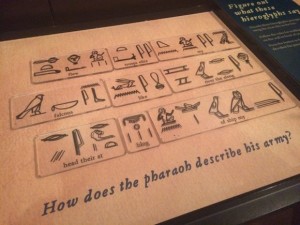 As you can see, there is so much to see and explore at the Lost Egypt exhibit at The Franklin Institute. Tickets for the museum including Lost Egypt is only $24.95/adult and $20.95/child, and members get in for FREE. When you purchase a ticket, you must choose a time to enter the exhibit. This helps limit the crowds and makes sure guests are able to see everything comfortably. Have fun exploring!