For the past 4 years, my family and I have been lucky enough to spend Easter week in Disney World. Each trip has been a magical experience, and we cannot wait to visit again this year. Besides the usual Disney adventures, there are so many fun events and activities that families can enjoy during Easter.
Before I get into the family fun Easter events at Disney World, I wanted to give you some tips for traveling during this time of year. Spring break is one of the busiest times of year to travel to Disney. Us Northerners love flocking to the warmer state of Florida to escape the cold and cruel winter we have suffered through. It is also when school is off making it the perfect time to get away.
Tips for Visiting Disney World During Easter
Use the magic hours! When you are staying at a Disney World Resort, you have the option of using special magic hours. This means each day of the week certain parks are open earlier or stay open later. This is a great way to beat the crowds and get on some rides that normally have long lines.
Use Fast Passes. If you don't mind waiting in really long lines, then you can forgo making fast pass selections, but I imagine that is not how you want to spend your vacation. You can make your fast pass selections as early as 60 days before your trip. When making your selections keep the magic hours in mind.
Bring a sweatshirt. Yes, it's sunny Florida, but it can get chilly especially in the morning and at night. Don't be like my family and have to spend a ridiculous amount of money on 2 towels to use as blankets for the kids because you thought shorts would suffice at 7:30am at Animal Kingdom!
Decorate your stroller. No, I don't mean with balloons and streamers! I mean put something on it to make it noticeable to you amongst a sea of strollers. This will make it easier and faster to find your stroller once you get off the rides.
Bring your own Easter basket! It may sound fun to get a basket full of goodies at Disney, but unless you are willing to put out some serious money, it just makes more sense to bring your own. Last year, we brought beach pails as Easter baskets so they could then use them during the week at the beach at our hotel (many hotels have sand to play in). The pails were personalized with a Disney theme to add to the fun. I also brought my own Easter eggs to hide around the room as well as goodies to stuff inside the pail. This definitely saved us time AND money!
Now that you know what you need, let's talk about what you can do! During Easter, Disney World offers a wide variety of family fun events and activities. What's even better is that most activities are FREE with your hotel stay or park admission!
Family Fun Ways to Celebrate Easter in Disney World
Meet the Easter Bunny (or Mrs. Easter Bunny)
There are several places to meet the Easter Bunny (or even Mrs. Easter Bunny) while visiting Disney World during Easter. Each resort usually offers pictures with the famous bunny Easter morning. At Wilderness Lodge one year, we had the pleasure of meeting Mrs. Easter Bunny and snapping a great family photo. Then at the Polynesian and Beach Club, we met Mickey and the Easter Bunny. You can also meet the Easter Bunny at Magic Kingdom near the park entrance. In the past, Mr. and Mrs. Easter Bunny have also been available for pictures in the United Kingdom Pavilion at Epcot and Discovery Island at Animal Kingdom on Easter Sunday.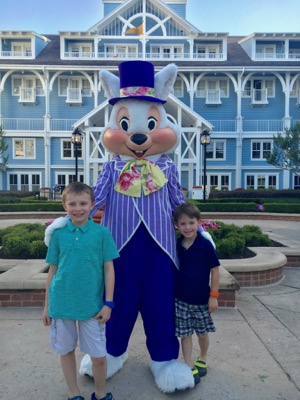 Candy Scramble (and other fun resort activities)
On Easter Sunday, families can participate in a wide variety of Easter themed activities. Besides meeting characters and the bunny himself, families can play games, engage in trivia, make crafts, enjoy a pool party and more. One of our favorite activities is the Candy Scramble which takes place at several resorts on Easter Sunday. For this fun event, candy is placed on the lawn in various designs from shapes to even characters. Each section has a designated age range as to allow all kids to get some candy. Each child receives a bag, and when they say "go," they can grab as much candy as they can!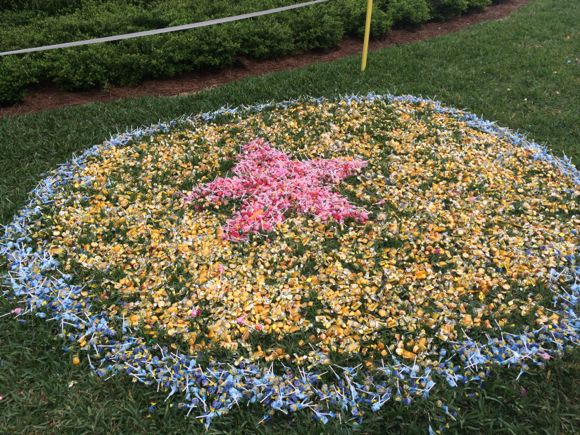 Egg Display at Grand Floridian Resort
Each year during the Easter season, the Grand Floridian offers a magnificent carved Easter egg display that is like no other! This Eggs-travegent display is full of Disney magic and Easter spirit. Your family will love looking at the masterfully carved giant chocolate eggs beautifully displayed in the lobby of the Grand Floridian. The hand-painted, hand-carved eggs are a sight you won't want to miss on your next Disney Easter vacation!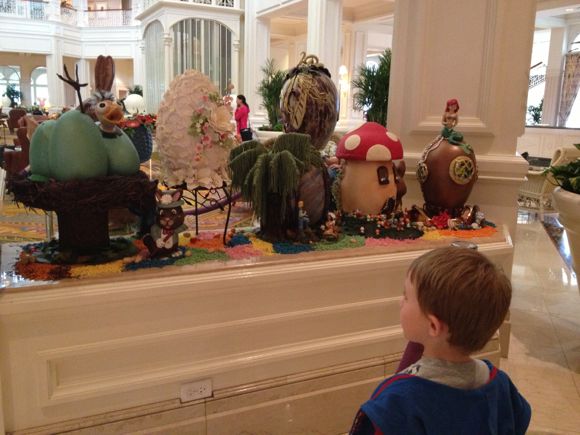 Egg Hunt at Epcot
This is my kids' favorite activity during Easter. In fact, they are already begging for this to be the first thing that we do this vacation. Each year, Epcot offers a fun egg hunt where kids have to find large decorated eggs hidden around the World Showcase. What I love is that this activity gets kids exploring the countries which opens up communication about each country including where it is located, what kind of food they eat and what kind of clothes people of that culture wear.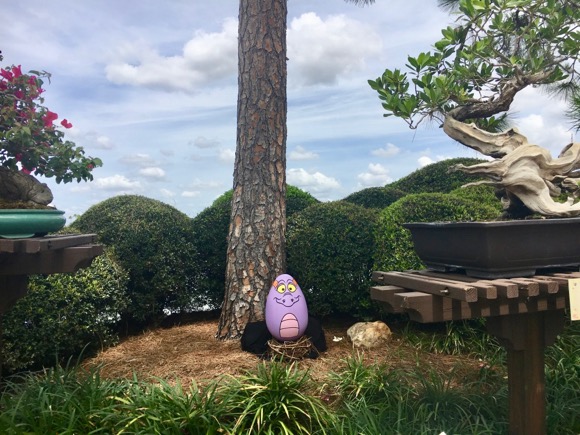 To start, the kids get a map and as they find each egg, they attach a sticker to that part of the map. When all the eggs are found, the map can be taken to one of the gift shops and exchanged for a fun prize! I love that this activity helps enhance visual skills, teamwork and patience!
Flower and Garden Festival
One of my favorite events during the spring is The Flower and Garden Festival. Now, I know this is not an Easter event, but it is a must see event if you are visiting during spring break. Families will see gorgeous topiaries, taste delicious food from around the world and experience fun programs.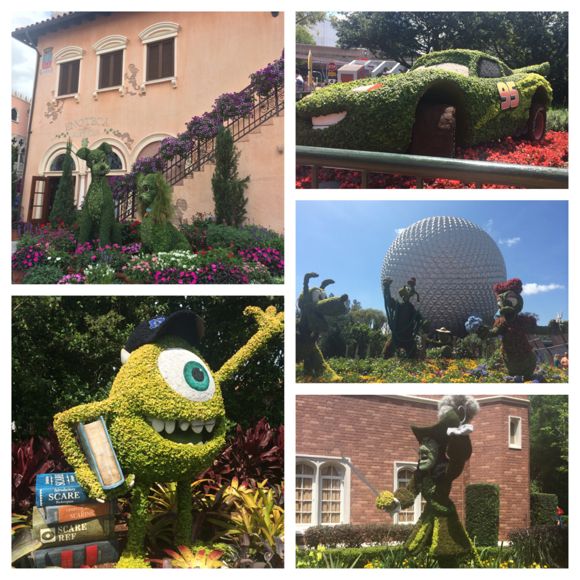 I hope this information has helped you plan for your next Disney Easter vacation. Have a magical family adventure!
You might like: