If you follow Mommy University, then you already know that my son loves to cook. In fact, he has said on many occasions that he wants to be a chef when he grows up. He has taken several cooking classes, loves to watch cooking shows and plays in his pretend kitchen almost daily. He also loves to cook with me so when I saw Cooking's Cool on Wine In Mom's Instagram page I knew I had to reach out to them. I was so excited when they wanted to partner with Mommy University to help kids learn through cooking.
Cooking's Cool offers at-home cooking kits for each season as well as two additional sets. Each set comes with the following:
Cooking's Cool book to read as a family
2 seasonal recipe cards that include shopping lists
Cooking's Cool shopping bag
Cooking's Cool apron
Spotify playlist to download and listen to while cooking
Colorful craft
Cooking utensil
Bandana chef hat
Cooking's Cool Classroom card listing fun at-home lessons
Iron-on patch
We received a sample of the Winter Kit. It came with recipe cards for Tuscan Soup and Mini Vegetable Lasagna along with a book entitled Cooking's Cool in the Winter by Cindy Sardo and Illustrated by Penny Weber. Inside the book were additional recipes perfect for a cold winter day such as chili, alphabet soup, chicken pot pie and more. My son and I decided that the Tuscan Soup would be our first recipe to try. Since this would be the first time I ever made soup, I knew this would be a fun adventure for both of us!
To start, we grabbed our recipe card and bag and headed to the store. Since the recipe card has the shopping list on the back, it was easy to know what we needed. My son had so much fun helping me find all the ingredients in the store and then taking them home in his new bag.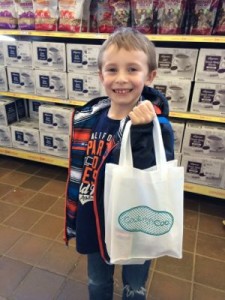 When we arrived home, we set up all our ingredients and supplies. My son and I reviewed the steps of the recipe together and got to work. My son (with my guidance of course) chopped up the celery, carrots, garlic, onions and spinach.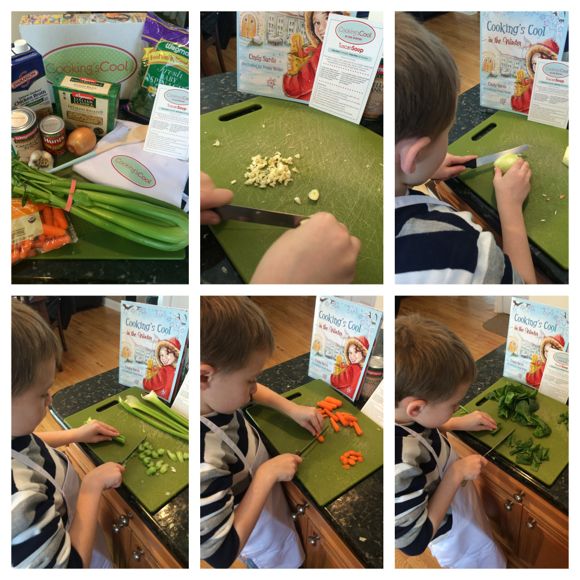 Now that we had all our ingredients ready, we headed over to the stove to add them to the pot. My son was so excited to use his Cooking's Cool wooden spoon. I helped him carefully add each ingredient as directed, and he happily stirred them together. It was so much fun to watch our soup take form!

When the soup was finished, we plated it in bowls to serve to family members. My son insisted on putting on his chef costume and proudly brought the bowls to his grandparents. The soup was so delicious especially when we sprinkled a little parmesan cheese on top as the recipe card suggested.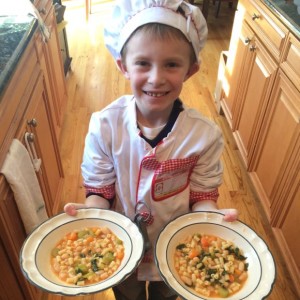 Making this soup was so much fun, but what I love the most about this kit is its educational value. Not only do these kits inspire a love of cooking, they also encourage academic learning.
4 Benefits of Using Cooking's Cool
Encourages a Love of Reading
Each kit comes with a storybook that coincides with a season. It contains a cute story that gets kids excited to read AND to cook. Younger kids can have the story read to them while older kids can read the story to their parents. Inside the kit is a card that also lists other fun books to read together that coincide with the recipes. It's a great way to encourage a love of reading!
Expands Vocabulary
As kids cook, they expand their vocabulary as they learn new cooking terms and phrases. Besides learning the names of new food items, kids will also learn terms like chiffonade, sauté, finely chop and more.
Enhances Math Skills
Cooking is well-known for being a great way to enhance math skills. Kids learn about measurement as well as basic calculations skills. Learning fractions is also a big part of understanding and following a recipe. You can take things a step further by asking your child to figure out how many tablespoons of ingredients they will need in total or guess how many carrots are needed to make one cup.
Increases Life Skills
Learning to cook is a necessary life skill that can be introduced beginning at a young age. As kids learn to cook, they gain independence as well as build confidence and self-esteem. Little chefs will also learn to follow directions and read instructions as well as understand the art of patience as some meals take time to create and cook.
We had so much fun making Tuscan Soup and cannot wait to make more recipes from our Cooking's Cool cooking kit. We are also looking forward to trying kits from the upcoming seasons! To learn how to purchase your own kit, visit the Cooking's Cool website.
**In full disclosure, we were provided a sample of the Winter Cooking kit in exchange for our honest review.
You may also enjoy: