On  February 13-14, 2016, we were proud sponsors of the brand new Play Fair event at Toy Fair NY 2016. Play Fair was an event that offered endless opportunities for learning through play. Toy companies from around the country were invited to share their latest and greatest toys with eager and excited children. We were one of the very lucky families to experience this adventure for the first time.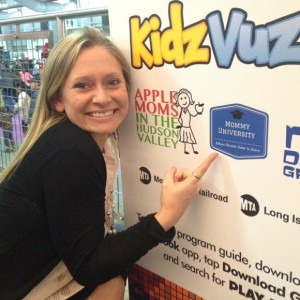 When we first arrived at Play Fair, I have to admit, we were a bit overwhelmed by the size and magnitude of the event. We reviewed the map, gave the kids some rules, and then headed into the experience of a lifetime. My boys had wide eyes and open mouths as they entered into a world of toys and play hands-on play experiences like they had never imagined. From Lego to Crayola to Nerf to even PAW Patrol, there was something for kids (and adults) of all ages to enjoy.
At Mommy University, we love engaging in experiences that offer learning opportunities. Play Fair offered a wonderful chance for kids and their parents to explore, discover and learn all while playing and having fun. Due to the crowds and long lines, we were not able to participate in every activity that was present, but that is just one more out of a list of reasons to return in 2017!
Hands-On Learning Experiences We Loved at Play Fair
Lego
The first station we enjoyed was provided by Lego. Kids and parents could choose from thousands of Lego bricks to build their own vehicles that could then be raced down a ramp. This was a fun activity that involved fine motor, visual, spatial and problem solving skills. Creativity and imagination were also key in designing their own cars. In addition, principles of physics were needed to build the fastest car.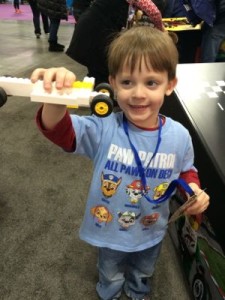 After building a car, the kids were invited to make their own mosaic art piece to be displayed on large sandwich boards around the booth. My son loved making the letter "T" which looked like a tree. He later made the words "mom" and "dad" too. I even joined the fun by making "MU" out of blue Lego bricks. This area allowed kids to either copy a design provided or use their own imagination to make masterpieces out of Lego bricks.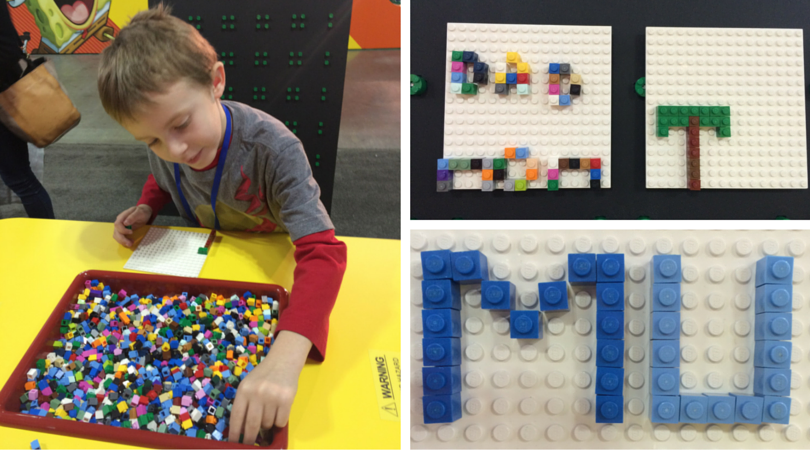 Crayola
Across from Lego was a fun and colorful Crayola area that my kids loved. There were stations set up around the booth each with a different and exciting craft to try out. There was also a giant display in the middle where families were asked to guess how many crayons were used to make the amazing design. The first station my son experienced was airbrushing. Each child was allowed to air brush a stencil of a crayon in the color of their choice. It was a fun way to get creative while also enhancing hand-eye coordination.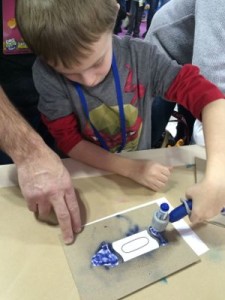 The second station we enjoyed was Cling Creator. My boys each picked a design they wanted to make and were provided step-by-step instructions on how to make their cling product. The teacher was very helpful and patient making the experience very positive for my boys. This activity helped kids enhance fine motor, listening and visual skills. My son, Trevor, was even the star of a video which captured the entire experience.
Nickelodeon
My little one was so excited to enter the Nickelodeon booth because, you guessed it, PAW Patrol was a focus. Kids had the opportunity to play with a variety of PAW Patrol toys provided by Spin Master, but our favorite activity was being able to climb to the top of the Lookout Tower and slide down the slide. For my son, it was like living out a dream! I loved that my son learned the art of patience while standing in line then used his imagination as he pretended to be a pup.

Another fun activity in this area was dress-up. Pretend play is such a fun way to enhance social and language skills as well as boost confidence and self-esteem. Kids were invited to try on a variety of fun costumes and imagine themselves as a character in a Nickelodeon show!
Superhero Fun
Not only did kids (and adults) get to see the REAL Batmobile from the new movie Batman vs. Superman, but they also got to meet Captain America. There was also a photo-op with the Hulk. Okay, so he was made out of Lego bricks, but it was still really cool! Kids also had the chance to play with the latest superhero toys. While pretending to be a superhero, kids were enhancing their fine motor and visual skills. Kids were also invited to wear capes and act out their dream of being a superhero!
Play Fair was a unique experience that I am proud to have been a part of. Although it had its issues like any new event can have, I know the team worked hard to make adjustments as quickly as possible. There were so many teachable moments during this event. From learning patience when standing on line to socializing with new friends to using creativity to make new projects, there were endless amounts of learning experiences. We can't wait to see what Play Fair 2017 will bring!