It was an honor to be invited to attend the final dress rehearsal at The Growing Stage for the world premiere show, The Book of D. It is heartwarming story about friends, family and growing up. Written by Cody Daigle-Orians, The Book of D is sure to be a new classic treasured by families for years to come!
The Book of D is about a boy named D who uses stories to escape from his real life. He keeps a book (The Book of D) in which he writes the things he doesn't know, things he wished he knew and things he has made up. This book, full of facts and stories, is kept close to D as it helps him deal with difficult times in his life such as his parents' divorce, not seeing his father as often as he would like and having few friends at school. At school, D is seen as the quirky and "weird" kid, but when he meets a new student, Blu, he finally finds someone who understands him. Blu is also seen as a bit quirky, and she loves stories especially Greek mythology. Through stories, real, myths and ones that are made up, D learns about himself and the person he can be.
The Book of D is a heartwarming coming of age story recommended for children ages 8 and up; however, my 6-year-old was engaged in every moment of the play. Although he may not have completely understood some of the underlying meaning regarding divorce, he definitely understood the power of stories and friendship. My 4-year-old was also engaged in the show especially the colorful and whimsical sets and amazing costumes. The comical interpretation of several stories from Greek mythology also added to the excitement and interest as the entire audience belly laughed several times throughout the show.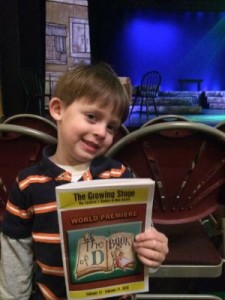 I was so impressed by the young actors in this show. Sean Cahill, who played D, really captured my heart. He was very relatable which is key for young kids to understand the meaning of this spectacular show. Julia Mayhood, who played Blu, was also adorable and added wonderful humor and heart to the show. The interaction between her and D was so natural making the story that much more engaging and believable. I also really enjoyed Terrell Cannon, the actor who portrayed Andy, D's older brother. In true teenager fashion, he brought to light the struggles of a young man in high school. The audience could truly relate to his need to spend time with his father, annoyance with a little brother (at times) and awkward pursuit of young love.
The adult cast was equally entertaining. D's mom, played by Phylicia Freeman, perfectly portrayed the struggles of a single mom. She also did an amazing job playing Eurydice in one of the Greek mythology interpretations. I was really impressed with the seamless change of character by Izzy Figueroa. Not only did he do a spot-on portrayal of a divorced father, he was hilarious in his various roles in the Greek mythology stories. Barbara Haag also did a fabulous job of taking on a variety of roles during The Book of D. Her humor was one of my favorite parts of the show.
As someone whose parents divorced when I was in high school, I was able to truly relate to the emotions conveyed in this story by D and Andy. Sadness, fear and anger are all feelings kids from divorced families experience and have to deal with. This play did an amazing job in showing a true depiction of a child's view of growing up in a split family. I highly recommend any child from a divorced family see this show. It will help them to not feel so alone in this incredibly difficult process.
The Book of D was one of the most inspiring shows I have seen in a very long time. Amongst all the humor were deeper meanings that can change your perspective on life. I found it to be incredibly powerful for young children. This show highlights the power of the imagination and the importance of story telling. It is through story telling that we learn about the world, life and ourselves. This show also teaches people to see the good in everything. I loved how positive Blu was when she discussed the stories in Greek mythology. She found the beauty and happiness in even the saddest of stories. She inspired me to look at life in a whole new way.
The Book of D has a short run at The Growing Stage as it is available for only two weekends (2/12-2/14 and 2/19-2/21). Tickets are affordable at $15 for everyone on Fridays and $25/adult and $15/child on Saturdays and Sundays. Also, don't miss the pre-show writing workshop on February 20, 2016 with Cody Daigle-Oriens. The Book of D is a wonderful story about family, friends and the power of stories. You won't want to miss it!
For more information visit The Growing Stage website!
You may also enjoy:
2014-2016 Season at The Growing Stage