As I am sure you know by now that my family and I won an amazing weekend vacation at Smugglers' Notch Resort in Vermont. As part of this fun-filled weekend, I was able to try something I have always want to do, SNOWSHOEING. Since my kids were going to be in full day ski camps and my husband was going to be exploring the mountain on skis, I decided that I would experience my own adventure!
Smugglers' Notch offers a wide variety of snowshoe adventures that range from easy to advanced trails as well as special family programs. As a newbie, I decided the novice trek was the way to go for my first adventure. As part of our weekend getaway at Smugglers' Notch, I was offered a spot on the Beaver Pond Snowshoe Trek for the first day and the Forest Heritage Trek on my second day. Each experience offered a fun learning adventure that not only got me out and active, but also helped me learn about the local animals and plant life.
When I first arrived at the Nordic Center, I was greeted by very friendly and knowledgable staff members who told me all about the mountain including where I could find a moose. My guide Lindsay was enthusiastic, helpful and patient. She made the experience that much more fun and engaging. I was provided a pair of the new Atlas snowshoes which were easy to put on and adjust to my shoe size. I was ready for my adventure!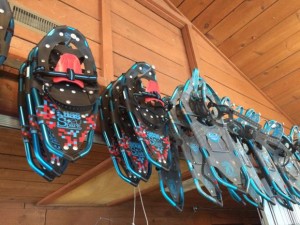 I thoroughly enjoyed both of my snowshoe treks at Smugglers' Notch. Each one tested me in new ways which I loved. I also made new friends while also enjoying some time to myself. There are so many reasons to sign up for a snowshoe adventure during your next Smuggler's Notch vacation. Here are some reasons that really stood out to me:
5 Reasons to Take a Snowshoe Trek at Smugglers' Notch
Encourages an Appreciation of Nature
The Smugglers' Notch snowshoe treks take you to the most spectacular places around the resort. As you walk through the trees, you become one with nature and imagine what it must have been like when walking through the woods in the snow was an everyday occurrence for daily survival. It was amazing to learn about the all the trees and the many purposes they serve. Some you can even eat! As you take a moment to take in the magnificent views and stand in awe at what animals can create in the forest, you develop a true appreciation for nature.
Great Exercise
Who needs the gym when you can get all your exercise out in nature? With the snowshoe treks at Smugglers' Notch participants can engage in an amazing workout while exploring the great outdoors and learning all about the forests, animals and scenery of Vermont. On each adventure, participants will enhance their endurance, motor planning, core muscles, balance and coordination. It takes a lot of planning, reasoning and courage to maneuver some of the trails so be prepared for an exhilarating adventure.
Spectacular Views
The snowshoe treks at Smugglers' Notch not only allow you to see what lies directly ahead of you on your trial, but also allows you to take in the spectacular views all around. Each view of the mountain was so magnificent that I had to stop and take a picture. (Thank goodness the person behind me wanted to do the same thing!) Seeing such breathtaking scenery not only makes you appreciate nature, it also provides a sense of serenity. Stopping to take in the wonder of nature is a calm and peaceful experience that you have to experience for yourself!
Learning Through Experiences
We often talk about learning through play, but learning through experiences is another amazing way to gain knowledge. By being fully immersed in nature, participants can learn firsthand about science, math, art and more. Everyone learns best by doing, and what's more "doing" than snowshoeing through the forest? Trek goers get to touch and feel the snow, see the magnificent height of the trees (or small size of the native plant life), feel the Earth below their feet and even taste the sweet taste of pure maple syrup. By engaging all the senses, participants gain knowledge in a more meaningful way!
Sense of Accomplishment
As I stated above, this was my first time snowshoeing so although I was excited, I was also a little nervous. With each step, I gained more and more confidence in myself and my ability to successfully make it through the trek. I pushed myself up the mountain and over the trees to new heights (pun intended). I even faced my fears as I walked along the side of the mountain. When each trek was finished, I felt a wonderful sense of accomplishment. I was so proud of myself, and you will have a great sense of proud too when you take your first snowshoe trek!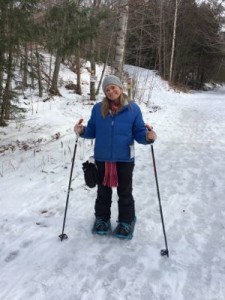 Smugglers' Notch offers a wide variety of snowshoe programs. You can enjoy them by yourself, with friends or with your family. I loved experiencing this adventure for myself, but I would love to enjoy one of the following family programs during my next visit:
Family Snowshoe Cider Walk
Sugar On Snow Snowshoe Trek
S'mores & Snowshoe Trek
Fireworks & Snowshoe Tour
I hope I have convinced you to sign up for an amazing snowshoe adventure during your next trip to Smugglers' Notch! For more information, visit smuggs.com.
You may also enjoy:
10 Educational Winter Experiences at Smugglers' Notch