We are so unbelievably excited and honored to partner with the Academy of Natural Sciences in Philadelphia. Mommy University was provided a membership in exchange for sharing with our readers all the amazing Academy adventures for the entire year including brain boosting exhibits, events and programs. I hope you will follow us along this incredible journey!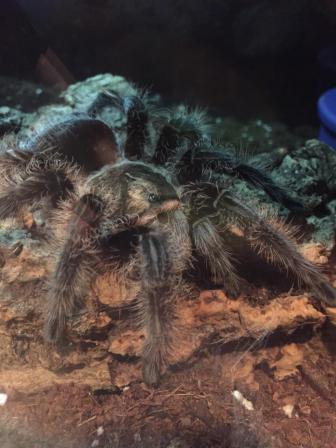 I admit it, I am scared of spiders. Scared being an understatement.  Terrified is more appropriate. So, when the Mommy University writers discussed who would be the lucky writer to see Tarantulas: Alive and Up Close exhibit at The Academy of Natural Sciences I was the brave one to step forward. I am not the only person who is petrified of the eight legged creatures but after visiting this new exhibit I have a new-found respect and appreciation.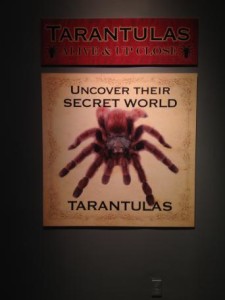 Tarantulas are often times typecast as villains in films because of their size and appearance, yet they have also been historically used because of their docile nature. While my children learned a lot in this exhibit, I think their mom was the one who was being taught to not see these specific spiders as the bad guys anymore. The volunteers are patient and informed, but more importantly charismatic when demonstrating the different stations and explaining each point which helped us learn more about the diversity and benefits of tarantulas.
As you enter the Tarantulas exhibit, you will be greeted with an oversized map and samples of tarantulas from around the world. You are invited to guess where the specific spiders are located in The Old World and the New World.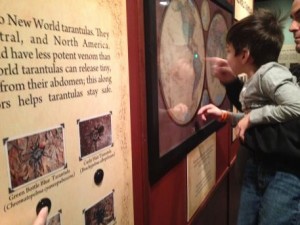 Throughout the exhibit you can see different tarantulas behind glass. We found out that all the tarantulas in this exhibit are all female because as we have learned females rule the arachnid world. While some were hanging out, others were hiding under wood pieces. As much as you might have seen tarantulas in movies, seeing them alive and up close promotes an appreciation for these hairy spiders. The variation within this species translates into the common black hair but there are also brown, tan, pink, and blue spiders.
The Academy brings tarantulas up close as you can place some arachnids under the magnifying glass. Don't worry these critters are contained in glass but you can still see the details of their bodies. The Academy volunteer demonstrated how these critters are phosphorescent but not as much as scorpions.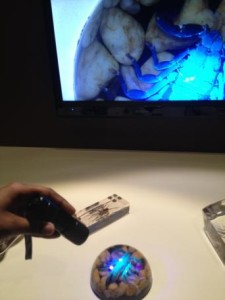 There is a wall of other varieties of arachnids. Arachnids have eight legs which means that scorpions and mites are included in this group. The color variation of the scorpions was also very cool to observe. While a few critters were hiding, the display makes it easy to see them.
In the back of the exhibit is the perfect hands on learning space that invites children to play. At the back table are bookmarks filled with different types of spiders that can be found on the wall. This mini scavenger hunt is fun and encourages physical activity. Besides finding the arachnids, there is also information about each spider on the bookmark.
As well, children can dress up as a spider and become an Academy Specimen.
This isn't the only spot for photos as you (or your children) can also "Be The Tarantulas"!
While we will not be bringing home a Goliath Birdeater, which has long been considered the largest spider by mass, I am cringing a lot less thinking about spiders. In fact, this has been my favorite traveling exhibit at The Academy of Natural Sciences so far!
The Tarantulas Exhibit will be educating people until May 30, 2016. General admission is needed to enter this exhibit along with an additional $5 entry fee for this special exhibit. If you have a museum membership then the exhibit is $3 and for Family Plus Members it is FREE! Another great reason to get a membership today!
For more information, visit the Academy of Natural Sciences website. Also, check out our Facebook Photo Album!
You may also enjoy:
Upcoming Events at the Academy of Natural Sciences
Learning Through Exploration and Discovery at the Academy of Natural Sciences