Since my son is a winter baby for his first 3 birthday parties we focused on a winter theme: Winter ONEderland, Polar Express and Frozen. This year, when I asked my son what theme he wanted for his party, he was very adamant about having a PAW Patrol party. For those who don't know, PAW Patrol is a group of lovable pups who work together to help those in need. Each pup has a special skill that helps them in their adventures.
To start planning, I immediately went to Pinterest. There were so many fun ideas so I knew this party would be a hit. I also knew it could be done on a budget while still offering a fun and unique party experience!
Decorations/Set-Up:
For the party supplies, I was provided PAW Patrol plates, tablecloths, napkins and a birthday banner from Wholesale Halloween Costumes. I also received plain red plates as I did not want to go overboard with the pups. The color scheme was bold colors (red, green, blue and yellow) which made decorating easy!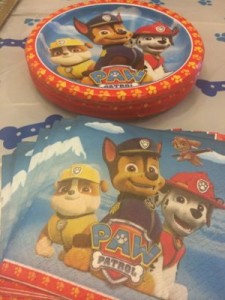 I had the party at my house so to hide some of the toys and books I used the tablecloths. This brought the theme into another room as well as helped hide the clutter (every mom can appreciate that).
To save on decorations, I always do my best to use what I have on hand. This helps save time and money but also makes for a more personal experience. For this party, I used some PAW Patrol toys we had along with some fire hats to go along with Marshall's role of a firepup. I also used the favors and the Piñata provided by Wholesale Halloween Costumes to add to the decor. (I will talk more about the favors soon!)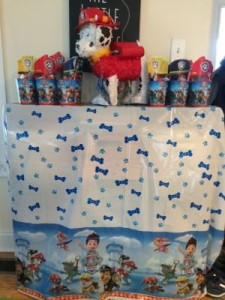 For the main table, I used dog bowls I purchased at the dollar store for the chips and other appetizers. This was a fun and affordable way to really emphasize the puppy theme. I also printed and framed 2 pictures of the boys with a PAW Patrol background that we had taken this past summer at the NJ State Fair.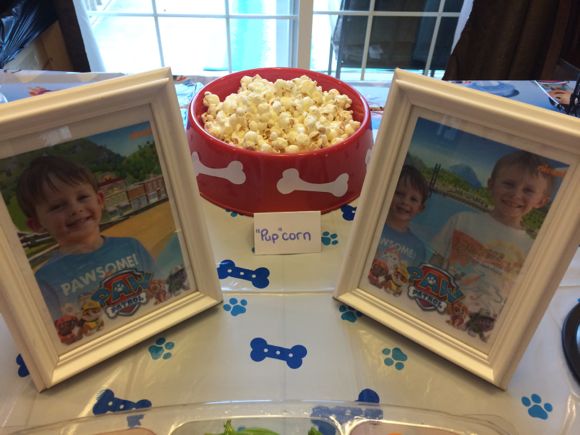 Food:
For the food, I wanted to stick to the theme the best I could. For appetizers, I placed chips, salsa, mini pretzels and popcorn in the dog bowls. I also gave the food creative names like pupcorn, doggie tails and crunchy dog ears. For the main meal, I also gave the food clever names like pawsta, sausage and puppers and doggie fingers.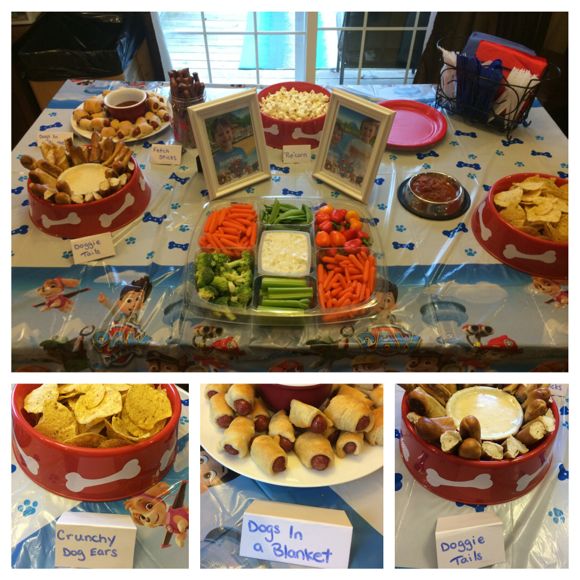 The cake was purchased at BJ's. I absolutely love their cakes. They are affordable without sacrificing taste or style! The BJ's team was very helpful and created a cake just as I had envisioned. I purchased special PAW Patrol candles to complete the look. Now I know some places have PAW Patrol themed cakes or you can purchase an edible top on Etsy but I still stand by my BJ's cake. They have never disappointed me!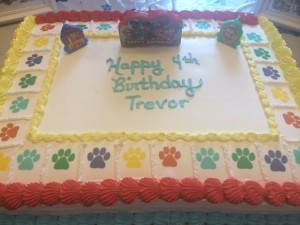 Activities:
The inspiration for the party activities came from our trip to the NJ State Fair last summer. The PAW Patroller came to the fair and Spin Master set up toy stations for the kids to play. I decided for my son's party I would recreate this idea in my house.
Station 1: Vehicles
On the floor, I set up a PAW Patrol carpet with a variety of vehicles. We took out our fire trucks and police cars along with our PAW Patrol vehicles. It was a station that all the kids loved!
Station 2: Modeling Dough
I was lucky enough to receive a sample of the PAW Patrol dough play set from Spin Master. This set came with the lookout, 3 vehicles and modeling dough. It was easy to assemble which also allows for easy clean up.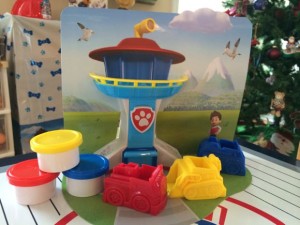 I set up the play set on a small table along with some additional clay. The kids had so much fun using their creativity and working together to make their own scene. They didn't even realize that they were enhancing their fine motor skills in the process!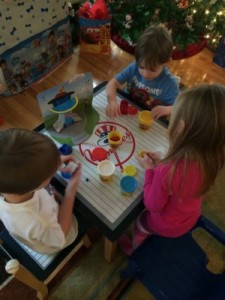 Station 3: Coloring
On a small table, I put coloring books and coloring sheets along with crayons. I had PAW Patrol books along with fire safety books in honor of Marshall.

Station 4: Construction
The final station was a tribute to Rubble, the construction pup. I had a construction workshop along with tools, goggles and aprons for a fun pretend play experience.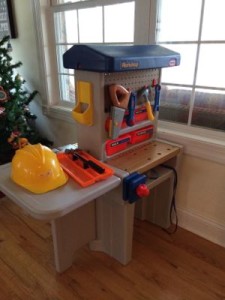 Favors:
For the favors (or doggie bags), instead of traditional treat bags I used cups provided to me by Wholesale Halloween Costumes. I was also provided adorable masks which I placed in each cup. I also took a trip to the party store and grabbed bubbles, crayons and puzzle cubes. I wanted to provide more educational toys which I am sure the parents appreciated.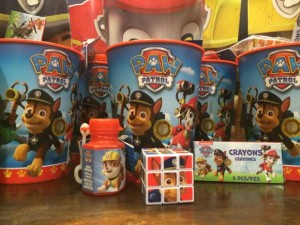 In honor of Marshall, the police pup, each child also had a Junior Officer sticker in their cup. I obtained the stickers from my local police station. (I also wanted to get each child a fire hat from the local fire station but time got away from me.) The last treat added was Scooby snacks which are graham cracker cookies shaped like dog bones.
Now, no party is complete without a piñata (or so I'm told) so of course my son had to have one! Wholesale Halloween Costumes provided us with a Marshall piñata that my boys happily helped fill with candy. Instead of having the kids hit the piñata with a stick (which is just asking for trouble), each child grabbed a string and pulled. It was a fun time for everyone!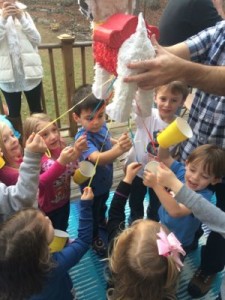 Our PAWesome PAW Patrol party was a big success! The birthday boy and his friends had an amazing time. I hope you have found some of these ideas helpful for your PAW Patrol party!
*In full disclosure, we were provided with some PAW Patrol party supplies from Wholesale Halloween Costumes and toys from Spin Master in exchange for our honest review.