Recently, birthday parties have become quite the coordinated effort for parents to put together. Children love the games, cake, and, of course, the token of gratitude for attending the party. You may call it a goody bag or a party favor, nonetheless, it is very likely that candy, dollar store items, and tiny knick knacks will be included. While your child is ecstatic about consuming more sugar, I personally cringe over more lollipops, chocolate, or the random toy that somehow I find myself tripping over on the floor.
Don't get me wrong, I put together party favors for my kids celebrations and I have included some of these items myself. However, the more parties that my children have attended I have grown conscientious of what makes for an awesome goody bag. You don't have to spend a lot of money to accomplish this goal. Creativity, planning ahead, and yes trips to the Dollar Store as well as our guide can help you put together something fun children (and parents) will enjoy.
Mommy University Presents
10 Brain Boosting Party Favors
Books
Books are wonderful favors as they encourage a love of reading! The use of books as a party favor will depend on your budget as well as if you are trying to organize around one theme. At a few parties, my children received the small "I Can Read" books which are designed for early readers. The cost ranges from $2.50 to $5.00 and are available in Barnes & Noble, Target, and I believe I have seen them at the dollar store on rare occasion.
Games
You will hear me mention the dollar store several times because there are some great finds if you look carefully, such as games. Another hotspot is the Target Dollar Spot which sells items anywhere from $1-3.  Some great options include mini rubik cubes, wood blocks, letter magnets and checkers.
Bubbles
We can never have enough bubbles in our house. I have my personal favorites but if we are going outside or to the lake, I may grab any bottles that are readily accessible. Bubbles have many developmental benefits for children such as language development, hand-eye coordination, oral-motor strength and much more. Due to their accessibility and low cost you can pick up a tiny one or the standard size. The dollar store can have some decent sized bubble bottles to hand out to each guest.
Puzzles
A trip to the dollar store may reveal more puzzles that you thought possible. I have found puzzles from 24 to 48 to even 100 pieces. Puzzles are perfect for improving fine motor skills and hand-eye coordination as well as problem solving skills. I have found Disney themed puzzles to more generic style puzzles which means that you might even be able to incorporate the birthday theme (if it exists) with the puzzle.
Play Doh, Floam, Silly Putty, Oh My
My children love tactile toys. They are small in size and can be purchased at many stores so the price can usually fit in most budgets. My daughter received a small Play Doh with a PAW Patrol sticker slapped on it, and we were happy as can be because there is never enough Play Doh in my household. The dollar store may also have other versions of tactile toys which can also be fun such as silly putty or floam. It is easy to buy stickers and have your kids decorate the toys if you want to tie to the birthday theme.
Stickers
Stickers are one of the most affordable items that can go in a goody bag and they are fabulous for enhancing fine motor skills. Since you can buy them almost anywhere, it is easy to acquire and if you have a theme it will probably be easy to find sets that coordinate. Sometimes, I buy packages that contain eight sheets and give each child one sheet.
Art Supplies
Crayons make the list for the goody bag as children can go through crayons very quickly. I save most extra crayons to send with my kids to Grandma's house. Crayons just like paints are wonderful for fine motor skills as well as encouraging a child to explore their imagination. At my daughter's Rapunzel birthday party, each guest received watercolors which were affordable and coordinated with that particular princess' passion.
Coloring Books
Coloring books are great for party favors as they come in different sizes, qualities, and themes. You can find them in almost any store from Barnes & Noble, Target or Walmart to the Dollar Tree. If you look far in advance you can probably find what you need to match the party's theme. We had a Sofia the First party for my daughter and provided each guest with a Sofia coloring book from Michael's that cost a shocking $1/each so price can fit into most budgets.
Safari Ltd. Minis
Safari Ltd. creates figurines that range from the tiny to the large. While we have written about our love of the Toobs sets which are based around a theme and contain small figurines, they also sell a collection called Good Luck Minis. Figurines are great for imaginary play. I encourage you to look into this option as if there are minis that tie into your theme or your child just likes them, they can be used to decorate cupcakes or for the goody bag.
Melissa & Doug Sets
Melissa & Doug has some amazing products that are perfect for a party favor and are educational. For example, Water WOW Books are phenomenal! They are a toy that relies on filling a pen with water and as the water comes in contact with the book colors appear. It can be reused many times. This product costs around $5.00 so it is a little more expensive but if it is a standalone party favor and fits your budget this is a great choice.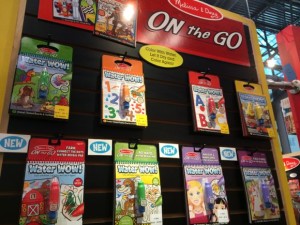 Another example is the Melissa & Doug Puffy Sticker Play Set which was introduced to my son when he received the Pirate Puffy Sticker Playset as a favor. We keep it in the car, and I frequently overhear my son talking about going to the pirate island. The foam stickers can be reapplied to each other and the board. It encourages fine motor skills as well as imagination.
Bonus: Healthy Treats
Candy is not a bad thing in moderation; however, there are some alternative options that can be thrown into the goody bag that won't overwhelm children (or the parents that have to drive them home hopped up on sugar). Small sized bags of popcorn, pretzels, and Go Go Squeez pouches, are a few ideas and some may even be able to coordinate with your theme. For my son's Jake and the Neverland Pirates party, we included Pirate Booty into the bags for all the guests. I am not perfect so there was also three chocolate gold coins but I kept it to a minimum.
There is no requirement for guests to receive a party favor, but if you want to compile some items or just give one small gift than we thought some of these items are not only fun but also have educational or developmental components.  As far as budget is concerned, that is a personal family choice and we included items that range in price so that you can see various choices.
Have fun when putting the elements of the birthday party together and remember to the most important advice which is to have fun!
You might also enjoy:
10 Brain Boosting Uses for Safari Ltd. Toobs