About 6 years ago, our then family of only 3 went to Vermont for spring break. During that time, we visited Smugglers' Notch to see what this amazing resort had to offer. We were so blown away by its family friendly atmosphere and never-ending activities that we swore we would return one day for a fun-filled family vacation. Fast forward 5 years when I met the public relations director for Smugglers' Notch at Blogger Bash in NYC. I was so excited to meet her and discuss all the resort had to offer. In hopes of winning, I entered a contest for a family weekend at Smugglers' Notch.
You can only imagine my excitement when I found out that I won! Although it was only July, I immediately began planning our ski vacation. My boys learned to ski last winter and I knew they were up for the challenge of the Vermont terrain. I was lucky enough to book Martin Luther King weekend which was not only a long weekend but also my birthday!
After 6 long months of planning and building up the excitement and anticipation, the time was finally here! Our clothes were packed, new ski supplies purchased and all our activities were booked. We hopped in the car and drove a little over 6 hours to Smugglers Notch!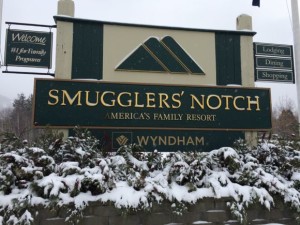 Known as America's Family Resort, Smugglers' Notch is located on Route 108 in Northern Vermont. It's a short drive from travel destinations such as Burlington, Ben and Jerry's Factory and even the Magic Hat Brewery. With all that Smuggs has to offer, however, there is little need to venture outside the resort especially in the winter. From skiing to skating to even swimming, there is something for everyone in your family to enjoy.
We arrived at Smugglers' Notch Resort around 11pm on Friday evening. The check-in process was quick and easy, and the front desk staff was very friendly and helpful. We then drove up to our townhouse which was located in the North Hill section. There are not enough words to describe how amazing our townhouse was. As soon as we opened the door we were in awe. Our place had 3 bedrooms, 2 full bathrooms, living room, dining room, full kitchen and enclosed back porch.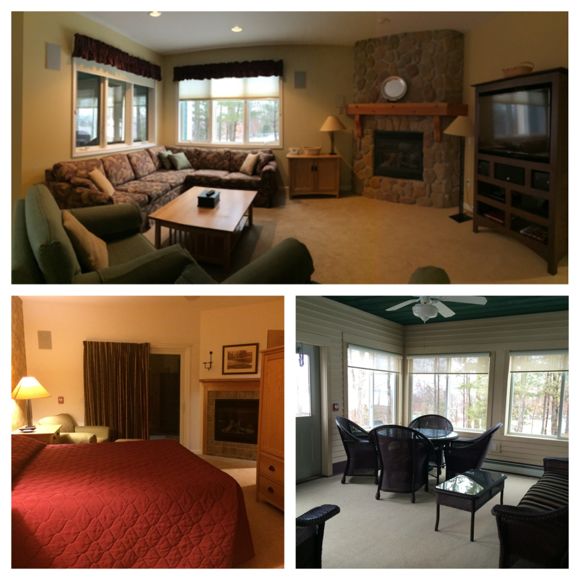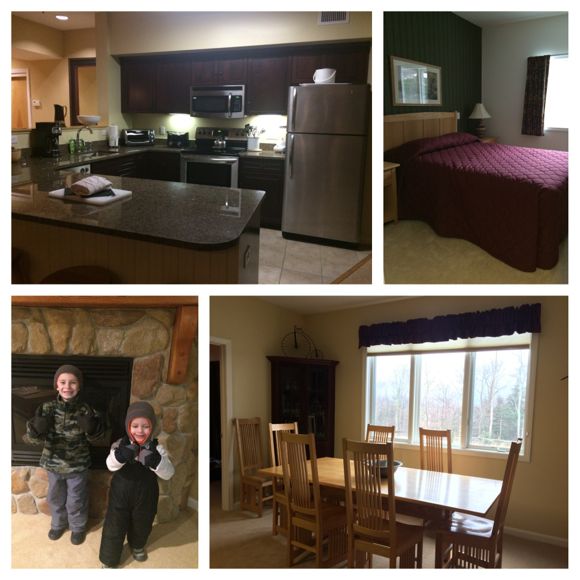 It also had 2 beautiful gas fireplaces, a steam shower, jacuzzi tub and a washer/dryer unit.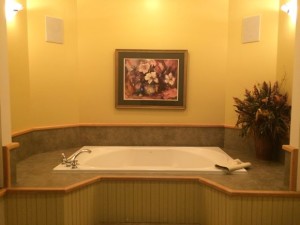 We were on the bottom level so we were able to walk outside to magnificent views of the mountain. We also had chairs and a grill (for warmer weather use).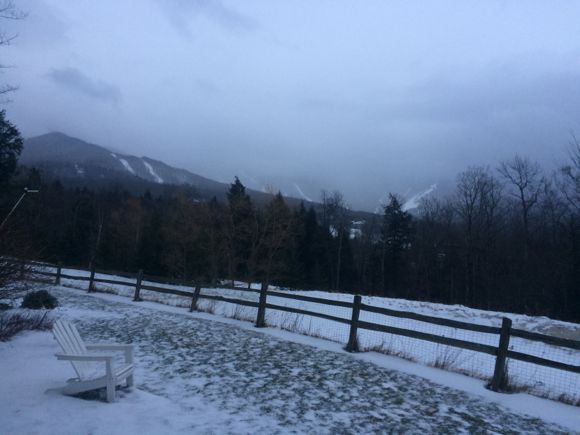 After exploring our accommodations, enjoying a warm fire and reading some brochures, we finally snuggled up for a good night sleep so our winter adventures could begin.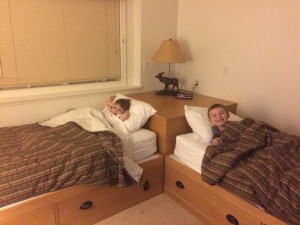 The next day started by heading over to the The Village to pick up the ski rentals. The process was just as seemless as check-in. The staff was very friendly which made the process easy and enjoyable for my little skiers! Next, we headed to The Meeting House where we dropped off the boys for their full day ski camps. Smugglers' offers ski camps (Snow Sport University) for ages 3-20 years old. The full day camp begins at 9am and ends at 4pm with lunch included. Tyler and Trevor's instructors were extremely friendly and knowledgable. They made the boys feel comfortable and excited for their day of learning to ski through play!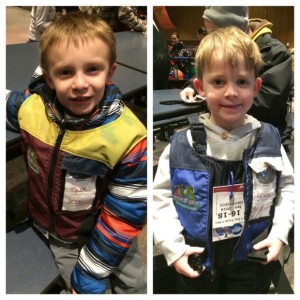 Once the boys were settled, my husband went to explore the mountain while I went to the Nordic Center for a snowshoe trek. I had never snowshoed before but had always wanted to. I knew this would not only be fun but a great workout! I put on a pair of the new Atlas Snowshoes and off I went on my adventure.
My trek was led by Lindsey who was not only friendly but also very accommodating when our small group of 4 needed a break. Even though it was lightly raining and there was not as much snow as usual, I truly enjoyed this experience. I learned all about how beavers make dams and was able to see firsthand what the tree looks like after a beaver gnaws it down. It was an amazing learning experience!
My husband also had a thrilling experience at the top of the mountain at Smugglers Notch. With 3 interconnected mountains offering over 1000 acres of terrain with 78 trails, there was plenty to keep this ski lover busy! Did I mention the 2610′ vertical rise and the only triple black diamond in the East?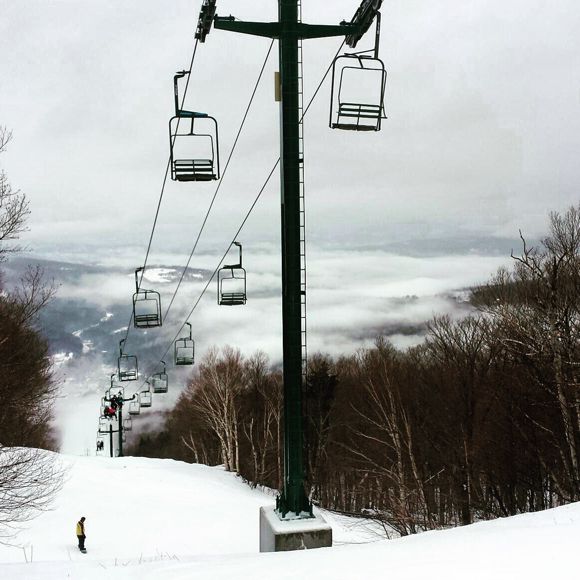 After our separate adventures, my husband and I met for lunch at the Morse Mountain Grille, then headed back to our room. We were very excited to find a hot tub located in our complex which we happily enjoyed while the kids were still at ski camp!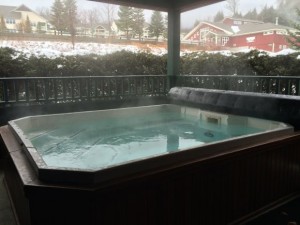 Around 3:45pm we went back to get our boys who were thoroughly enjoying a science show with fellow campers. The teachers provided us with the boys' report cards and Flaik ID so we could track all their moves throughout the day online. The boys told us all about their day as we drove back to our townhouse. Our initial plan was to cook dinner then head to the FunZone, BUT we decided that wasn't enough adventure for one night. So we changed the kids into their swimsuits and brought them to the aquatic center at the North Hill.
The boys had so much fun playing in the fountains, sliding down the slides and making new friends. It is important to note that only guests of the North Hill can use this pool. The Courtside Pool is open to all guests which also offers a fun swimming experience. Other sections of the resort offer complex specific pools including some outdoor pools that even open in the winter!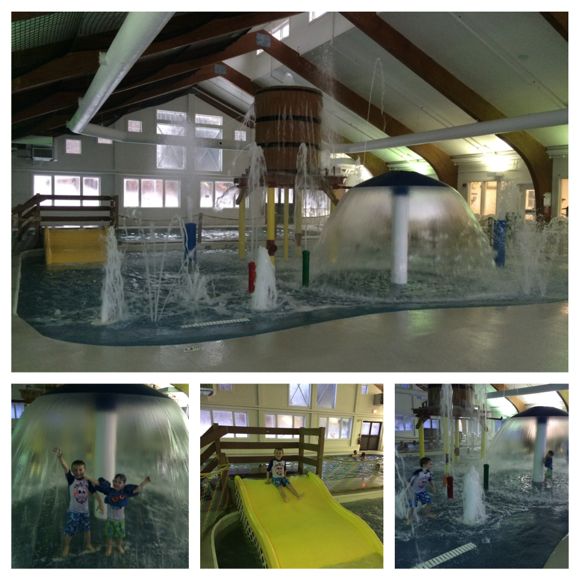 After pool time, the boys quickly changed and we headed to the FunZone! "The dome" as my boys call it (because it is housed in a giant dome shaped building) is every child's dream. With a variety of bounce houses and obstacle courses, arcade games, mini golf, ping-pong, giant Connect Four and more, kids (and adults) can play for hours. The FunZone is open every day from 2-8:30pm and is included with your Smuggs Pass. My boys had a blast running from activity to activity. I even "jumped" in and had some fun too!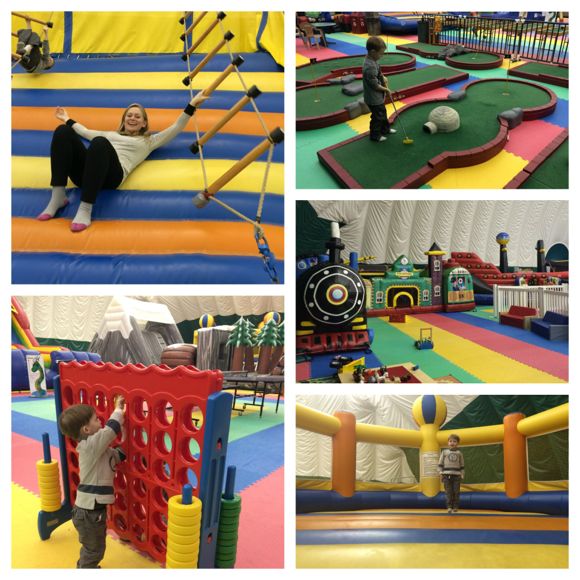 At this point, everyone had built up such an appetite that it was time to get dinner. We headed over to Riga-Bello's Pizzeria in The Village which was having a pizza party with Billy Bob Bear, Mogul Mouse and the Friendly Pirate. We enjoyed songs and games while eating delicious pizza.
For most families that would be enough for an entire weekend, but we weren't quite done. We headed down to the yurt for a brain boosting activity called I-Did-a-Sled. For this program, each team had 45 minutes to make and decorate their own sled made out of only cardboard and duct tape. When time was up, the teams brought their slides to the top of Sir Henry Hill and raced them down. Sounds like fun right? I loved that this activity not only sparked creativity but also provided an introduction to design and physics!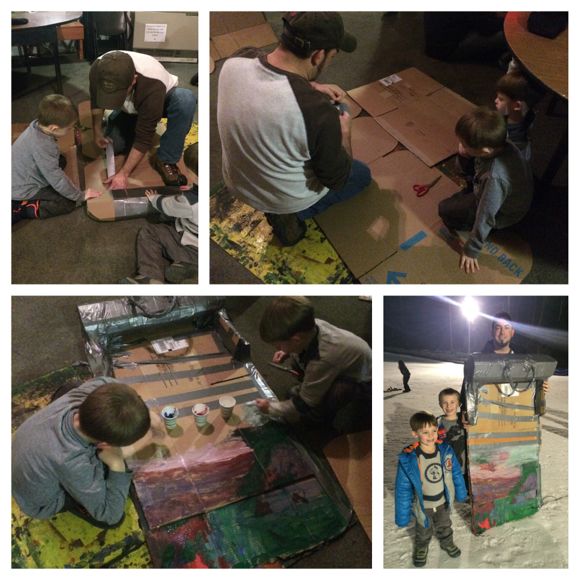 Now no night in Vermont is complete without Ben and Jerry's ice cream which you can get right at Smuggs! We picked some up to go and enjoyed it in our room. We then relaxed by the fire and talked all about our amazing day!
The next day we dropped the boys off at ski camp again, I headed to another snowshoe trek and my husband traveled to the top of the mountain. My snowshoe trek this time was all about the forest. I learned about the local trees and plants and even found out some of it is edible! It was a thrilling and adventurous learning experience that I won't forget!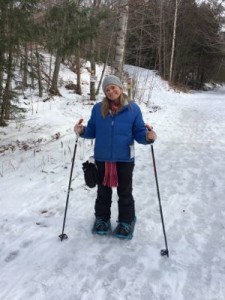 My husband also had a memorable experience as he witnessed the spectacular views from the top of the mountain. It was a beautiful clear day which made the journey even more magnificent!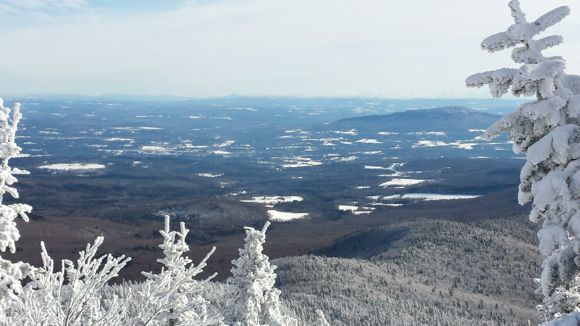 Unfortunately, Tyler was not feeling well so my husband picked him up early to go back to the room and relax. I snuck over and caught some of Trevor's ski lesson. I loved seeing how much fun he was having while learning. I also loved how attentive and caring his teachers were.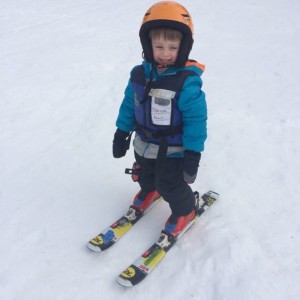 Around 2:15pm, I went back to pick up Trevor. I received his report card which let me know about his progress. I thanked his teachers for an amazing experience that I know my son will never forget. At 4:00pm, Trevor and I headed back to The Village for hot chocolate by the fire. It was really nice to spend that time with my son after a day full of winter adventures.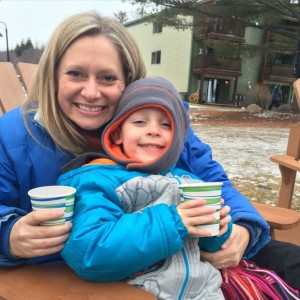 After enjoying dinner in our townhouse, Trevor and I headed to the FunZone for their Open House. We both had fun playing games, bouncing around and, or course, hanging out with Mogul Mouse! It was the perfect way to end our night.
The next morning we awoke to beautiful falling snow. It was a picturesque view from our room. Tyler was feeling better so he got bundled up and headed outside for some snow fun. I loved the convenience of stepping out our back porch to a snowy yard to play in. It was a fun bonding experience for Tyler and his dad too!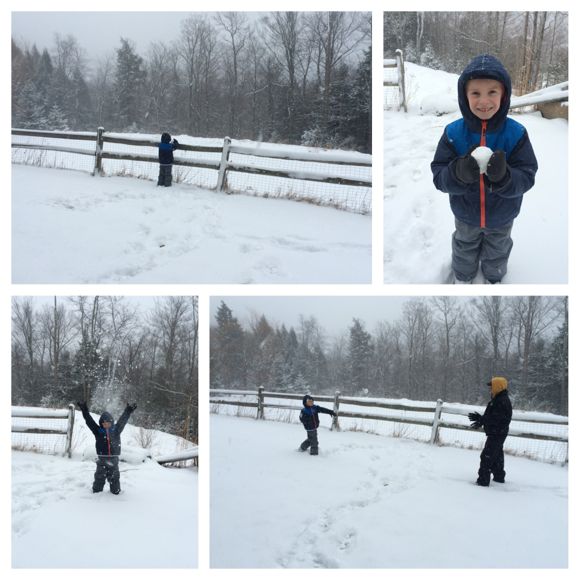 The last activity we enjoyed before heading back to NJ was a scavenger hunt. We had fun answering 4 questions that lead us to specific areas on the resort property. Each area had an orange box with a letter inside. Once we had all 4 letters, we unscrambled them to spell a word. When finished, we headed back to the Nordic Center to retrieve a prize!
We were so sad to leave Smuggs, but we know we will come back soon. We also created family memories that will last a lifetime! I hope you enjoyed reading all about our adventure. You can learn more about Smugglers' Notch Resort at smuggs.com!
**In full disclosure, we were provided a weekend stay at Smugglers' Notch including the amenities listed above. All opinions are completely my own.
You may also enjoy:
10 Educational Winter Experiences at Smuggler's Notch