At Mommy University, we love focusing on finding the teachable moments in every experience. This is especially true when we go on vacation. I believe kids learn best through play and engaging in meaningful experiences. When we choose a place to vacation, I make sure there are fun family adventures that offer opportunities for all of us to learn and grow.
When I won a weekend at Smugglers' Notch, I knew it would be an amazing learning experience for all of us. I was so excited to also be offered a wide variety of adventures that we could enjoy together and independently. In this article, I will highlight 10 amazing educational experiences families can enjoy during a winter vacation at Smuggs!
10 Educational Winter Experiences at Smugglers' Notch Resort
Skiing and Snowboarding (of course)
Smugglers' Notch offers amazing opportunities for kids and adults to learn to ski and snowboard in a fun and relaxed environment. The Snow Sport University (SSU) offers programs for ages 3 through adult in the form of full day camps, private lessons, group lessons, night programs and more. With the very friendly, talented and knowledgeable staff, skiers (young and old) will have a blast learning. Parents can rest easy (or ski easy) as their kids are in camp knowing that safety is the primary focus at SSU. In addition, each child in the full day program wears a Flaik GPS to track their every ski move during the day. Parents can see their child's progress by visiting the website and entering their personal Flaik code.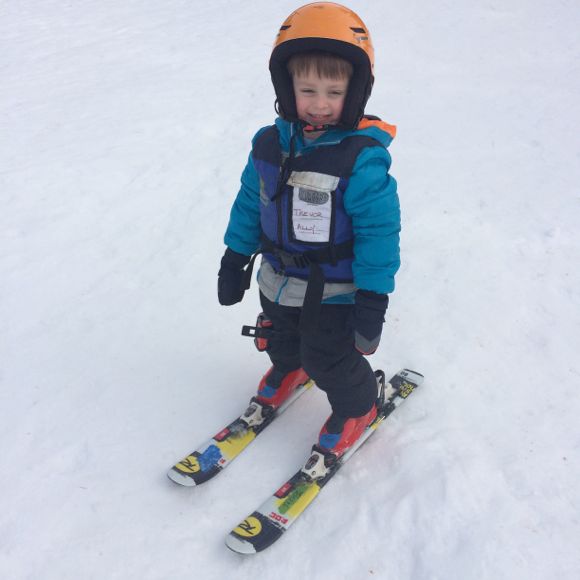 What I love about SSU is that they also offer an adaptive program (SNAP) for individuals with special needs. It allows children and adults of all abilities to experience the benefits and excitement of these winter sports. Each ski and snowboarding experience is created to meet the need of each person whether that be through private lessons or through inclusion allowing for opportunities for socializing with fellow skiers. Adaptive equipment such as mono-skis and sliders are also available.
Treasures Child Care Center
Have a little one? No worries! Treasures Child Care Center offers an amazing learning through play environment for kids ages 6 weeks to 3 years old. Treasures resembles a daycare or preschool that you would find at home making the experience more familiar and comfortable for the kids. Full and partial day as well as hourly child care options are available. Each staff member is certified in first aid and CPR as well as trained in child development and behavior management.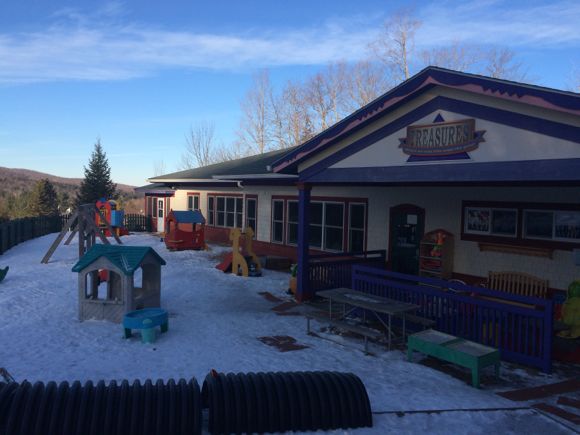 Did I mention that starting at 2.5 years old the kids learn to ski? With their own mini magic carpet, little ones will learn ski basics in a fun and comfortable environment. A child's first exposure to skiing is so important, and Treasures ensures it will be a happy and memorable experience!
Snowshoe Treks
One of my favorite experiences at Smugglers' Notch were the snowshoe treks. Not only did this winter adventure provide great exercise, it was also a wonderful way to learn about and grow an appreciation for nature. I learned about the animals and plant life that can be found in the woods and how they survive the harsh winter. I loved seeing how the beavers created dams and lodges as well as learn that there is plant life in the forest that you can eat. (If snowshoeing is not for you, Smuggs also offers Cross-Country Skiing lessons and adventures as well as Winter Walking which can be enjoyed by the entire family!)
The FunZone
Of course the bounce houses and slides are fun and help build motor skills and confidence, but what I really loved were the games. The FunZone offers a life-size Connect Four game that helps build visual, motor and problem solving skills all while having fun. The basketball game, on the other hand, can help kids build math skills as they add up all the points they earned depending on what basket they get the ball in. The pool games were my favorite as they involved planning, problem solving and even an introduction to math and science concepts.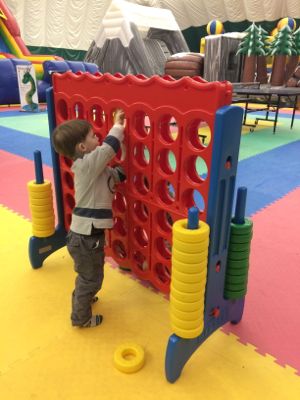 Ice Skating
Ice skating is not only a fun winter sport, it also has wonderful benefits. Besides being great exercise, it also helps enhance balance and coordination. Playing hockey, which you can also do at Smugglers' Notch, helps improve motor planning and hand-eye coordination. I can't forget to mention that skating is also a fun way to learn perseverance, determination and patience as it is a sport you must practice and work hard at in order to be successful.
I Did a Sled
One of the most memorable experiences during our weekend at Smugglers' Notch was working together to build our own sled out of cardboard and duct tape. During this event which is offered twice a week, teams of 2 or more have 45 minutes to build and decorate their own sled. I loved how this activity helped introduce my kids to various design concepts and scientific principles such as aerodynamics, inertia, friction and gravity. It was also a wonderful bonding experience!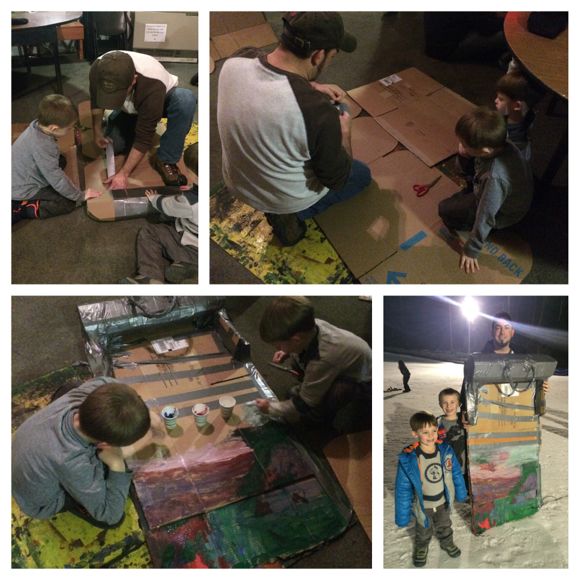 Father Winter
Located between two popular trails on Morse Mountain you can find a tipi in the woods. Children in ski school along with any skier passing by can stop by and step inside the tipi to visit with Father Winter. Visitors can sit beside a fire with a warm drink and learn all about science and nature. Twice a week, Father Winter who is a biologist, provides interested skiers with information about local animals as well as provides live animal encounters. It is a wonderful introduction to environmental and animal science.
Arts and Crafts
Did you know that you can enhance your painting, culinary and sculpting skills while vacationing at Smugglers' Notch? Throughout the week, art classes are offered for kids and adults which allow for a nice break from outdoor winter fun. Families can enjoy classes such as sock puppets, snowman mug painting, wine glass painting, clay sculpting and more.
Scavenger Hunt
I love scavenger hunts! They are perfect for encouraging teamwork while also enhancing problem solving and visual skills. The Village Scavenger Hunt takes place twice a week and begins at the yurt by the Courtside Pool. Teams are provided 4 clues that will lead them to places around the resort. When the correct location is found, there is an orange box with a letter inside. After all 4 letters are found, they must unscramble them to create a word. This fun task not only enhances logic and reasoning skills and map reading abilities, but also increases letter recognition and spelling skills!
Free Play
People often overlook the importance of free play. We often feel that each moment needs to be scheduled in order to get the most out of an experience. What I love about Smugglers' Notch is that on top of its amazing schedule of events and programs, there are many opportunities for free play as well. During free play kids learn to use their imagination and creativity. They learn to engage with others and build social skills which in turn enhances language development. At Smuggs in the winter, kids can enjoy sledding, making snowmen and having a snowball fight. Free play is also a part of SSU as kids play together before camp allowing them to make new friends.
I hope you have enjoyed learning about some of the amazing learning experiences families can enjoy this winter at Smugglers' Notch. Other fun adventures include snow tubing, snow mobile tours, zip line canopy tours, air boarding and snowcat rides, just to name a few! For more information visit smuggs.com!
*In full disclosure, my family was provided a weekend stay with amenities at Smugglers' Notch. All opinions are my own.
You may also enjoy:
10 Benefits of Skiing and Snowboarding
Our Winter Adventure at Smugglers' Notch Resort