Perfect Princess Parties NJ treats each child like royalty!
As the mom of a three-year old that sees the world in princesses and heroes, we have been fans of Perfect Princess Parties NJ for over a year. We attended their first event in Cedar Grove with the Snow Queen and Ice Princess then their cupcake party with several princesses so we knew their future events would be fun, engaging, and educational. We were honored to receive complimentary tickets to the most recent event in order to share our magical experience with all of you. As invited guests of their largest event to date, The Winter Ball, I knew that my daughter and her friend would fully immerse themselves in the experience.
The Winter Ball was a dinner show that invited guests, who were typically dressed as their favorite princesses, to meet and talk to the characters they have grown to love from movies and books. Each princess has a unique personality but treated each child equally as royalty. The children loved interacting with the famed characters who held in-depth conversations with my daughter and her friend.
The performances, however, were my favorite part. Songs that we have grown to love were performed by the various Princesses from Storybook Princess to Long Locks Princess. Watching my child dance along to songs that she has grown to love and imitating the choreography made this proud mama smile. The grand finale included our favorite two sisters hitting the stage with a backdrop of snow (yes, actual snow) as we all sang "Let It Go."
At Mommy University, our focus remains on the educational benefits of special programs like The Winter Ball. Although, my daughter looks in the mirror and sees an imaginary tiara, as a parent I am always seeing the world in a lens of how does a program like this benefit my child.
Mommy University Presents
Reasons The Winter Ball Was Fabulous
Encouraged Imaginative Play
As my daughter dressed as Cinderella and her friend dressed as Elsa, they imagined themselves as guests in this royal ball. For these young girls they see the positive qualities of these characters. My daughter sees Cinderella as hardworking and her friend sees Elsa as someone who is strong. Meeting the resilient Frog Princess was one of her favorite moments of the night.
Enhanced Social Manners
Events like The Winter Ball are perfect to practice social manners. As we sat at the table, there were dozens of opportunities for children to practice being polite as they enjoyed a delicious meal. Each time they waited in line to meet a princess they learned patience and composure. It was a delightful event that encouraged the practice of meaningful social manners.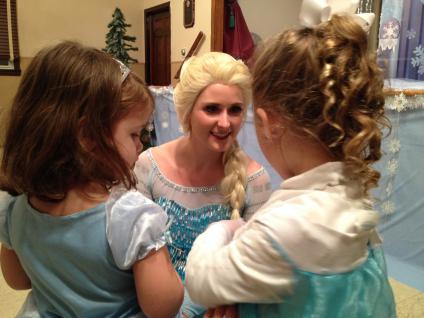 Supported Art Appreciation
Perfect Princess Parties NJ is founded by teachers and thus they typically have an art project that promotes fine motor skills and creativity. In this instance, children could make snowflake ornaments to take home. It was a fun activity where each final product was unique just like snowflakes. However, art appreciation is not just physical objects, it also includes performance which the Winter Ball delivered! One of our favorite songs was The Frog Princess performing "Almost There" which had my daughter twirling. We also enjoyed the Ice Princess performing "For the First Time in Forever."
If you enjoyed reading about the 2015 Winter Ball, tickets are available for the 2017 Winter Ball. Tickets must be purchased in advance at www.perfectprincesspartiesnj.com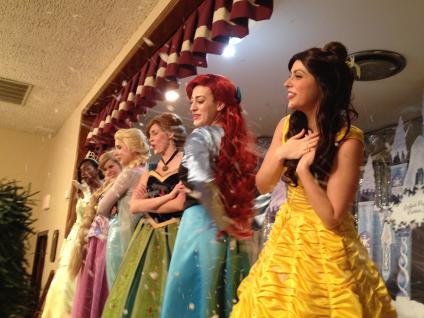 Perfect Princesses NJ is a privately owned company located in New Jersey that offers performances for birthday parties as well as special engagements. In exchange for our honest review, we received complimentary tickets to The Winter Ball. We were so excited to receive these tickets and we have truly enjoyed the performances, the care that they offer children and the developmental benefits of their programs!
If you like this post, you might like: