After 2 months full of spontaneous and planned adventures, weeks of enjoying the sun and warmth and days full of family time fun, returning to the school routine after summer vacation can be not only overwhelming but also depressing. The same can be true after winter and spring break. Let's be real, returning to the same routine after only a 2 day weekend can be daunting!
It's the same thing every day: get up early, fight with kids to get them up and dressed, hearing "but I don't want that for breakfast," forcing them to brush their teeth, dropping them off at school sometimes with whining and crying, then I am off to work for a day of…I won't bore you with that.
Then it's the afternoon routine: pick up the kids, empty the backpacks and lunch boxes, find something to answer the whining "I want a snack. I'm hungry," make lunches for the next day, then sift through art projects, worksheets, letters and so many fundraisers that I just give up all together. After helping with homework and refereeing at least 4 siblings fights, now it's time to figure out dinner. "What's for dinner? I'm hungry!" starts again as you look in the fridge and realize there is nothing to make because between all the things mentioned above, there has been no time for food shopping.
While trying to concoct something that resembles dinner, your husband comes home which throws any order you finally had right out the window as the kids run around yelling "Daddy is home!" As the pillows on the couch begin to fly (again), the kids pull out the play swords you thought you hid well and your husband starts yelling, you say to yourself, "I wish it was summer again!"
As an employee of the public school system, I have the benefit of being home in the summer as well as winter and spring break. When home, I feel as if I have more control over my house. There is more time for cleaning, cooking and maintaining a happy home. Once back at work, I feel as if chaos ensues. Don't get me wrong, the summer has its own list of stressors but the start of the school year definitely wins for being the most stressful.
For some reason, this year has been particular hard for me. Maybe it's that the summer was the best yet or my job has become very overwhelming or maybe it's just the changing of the seasons. Whatever it is, I hope this funk ends soon. In hopes of trying to revive my once happy and energetic self, I have come up with a list of ways to beat the mommy blues.
5 Ways to Beat the Mommy Blues
Get a Haircut
Sometimes all it takes to lift my mood is a new cut and color. It makes me feel refreshed which I know is the same for many other women. Changing my hair color can also help me become more motivated during this time of year. Even just trying a new hair style can make me more ready conquer the day!
Weekend Getaways
I don't mean a trip to Paris or even Disney, but a trip to the Poconos or Philadelphia always makes me happy. I have always found that getting away once a month or every other month helps recharge my battery. It allows us to bond as a family plus it is something to look forward to amongst the school routine.
Order Out
Staring at the empty fridge or, let's be real, even a full fridge can be daunting after a day at work. Ordering out or packing up the kids and taking a trip to your favorite pizza place can help break the everyday routine that can get you down. In my house, we usually order pizza or Chinese food once a week to decrease the stress of having to cook.
Switch Up Your Style
When I look at my closet that consists of clothes from 10 years ago, it's depressing! To help make my wardrobe more exciting I try to look at my clothes in a new way. I create new outfits out of what I already have. I also look for sales to pick up a new outfit once in awhile which always makes me happy. Trying out Stitch Fix is also on my list to help enhance my wardrobe!
Get Active
Now joining a gym would be nice but I've been there, done that and NEVER actually went to the gym. So instead of wasting money, I decided getting active at home can boost my mood just as well as the trip to the gym. Taking a walk, going for a hike, running up and down the stairs (aka doing laundry) and even having a dance party with my kids are all ways to get active. Also, next time you visit a play place or playground, join in the fun. Climb the jungle gym, jump on the trampoline or try out that new rock wall!
Bonus:
Spa Day
Nothing lifts up a woman's mood like a day at the spa. Whether it's a manicure, pedicure, facial or massage, a spa treatment is a wonderful way to beat those mommy blues. The feeling of being pampered and getting to relax even just for an hour can help recharge any mom's battery!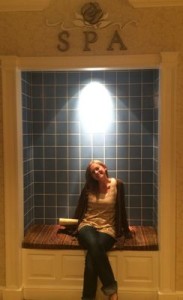 I hope you find these simple ways to beat the mommy blues helpful! Please share with us how you beat the mommy blues by commenting below!
You may also enjoy: