We are incredibly excited to be a sponsor of Play Fair NY 2016 which mirrors our belief that children learn best through play.
Housed in Jacob Javits Center in New York City is the annual Toy Fair which is open to toy stores, companies and press. Although, Toy Fair has existed for over 100 years, it ironically has a no children policy. This year the Toy Industry Association in partnership with LeftField Media is organizing an immersive experience that is opening its door to children! Play Fair has been launched which will be the equivalent of a Comic-con appropriate for the pint-sized population. Mommy University has been asked to sponsor this event which thrills us because it reflects our larger philosophy that at the heart of play are numerous learning opportunities.
Mommy University Presents
4 Reasons to Attend Play Fair
Demo Areas
As a parent, I have noticed that toys my children are thrilled to play with may not be ones that are equally enjoyed by their friends. As preschoolers, their unique personalities have emerged which translate into specific opinions. Play Fair offers children and parents the opportunity to fully explore and play with toys by dozens of toy companies. This immersive event invites children to sit and play with toys that you might be considering adding to their birthday and holiday wish lists. You might also learn which toys fit their needs best.
Toy Unboxing
An unboxing is a big reveal and attendees get a peek into what will be released over the next year. If your child is passionate about a specific brand like Lego or Paw Patrol, there is an upcoming birthday (or birthdays) or if you want an idea of what will be the hot toy during the 2016 holiday season, then this is the even for you!  Attendees can participate in "Toy Unboxing" which means that you can preview future toys!
Interactive Exhibits
At Play Fair, toy companies will offer interactive exhibits for children to explore and imagine. The high quality presentations will serve various purposes such as museum quality displays which feature vintage and rare toys which is a wonderful opportunity to discuss your childhood toys. As well, there will be mock-ups of toys that have yet to be released which I find a great time to talk about design and imagination.
Meet Your Favorite Characters
Play Fair will have celebrity guests appearing during the two days; however, let's be honest, the biggest celebrities walking around will be the characters from our children's favorite toys. Kids (and parents) will have the chance to meet favorites like PAW Patrol and Sponge Bob. This event will have innovative photo opportunities that will make it fun for little fans (and possible older fans with young hearts).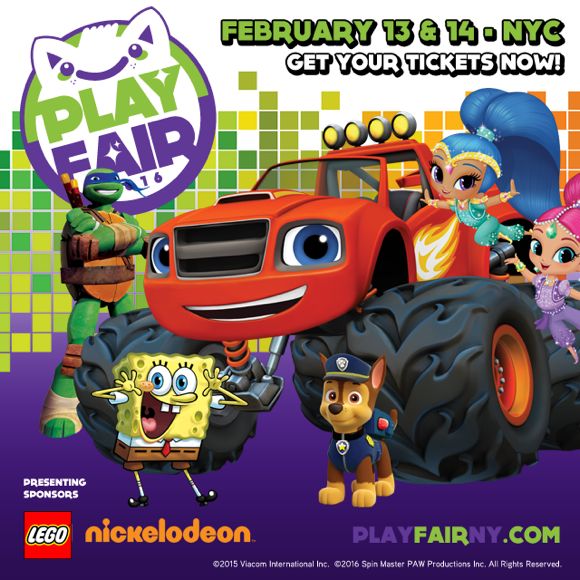 Play Fair will be held on February 13 & 14, 2016 at the Javits Center in New York City. Tickets are $30 each and can be purchased at www.playfairny.com. You can use the code MU5 to get a $5 discount on tickets! As new information is released about Play Fair, we will be sharing on our social media channels so make sure to follow us on Facebook, Twitter and Instagram!