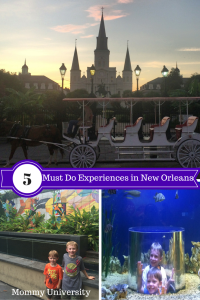 This past summer we enjoyed an amazing family vacation in Louisiana. We explored museums, toured plantations, tried new food, discovered new animals and so much more. One of our favorite things to do while down there was visit the iconic city of New Orleans. We were lucky enough to take 3 trips to this historic city during our stay and each one brought on new adventures and new discoveries.
When people think of New Orleans they often think about Mardis Gras and Bourbon Street but there is so much more to see and do in NOLA! In fact, it's a great place for the entire family to have a fun learning adventure!
5 Must Do Experiences in New Orleans with Kids
Visit the Audubon Institute
If your kids love animals, bugs, sea creatures or all of the above, then the Audubon Institute is a must do attraction on your next trip to New Orleans. There are 3 parts to the institute: Zoo, Aquarium and Insectarium. Each can be found at a different location making it even more of an adventure. Since there is so much to see and do, I recommend giving yourself at least 2 days to explore the Audubon Institute. We took one full day exploring the zoo and aquarium, and there were still exhibits we didn't get to see! All three areas offer amazing hands-on learning experiences for the entire family. They are wonderful places to explore, discover and learn while in NOLA!
Take a Carriage Ride Around the City
My absolute favorite experience on our trip was the carriage ride around the city. We boarded a gorgeous old-fashioned carriage at Jackson Square in front of the famous St. Louis Cathedral. It was drawn by donkeys (not horses) and directed by a very knowledgable and interesting guide. We decided to begin our journey at sunset which I highly recommend as the sights were amazing this time of day. During our journey, we learned all about the history, culture and architecture in New Orleans. We even heard some old ghost stories. It was an adventure that we will never forget and can't wait to do again on out next trip!
Enjoy a Walking Tour
Whether it's with a professional company, a private guide or self-guided, a walking tour of New Orleans is a must. It can be done day or night depending on your family's interests. In our trip, we decided to just grab a map and explore on our own; however, about 10 years ago my husband and I took a night time ghost tour which was a haunting experience. This trip, we really enjoyed admiring the architecture, reading the menus of local restaurants, watching street entertainers and much more! From the Garden District to the French Quarter to the waterfront, there is so much to see and learn about when walking around New Orleans!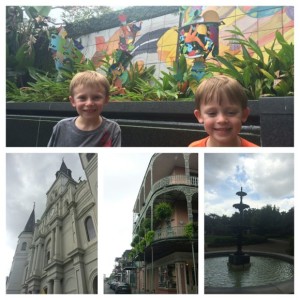 Take a River Cruise
Although we did not get to take this water adventure this trip, it is definitely on our must do list for our next Louisiana vacation. River Boats are iconic for the South. They are a symbol of history and take families on a journey thought the past while taking in an amazing view. There are several river cruise options such as Creole Queen and the Steamboat Natchez. Each offer unique experiences that allow families to have fun while learning!
Go On a Culinary Adventure
If you there is only one thing you are able to do while in New Orleans, then I highly recommend trying the local cuisine! From fried alligator to shrimp and grits to classic jambalaya, there is something for everyone to try and fall in love with. We all tried fried alligator on our trip and LOVED it. Plus, make sure you try a beignet! This fried dough masterpiece is amazing, and make sure you wash it down with a coffee from the famous Cafe Du Monde!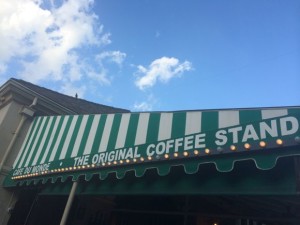 Now I know there is obviously more than 5 things to do with kids in New Orleans, but I thought these would be a great start. As we visit more as a family, I will continue to share our adventures and suggest family fun activities!
You may also enjoy:
Get Schooled at the Audubon Aquarium
Explore, Discover, Play at the Audubon Zoo