We are so excited to partner with the Franklin Institute to bring you all their learning adventures. All opinions expressed in this article are our own.
SportsZone invites kids to get physical as well as scientific!
In the heart of Philadelphia is the Franklin Institute known for its interactive and educational exhibits. From outer space to the brain, the Franklin innovates and invites children to explore, play and learn.
When we visited their newest exhibit, SportsZone, the place was hopping as feet pounded the ground to see all 21 interactive experiences. The recent addition to their museum investigates the connection of sports to the science of the human body, technical innovation and laws of motion. It is an energized space that is not only about gross motor skills we typically associate with graceful athletes but also focuses on recent innovations like artificial knees.
Children were competing against each other in Jump Momentum to see who could leap the highest while others were learning about football helmets and concussions. Within SportsZone children will find active play does lead to amazing learning opportunities.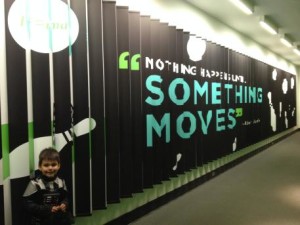 Mommy University Presents
Brain Boosting Places to Explore at SportsZone
Athletes Run
I confess my children spent most of their time in the Athletes Run station. Two children can compete against several athletes including Philadelphia Eagles wide receiver Jordan Matthews, Marathon Runner Dawn Grunnagle, or Inline Speed Skater Brian Talley. The background, which is the length of a forty-foot track, has a screen projecting the athlete they chose to race against. My children's favorite was the Phillie Phanatic who they raced for twenty minutes.
Jump! Jump!
As a childhood basketball player, I know that how high you can jump is influenced by how much momentum you have, and this station teaches the concept through experience. Children and adults can see how high they can jump with and without momentum. Most children were laughing as they competed against each other.
Catch A Wave
My children loved catching a wave on the electronic surfboard. As the surfboard shifts and moves, the surfer needs to shift their body's position to balance the board. This is a popular space, and for the individual who does not consider themselves an athlete, I found this to be a great match.
The Bionic Man
One of the most fascinating technological innovations in medical care is the artificial knee. Since my father in law has had double knee replacement, we were entranced by the case that contained a replica of the knee. We maneuvered the knee to watch it move and could see how this device is making his life better.
SportsZone makes the combination of sports and science fun and engaging. Be prepared, because children will run around this space investigating all that is here! And just like athletes, get Ready, Set, and Go!
The Franklin Institute is located at 271 North 21st Street
Philadelphia, PA 19103.  More information about this exhibit can be found at the Franklin Institute website.
You may also enjoy:
4 Ways to Go Inside the World of Science at The Franklin Institute