Snow globes have a tendency to entrance children as they can easily control the weather for one small picturesque scene. We start to pull these out around the holiday season as they have that association of snow and seasonal celebrations. As we were compiling a list of activities to do before watching holiday movies, we realized that making your own snow globes is not only a fantastically fun activity but can also invite children to improve developmental skills.
Creativity for Kids was generous in sending us a sample of their Make Your Own Holiday Snow Globes which is available in stores. Each kit comes with three snow globes (blue, green, and red), three figurines (Santa, Reindeer, and Snowman), and all the supplies needed to make your own scene. By rolling and shaping the clay children are designing a scene that they will enjoy for years to come. The snow globes, designed for children six years and older, can be made in one sitting from start to shaking.
Immediately, I thought this is a phenomenal activity on Christmas Eve or when visiting relatives like grandparents. My personal favorite idea would be to invite friends over and have a snow globe party where each attendee takes home their own home-made snow globe. How much fun would that be?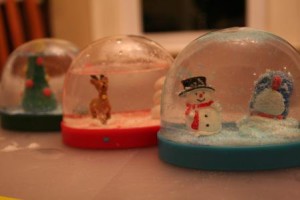 Mommy University Presents
Benefits of Make Your Own Holiday Snow Globes
Sparks Creativity
Creativity for Kids offers several ideas on the cover of the box which is a great starting point for young children but don't be surprised if they decide on a different direction. This was my favorite part of this project. I loved to watch my kids talk about their ideas as they dreamt big.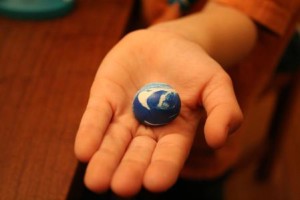 Enhances Fine Motor Skills
From unwrapping the plastic surrounding the clay to rolling it to shaping little ornaments on the tree (if that's what you choose to make), fingers are being invited to play and create with this fun activity. Since this toy is for children six and older, they can start with a simple snowman or design complicated homes for their scenes. No matter what they decide to make they will be enhancing fine motor control, manipulation and strength while doing it!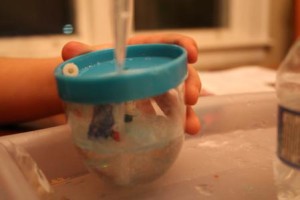 Encourages Patience
I really liked that this project is finished in one sitting, however, since my kids are a little younger projects that require time test their patience. It does take time from planning to creating and putting the snow globes together but I appreciate how they are learning that it takes patience to wait for the final product.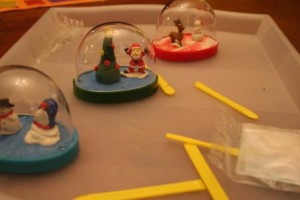 Our three snow globes now sit in a special place in our home and will be pulled out each year. My husband loves them even though my son's penguin is disproportionately tall and my daughter' snowman has more bumps than needed. It is the memories that we see every time we shake up the snow globes that made this experience so special.
Creativity for Kids Holiday Snow Globes are available using our Amazon affiliate link. They also have the Make Your Own Sea Water Globes for $19.99. If you are looking for an alternative to inviting friends over to make gingerbread houses, I suggest the Make Your Own Holiday Snow Globes.
Mommy University received the Make Your Own Holiday Snow Globes from Creativity for Kids in exchange for an honest review.  All opinions expressed belong to Mommy University.
You may also enjoy:
Taking a Holidaze Break: Christmas Movie Activities