A sensory bin inspired by A Charlie Brown Christmas
Every year families gather around the television to watch Charlie Brown teach us a valuable lesson about Christmas as he has been doing for the past 50 years. It is amazing to think that my children, like I did at their age, stayed up late to watch the Peanuts gang prepare for the Christmas show and sing carols. From the music to the iconic images, this TV special continues to entertain millions of children every year.
Schleich, a German toy company, has expanded their Peanuts collection to include the Charlie Brown Christmas set that includes good old Chuck, Snoopy, and the red doghouse covered in holiday lights. The small set immediately reminds us of the Christmas special and inspired me to think about how this can translate into a sensory bin and activities. Essentially, I wanted to create a space that was an invitation to play which mirrors Schleich's philosophy that "Anywhere's a Playground." My children love to play with the figurines separately in pretend play and hold them while they watch the movies as well as use a sensory bin that combines both.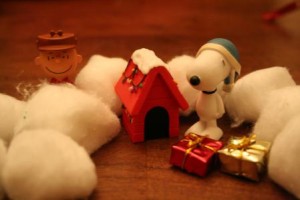 Materials for a Charlie Brown Christmas Sensory Bin
Large container
Schleich Charlie Brown Christmas Figurines
1-2 bag of Cotton Balls
Miniature Christmas decorations
Setting up the Sensory Bin
The easiest part of the sensory bin is actually putting it together. Open a bag of cotton balls, pour it into the large container, add Peanuts figurines, miniature decorations and accessories, and you are ready to play!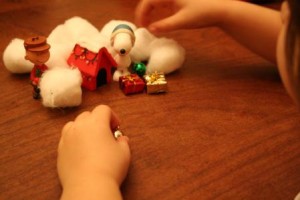 Playing Options with the Peanuts Sensory Bin
The purpose of the cotton balls is filler for the sensory bin but it reminds us of fresh snow and makes the Schleich figurines and holiday accessories pop. The soft texture encourages children to touch and squeeze.
Since we have other Peanuts figurines, my daughter pretended that they were giving each other presents and singing holiday carols as they do in the movie. A 3-year old singing Deck the Halls to Snoopy has a unique cute factor that is fun to watch.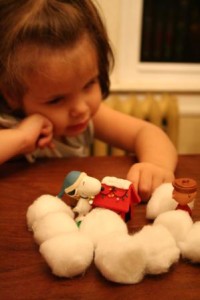 Optional Activities for Peanuts Sensory Bin
What's great about the cotton balls is that they are light and fluffy. You can put a Christmas cup or basket and let them collect or organize the holiday accessories into the cups.
You can offer young children tongs to pick up the cotton balls which is great for fine motor skills.
If you have leftover shredded paper from a gift basket or you want to purchase, this is a great filler for sensory bins. Other material in the sensory bin could shredded gift wrap, bells (which also has an auditory component), or fake pines.
While we used cotton balls to reflect snow, you can also purchase artificial snow. It will expand with the addition of water and feel cool to touch. The other option is to use real snow which is free but not always reliable when it will arrive.
I recommend collecting the little Christmas or holiday items that you receive and compiling into the sensory bin. We often get these items at the school holiday parties, events and through family. If you have small children it is impossible to not receive these items.
Schleich which has been known for its creation of farm, dinosaur and wildlife figurines has released Peanuts figurines and an extensive line as well.  Schleich is one of Germany's largest toy manufacturers that is 80 years old and a leader in imaginative toys. Their figurines can be used for sensory bins, pretend play, and academic learning. The Schleich "Charlie Brown Christmas" figurines are available on Amazon for $16.99.
We received the Peanuts figurines from Schleich in exchange for an honest review.  All opinions expressed belong to Mommy University.
You may also enjoy: