I am so excited to partner with Shutterfly. As a long time customer, I am very happy to be chosen to share their amazing products with you. I was invited to try their new Make My Book service and provided a credit to purchase the finished product in exchange for my honest review.
If you are anything like me then you have a phone full of pictures. You have a picture of your child's every first moment, hundreds of vacation memories caught on camera and more selfies than you care to admit to. So now what? You have captured all these amazing moments in time but what good are they just sitting in your phone?
The solution: Shutterfly!
I have been a Shutterfly customer and fan for as long as I can remember. It started with simply storing pictures, and then later moved to making photo books for family members. Once I had my kids, Shutterfly became my go to source for gifts for all occasions. From Mother's Day to Christmas to birthdays, Shutterfly offers a personal touch to gift giving. I have made gifts such as mugs, calendars and even ornaments. I have even printed pictures to place in frames for special occasions. The gift I have made the most, however, is photo books.
I have spent hours, I mean days choosing the perfect style, uploading photos and arranging the pictures until they created the perfect memory keepsake. I was so grateful when two features were added: the Shutterfly app and storyboard. The app allows me to upload all the pictures in my phone directly to Shutterfly. This makes it that much easier and faster when I want to create photo gifts. Storybook allows you to pick the pictures you want on each page of your book or calendar then Shutterfly does the work in creating the layout.
Recently, Shutterfly has made the photo book making process even easier AND faster! With the Make My Book service, you just pick your book size, choose your style, upload or choose your pictures then let the Shutterfly experts create your book. How easy is that!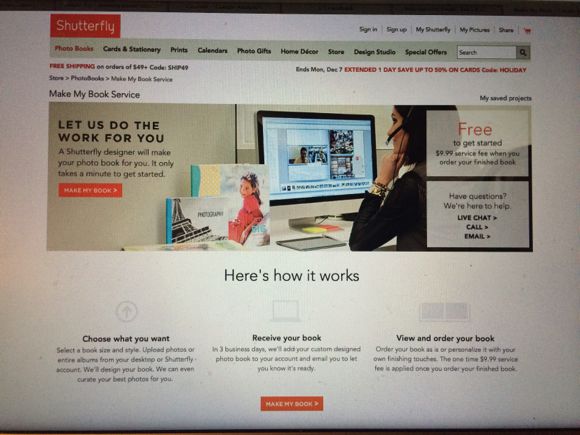 How It Works:
Step 1: If you don't already have one, create a Shutterfly account.
Step 2: Select the book size you would like to purchase. Sizes vary from 8×8 all the way up to 11×14.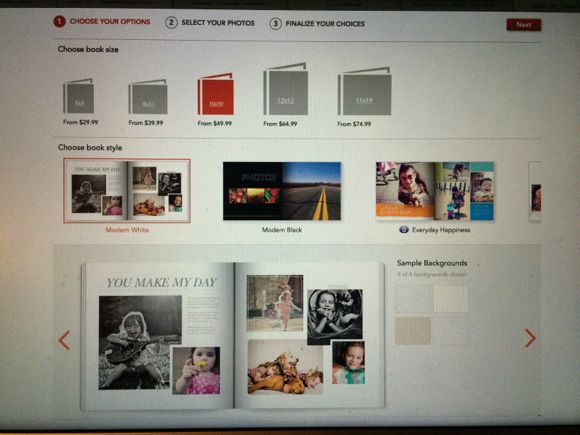 Step 3: Choose the style you would like used throughout your book. There are 12 options to choose from all with a unique style and personality. They vary from travel to wedding to baby books. There is something for everyone to love. Some styles are an additional fee like the one I chose, Travel Bug.
Step 4: Select your photos. You can choose from photos you already have in your online albums or upload more. You can pick up to 800 pictures. The professional designers trained in photo selection will choose the best pictures for your book so don't worry if you picked some that are blurry or off center. The Shutterfly experts know which ones will work best in the book. I added 480 pictures for my album, and I loved what the designers chose to use.
Step 5: Answer some basic questions that help the designers create the best book for you. The first question is to choose an occasion for the book such as birthday, wedding, travel, baby or sports. Then you are asked to name your book. You can also include a subtitle. Last, add some instructions you want the designer to follow. For my book, I just asked that they use the photos in the order they were taken. You can also include design preferences as well as share a little about the story you would like to tell.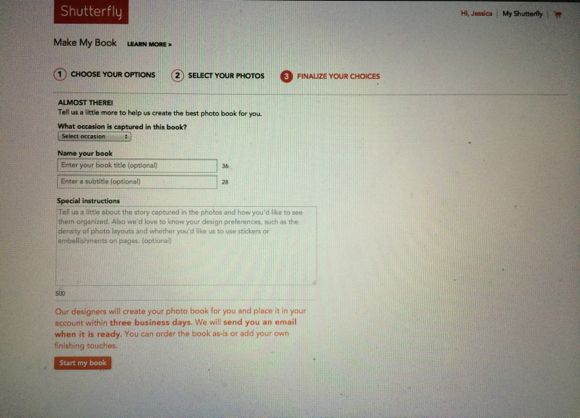 Step 6: Submit your request! Within 3 business days, you will receive an email from Shutterfly letting you know that your book is ready for viewing. At that point, you can order the book as is or make some changes or enhancements such as adding special captions or reorganizing pages.
When I viewed my book, I was thrilled with the final product. It came to close to 70 pages which is great considering I gave them almost 500 pictures to work with. Being the perfectionist that I am, I made some adjustments to my book such as rearranging a few pages, adding a some pictures that were not originally included and adding a few fun stickers. Customizing a photo book is easy on Shutterfly so it did not take long before the book was complete and I was ready to order.
After I completed the final touches, I ordered my 8×11 book which was on sale at the time for 50% off. One of the amazing things about Shutterfly is their ongoing sales which makes gift giving not only easy, but also affordable. My book came within a week of ordering, and I was so excited when the orange package showed up at my doorstep!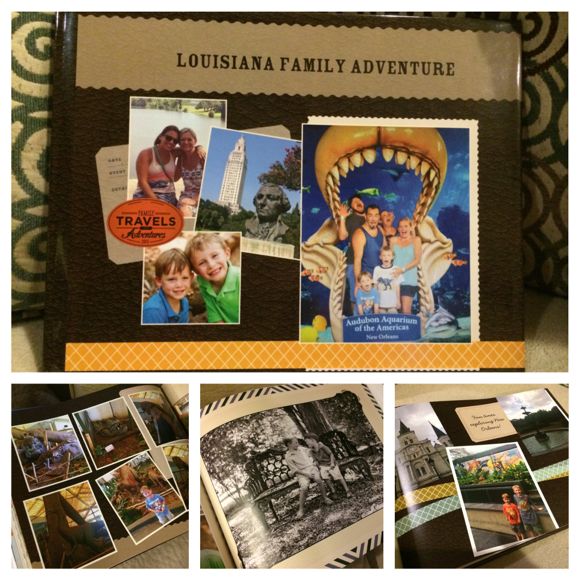 My Shutterfly book highlighted a recent family vacation to Louisiana. My sister and her husband just moved there so this trip was very special to us. I loved how the Shutterfly experts really captured the events perfectly!
As a veteran Shutterfly book maker, I can tell you with certainty that the Make My Book service definitely makes the book making process much easier and faster. It took me only a few hours to complete a process that used to take me days. The Shutterfly designer did an excellent job choosing layout designs, backgrounds and stickers which added personality and style to my book. The small fee of $9.99(only applied when ordered) was well worth it, and I am definitely going to be using this service again in the future!
In full disclosure, I received a Shutterfly credit to use the Make My Book service in exchange for my honest review.