I am so unbelievably excited to share that Mommy University has partnered with Hersheypark, The Hotel Hershey and The Hershey Story to share with you all their sweet learning adventures. This holiday season, we were hosted at The Hotel Hershey and provided passes to Hersheypark and the Little Elves Workshop so we can bring you all the magical adventures Hershey, PA has to offer!
Although the summer and fall are amazing times to explore all that Hershey, PA has to offer, there is something magical about visiting for the holidays. I'm not sure if it's the gorgeous lights, fun family events, delicious hot chocolate or all of it combined, but Christmas in Hershey is something I look forward to every year!
Whether you visit for the day or for the weekend, your family will have an amazing time enjoying all the holiday festivities Hershey has to offer. Christmas in Hershey takes place from mid-November through January 1st. There are events all over town from Hersheypark to the museum to Chocolate World to even the resorts. There is something for everyone in your family to love!
My family recently spent 3 days in Hershey at the luxurious yet family friendly The Hotel Hershey. During our stay we had the opportunity to participate in numerous holiday events throughout town which helped us kick-off the most wonderful season of the year. I wanted to share these amazing and magical events with you!
5 Ways to Celebrate the Holidays in Hershey
Hersheypark Christmas Candylane
From mid November through December 31, 2015, Hersheypark is transformed into a holiday wonderland affectionately named Christmas Candylane. With 46 rides including 4 roller coasters, a variety of carnival and arcade games, character appearances and many delicious food options, families can't help but have a blast. Kick off the holidays with events such as Holiday Storytime and The Littlest Tree show at A Music Box Theatre. Families can also meet Santa AND his 9 reindeer as well as check out the holiday train display. Did you know you can also go ice skating at Hersheypark during the holiday season? It's a fun activity the entire family will love and it's only an additional $3 (kids 3 and under are FREE).
My favorite holiday event at Hersheypark, however, is NOEL (Nights of Extraordinary Lights). Families will be in awe as they watch over 200,000 lights dance to the beat of some of their favorite Christmas songs. Shows start at 5pm and take place every half hour. There are a variety of shows so each experience is unique and breathtaking. Learn more about Christmas Candylane including purchasing tickets on the Hersheypark website.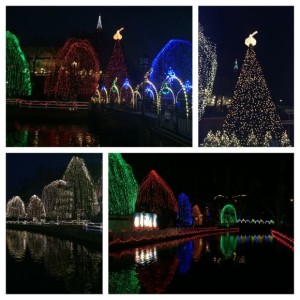 Little Elves Workshop
One of our favorite holiday activities when we visit Hershey is the Little Elves Workshop. On select days now through January 1, 2016 at The Hershey Story Museum, kids (and adults) can make ornaments out of chocolate dough. It costs only $5/ornament, and it is an event the entire family will love!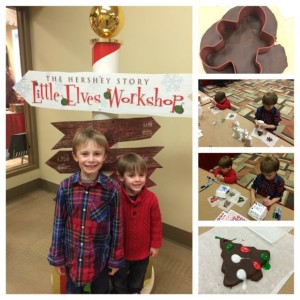 First your little elf must roll out their chocolate dough using a rolling-pin which is great to build motor skills. Then they pick a cookie cutter to cut out their ornament. Next, the kids use their creativity and imagination to decorate their ornament using icing. (Although this all sounds delicious, it is not recommended that you eat the ornament!) When the decorating is complete, the little elves can decorate a box to hold their keepsake. Once dry, the ornament can be hung on your tree, and your house will have the sweet aroma of chocolate!
Another fun event at The Hershey Story Museum is Snowball Saturdays. During select times on December 5, 12 and 19, 2015, dozens of fake snowballs are dropped into the lobby from the second floor. Kids will have a blast playing various games run by the friendly museum staff. It is a wonderful multi-sensory experience that kids of all ages will love!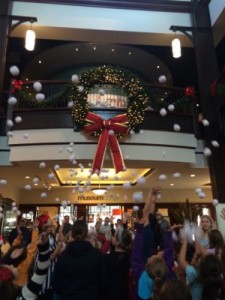 Hershey Sweet Lights
Located near The Hotel Hershey, Hershey Sweet Lights offers families a unique and inspiring holiday light show experience. Guests can sit in their warm car in their pajamas with a cup of hot chocolate as they drive through 2.3 miles of magnificent beauty. With several themed areas such as Enchanted Forest, Victorian Village and Favorite Fairy Tales, kids (and adults) will love seeing new and old characters come to life in lights.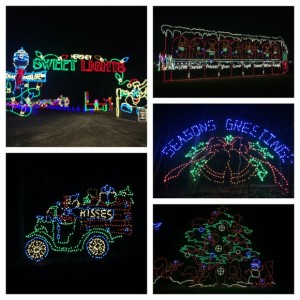 My kids and I loved pointing out all the colors and naming all the characters. We also loved playing the game of finding all the Rudolphs hidden along the trail. One of my favorite parts was seeing the displays created by local children. Hershey Sweet Lights costs $20/car.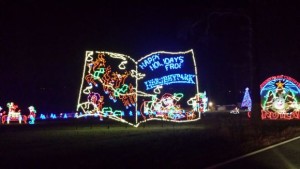 Santa's Secret Garden
We love visiting the Hershey Gardens. It's a wonderful multi-sensory experience that the entire family can enjoy. This holiday season, however, the gardens have added something extra special, Santa's Secret Garden. From 4:30pm – 6:30pm on December 4, 5, 11 and 12, families can enjoy the gardens lit up with Christmas spirit. Kids can meet Santa and Mrs. Claus, make crafts, enjoy a scavenger hunt and play with pretend snow. Tickets are only $10.50/adults, $9.50/seniors and $7.50/children (ages 3-11 years old), but if you stay at The Hotel Hershey, admission is free!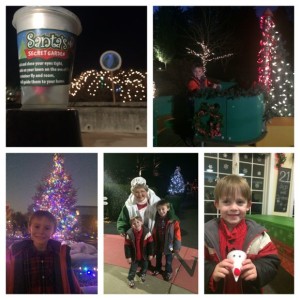 Hershey's Chocolate World
When we visit Hershey, we visit Chocolate World at least 3 times and ride the factory tour ride at least 4 times. Now of course you have to ride the ride as well as check out other activities such as the 4-D show and chocolate tasting but this holiday season the real treat is the Holiday Chocolate House. Located inside Chocolate World, the Holiday Chocolate House is made entirely of candy. It is a grand sight that can't be missed. Make sure you check out the snowman in front too. He was my favorite part of the scene! While there you can also take a picture with Santa!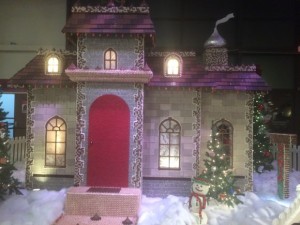 My family and I had so much fun celebrating the holidays with these amazing events. We hope you and your family can visit this season and experience all the magic and wonder Hershey, PA has to offer!
You may also enjoy:
5 Educational Experiences in Hershey
5 Sweet Learning Experiences at The Hershey Story Museum
5 Brain Boosting Reasons to Visit Hersheypark