We are so excited to work with Costume Supercenter to bring you the latest in Star Wars costumes and supplies. We received various items in exchange for sharing tips and ideas to best maximize the force!
If your child loves Star Wars as much as mine, then he or she may be totally fine with dressing as Darth Vader to the supermarket. Yet, dressing in costume is a delicate balance of encouraging imaginative play and not having your cashier wonder your sanity level for bringing dark lord of the sith to the store every Sunday. I love to see my children's imagination soar and wearing costumes is definitely one way to achieve this, and it doesn't have to be reserved for Halloween!
In fact, as a parent who enjoys watching her children play with their toys more than once, I want them to wear the costumes outside of Halloween. I want them to dream. I want them to engage in role-playing and develop a better understanding of the world that surrounds them. With the recent release of The Force Awakens, opportunities have been increasing steadily for your child to pull out their Jedi outfit and take it for a spin.
5 Ways to Maximize Imaginary Play
Using the Force
Wear Costume to Star Wars Reads Day
Founded in 2012, this has become an annual event that libraries and schools have enjoyed celebrating usually the second weekend in October. Barnes and Noble typically hosts it's own special story time as well. Don't be surprised if you see your local librarian dressed as a Stormtrooper. Children can enjoy a themed story time dressed as their favorite character.
Practice Jedi Techniques or Stormtrooper Boot Camp
Actors admit that wearing a specific costume can make an impact on how they behave. Imagine having your child get mentally ready for training! You can fashion a light saber out of a pool noodle and have them swat at bubbles for Jedi training. Don't have pool noodles? Then pick up a light saber from Costume Supercenter. Another strategy is you can have string lined through the hallway to make an obstacle course for Stormtroopers.
Wear Costume on May the Fourth Be With You Day
The second event celebrating Star Wars has taken place on May 4th thus the name May the Fourth Be With You. You can host your own special themed playdate, have a special screening of one (or all) of the films, or you can visit the library or other locations that host special events. One year my library had an outdoor lawn party to kick off a reading program with Stormtroopers and Jedis.
 Star Wars Game Night
At Mommy University, we recently hosted our own Star Wars Game Night. As each of our children put on the costumes, they started debating what their role was in the movie. We let the kids outside and loved watching them run around chasing each other and laughing. They began to create their own stories and acting out their narratives. Watching them run around the lawn equipped with light sabers was a lot of fun for them as well as us.  A nice element for our Star Wars game night was the cool party supplies from Costume Supercenter which is great for a get together like this or a birthday party.
Wear to the Opening of The Force Awakens
The Force Awakens opens on December 18th and, let's be honest, not only will children be dressed as some of the classic icons and possibly the new ones as well, so will adults. I think this will be great for children to see adults demonstrating how they are young at heart.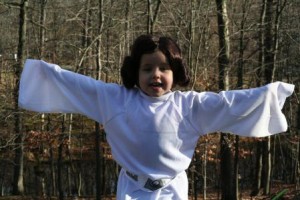 Bonus: Visit the Power of the Costume
At Discovery Times Square is a phenomenal exhibit called Star Wars and The Power of the Costume. My son wore his Stormtrooper costume into New York on the train and walked from Penn Station to Times Square. He had a blast as tourists said in different languages "Stormtrooper" (apparently that doesn't translate). He loved seeing all the costumes. This is an absolute must-do trip for the Star Wars fan in your family, and your children will love being part of the exhibit.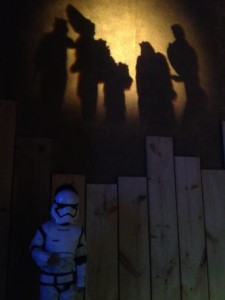 Whether your child wants to be the soldier as a Stormtrooper, the balanced hero as a Jedi, or the fierce Princess Leia, they can have fun exploring different roles and personalities. Costume Supercenter has a full collection of Star Wars costumes to fit babies, toddlers, children and adults which means that everyone in the family can have fun acting out different characters from their favorite Star Wars films.
In full disclosure, I was provided with the Star Wars Costumes and party supplies featured in this post from Costume Supercenter in exchange for my honest review.
You may also like: