Mommy University is so excited to partner again this season with The Growing Stage: The Children's Theatre of New Jersey. They offer a family friendly environment perfect for a child's first theatre experience. In exchange for tickets to each performance, we are so happy to be able to bring you all the entertainment this season as well as our honest review of each show.
A longstanding holiday tradition in many households, including my own, is watching A Christmas Carol. Another popular family tradition is to see a holiday show. This year why not combine both traditions by going to see A Christmas Carol The Musical at The Growing Stage. It is a show the entire family will enjoy!
From now through December 20, 2015, families and friends can spend an evening at the theatre while learning about the true meaning of Christmas. What a wonderful way to kick off the holiday season!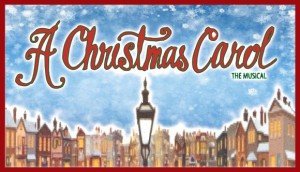 For those who are unfamiliar with the story of A Christmas Carol by Charles Dickens, this tale begins on Christmas Eve in London, England. We are introduced to the very rich but very mean Ebenezer Scrooge who shows disdain for all that approach him even his own nephew. We also learn that Scrooge is not a big believer in holiday spirit as he refuses to donate to charities and frequently responds to Christmas greetings with "Bah Humbug!"
Christmas Eve also marks the 7th anniversary of the passing of Scrooge's partner, Jacob Marley. That night, Scrooge receives a visit from Marley's ghost who is covered in chains due to his lifetime of selfish and greedy ways. He shares with Scrooge that he will be visited by three ghosts: past, present and future. This journey shows the transformation of Scrooge from a young boy to a man in love to a selfish business man. He also learns his fate and the fate of those around him as a result of his despicable behavior. This incredible journey about love and loss helps Scrooge see the error in his ways and inspires him to be a better man.
The cast of The Growing Stage really brings this tale to life from start to finish! The amazing harmonies, wonderful acting, great costumes and whimsical set helps audience members immediately become engaged and invested in this classic story. My kids were up and dancing as well as asking questions which showed their true interest in the show.
One of my favorite scenes was Link By Link where Marley and other chain wrapped ghosts show Scrooge his possible fate through song and dance. Although I loved the choreography and singing, what I really enjoyed were the costumes. The glow-in-the-dark feature really added to the intrigue and spookiness of this scene.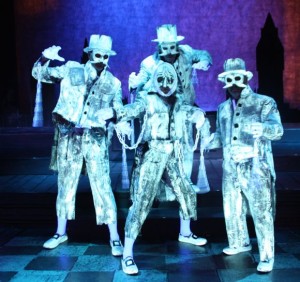 I also loved the ghost of Christmas past masterfully played by Cara Ganski. Her angelic voice and whimsical appearance really helped tell the story of Scrooge's past. Her cheery demeanor assisted Scrooge in remembering the good times, not just the sad ones. Through the journey into his past, we learn that Scrooge was not always such a mean and cranky man.
It was wonderful to see the stellar comedic performance by Danny Campos who played Mr. Fezziwig. For those who don't know, Danny is also the Audience Development Director for the growing stage as well as a friend and fan of Mommy University. Audience members really felt like they were apart of Mr. Fezziwigs Annual Christmas Ball. It was upbeat, fun and very entertaining!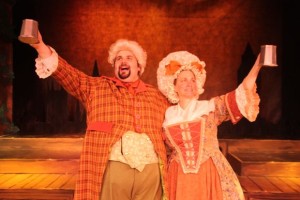 The larger than life personality of the Ghost of Christmas Present  played by Michael McEntee along with the dark and eerie presence of the ghost of Christmas future played by Angela Masi engaged audience members throughout Scrooge's journey. The stellar performances by the Cratchit family also really brought this heartwarming story to life.  The sweet demeanor and voice of Tiny Tim played by Steven George will melt anyone's heart!
My family and I not only enjoyed another amazing performance at The Growing Stage but we also looked for all the teachable moments. Shows, especially one like A Christmas Carol, offer many opportunities for children (and adults) to learn and grow. Together, as a family, we learned the true meaning of Christmas!
3 Important Life Lessons We Learned from A Christmas Carol
Family
At the center of everything is family! This classic story offers a wonderful reminder of the importance of family and spending time together. We learn that even if we don't have much money or material things, as long as we have family, we can be happy!
Give Back
During the holidays, people often get caught up in what they want for Christmas and finding the best sale. We tend to forget the importance of giving back. A Christmas Carol helps families remember the importance of helping others in need during the holidays and all year long. It also opens the lines of communication with our kids about what it means to give back and why we should help others.
Be a Good Person
At the heart of this story is the message that true happiness only comes when you are kind to others. You can have all the money in the world, but with wealth comes great responsibility. Scrooge learns that he must be a good person if his fate is to change. In turn, we all learn that being kind to others is one of life's most important lessons.
We absolutely loved A Christmas Carol at The Growing Stage, and we know your family will too! Tickets are only $15 on Fridays and on Saturdays tickets are $15/child, $20/Seniors and $25/adults. To learn more visit The Growing Stage website.
You may also enjoy:
2015-1016 Season at The Growing Stage