The Force is Strong with this Gift Guide
We are so excited to bring you this year's Star Wars Holiday Gift Guide. We are thrilled to partner with Wonder Forge, Spin Master, Stride Rite, Uncle Milton Toys, Costume Supercenter and Creativity for Kids who provided many of the brain boosting toys on this list so we can share them with you this holiday season.
Those who don't follow Star Wars might refer to this as a resurgence, but for those of us raised by the teachings of Yoda and Obi Wan Kenobi, these films have captured our imagination which we are passing on to our children.  If you are raising a padawan in your household and indoctrinating them into the Star Wars universe, then we have the Holiday Gift Guide for you that still focuses on educational and development benefits.
At Mommy University, we believe in the mantra "learning through play."  The toys listed here meet various needs for children but I wouldn't be surprised if some adults may want to purchase for themselves. We have included Amazon affiliate links to make gift buying faster and easier!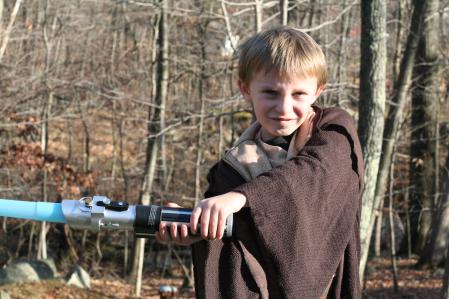 Star Wars Science (Uncle Milton)
Uncle Milton intertwines science, imagination, and possibility.  It's not surprising that their collection Star Wars Science features many educational and incredibly fun toys.  Here is a few samples from the Star Wars Science collection.
Death Star Planetarium is designed for children ages 8 and up. When displayed, the Death Star is a stunning accessory for any young (or old) fan of Star Wars. There is a power button towards the bottom which when turned on enable two different solar systems to be displayed. When you remove the cover, our solar system can be seen in a darkened room. Remove the black layer and your family is now transported into the realm of science fiction and the Galaxy. The Death Star Planetarium is available for less than $30 on Amazon.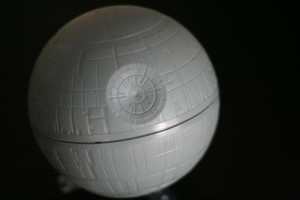 Millennium Falcon UV Light Laser is designed for children ages 5 and up; however, my 4 year old loves playing with his (with adult supervision of course).  Housed inside the handheld Millennium Falcon is a UV laser light. It also includes a UV screen to create light battles or your own light drawings as well as glow-in-the-dark ship decals such as a Star Destroyer and Tie Fighters. The screen and decals are applied to the wall and the laser light can be used with the battle scene film to imprint on the screen or your child can just make their own drawings. This toy is good for hand eye coordination as well as encouraging imagination.  The Millennium Falcon UV Light Laser is available for under $30 on Amazon.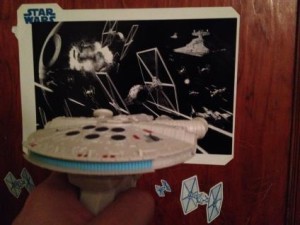 Death Star Electronics Lab: Enter the world of STEM learning with the Death Star Electronics Lab from Uncle Milton. Children ages 8 and up are invited to conduct over 20 experiments using more than 70 components which sparks their curiosity and imagination. Kids have to put together circuits to help activate the Death Star. It is a true multi-sensory learning experience as kids will activitate lights, tractor beams and even sounds from the Star Wars movies! An activity guide is included with full color diagrams for each experiment along with real life scientific lessons. The Lab can be found on Amazon for under $50.
Star Wars Sets (Lego)
Known around the world, Lego is a brain boosting building toy that works on fine motor skills, spatial awareness and imagination. When coupled with the Star Wars universe, your child can build the Millennium Falcon, a Tie Fighter or even an AT-AT.  Prices vary based on the Star Wars set ranging from simple and small sets at $12 to the more advanced set that is $249.
Star Wars Air Hogs (Spin Master)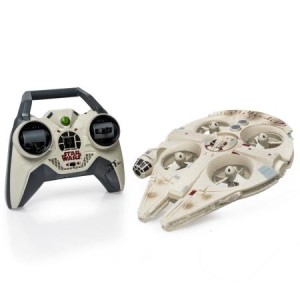 Air Hogs are outdoor flying toys that require hand eye coordination to maneuver the remote control. What made Air Hogs earn a spot on this list, however, is that if you are looking for the toy to encourage your child to take a break from the Dark Side or too much TV, this encourages children to get some fresh air.  Who can resist taking the Millennium Falcon for a spin? The Air Hogs Millennium Falcon is available for $119 on Amazon.
Star Wars Costumes (Costume Supercenter)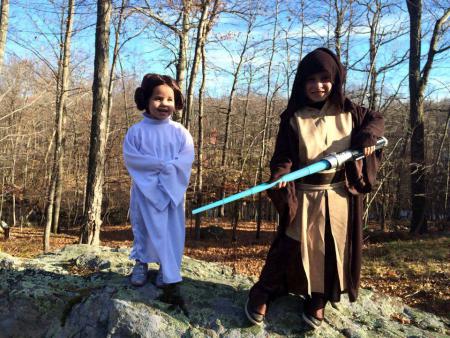 Imaginary play is important for young children as they begin to explore the world around them and process roles that they see.  Children dress up as cops and scientists to act out roles which is a wonderful language development technique. With Star Wars costumes from Costume Supercenter, your child can play the hero as a Jedi, a leader as Princess Leia, or as the philosopher as Yoda.
Star Wars Hero Mashers (Hasbro)
Hero Mashers are a unique building toy that focuses children on re-imagining characters by blending and mixing up different qualities of various characters. The different parts of each toy can be removed and attached to other characters. This helps their fine motor skills, spatial awareness, problem solving skills and, of course, stimulates creativity. Prices vary on Hero Mashers ranging from $18-50 and can be purchased on Amazon.
R2D2 Bubble Machine (Imperial Toys)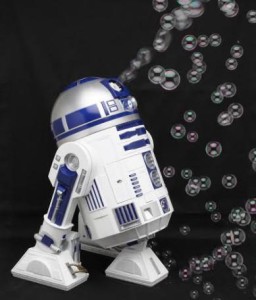 The R2D2 Bubble Machine is a great toy with wonderful development benefits. Toddlers can pop the bubbles with their finger which helps visual scanning, motor planning and fine motor skills. You can also make a game by having your young padawan pop bubbles using a homemade pool noodle light saber. This not only promotes physical activity but it gets them developing their gross motor skills and spatial awareness.  The R2D2 Bubble Machine is available on Amazon for $99.
Star Wars Games from Wonder Forge
Eye Found It: Wonder Forge has an impressive line of Eye Found It games, and we are excited to include the Star Wars version in our Disney Gift Guide. Star Wars fans will love searching through 13 galactic stations to find iconic Star Wars objects. This game is perfect for enhancing visual skills while encouraging teamwork and cooperation. It's fun for the entire family. Star Wars Eye Found It is under $20 on Amazon. You might also enjoy World of Disney Eye Found It.
Star Destroyer Strike is a fast moving game designed for 2-4 players at least six years old. The players need to move their pieces to safety before they are destroyed. Children will be challenged to make strong decisions and use strategic techniques. It also promotes physical dexterity and deductive reasoning. This game is available on Amazon for under $25.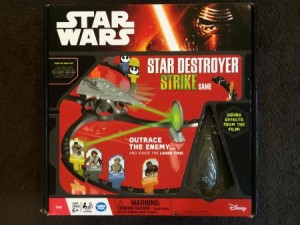 Galaxy Hunt is a suspenseful game where each player needs to remove a piece and find out if they have recruited more assistance from allied starships or pull the wrong piece and the power of the Star Destroyer will wipe out all the pieces. Children ages 6 and older will enjoy this game as they have to use deductive reasoning to win. This game is available at Walmart.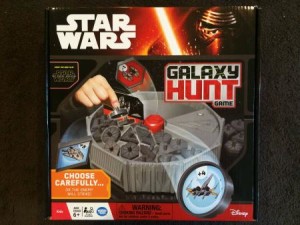 Pictopia is overflowing with 1,000 questions that will keep the Star Wars fan on their toes reflecting on their long term memory to answer questions.  Don't feel intimidated if your husband knows all the answers like mine because there are also questions that will rely on your imagination. This game can also shift from having players working on their own like Yoda or within a team like the Rebel Alliance.  This game is a great choice for family game night. The game is designed for children 7 and older.  Pictopia can be purchased on Amazon for $23.99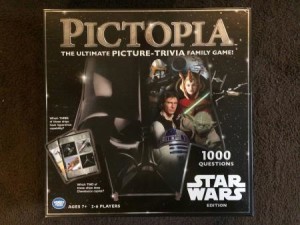 Star Wars Sneakers (Stride Rite)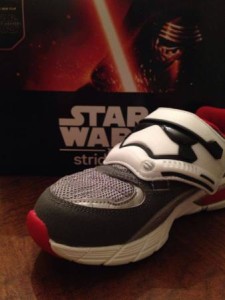 Stride Rite makes amazing shoes that provide the support that growing children need. I have always felt confident in my Stride Rite purchases knowing that both of my children have a high quality product and my children have always loved the imaginative designs used. From my son's toddler R2D2 sneakers to his Millennium Falcon light up ones, we are so excited to see the new Star Wars shoes each season.  The sneakers will encourage your children to run around and have a blast!  The Star Wars Hyperdrive Stormtrooper Sneakers light up which inspires little ones to move. The Star Wars sneakers are available on the Stride Rite website as well as Amazon for $50 and under.
Star Wars toys offer wonderful educational and developmental benefits that your kids can play with their friends or across generational lines with the family.  While they may be a padawan now, they can easily achieve Jedi Master on these games without realizing the skills that they are developing because they are just having fun!
Looking for more holiday gift ideas? Check out the following: