Updated for 2019!
Due to the sale of their building, the Christmas Ice Caverns will not open in 2019. We will update this post, once we learn of their new location.
The Christmas Ice Caverns have been a New Jersey tradition celebrating their 51st Anniversary this year!  Families migrate to Jody's Silk Florist and Patio Center in Fairfield for not only their handsome Santa Claus, but for the amazing Ice Caverns!
For months the store is set up for an outstanding indoor display that is perfect for the entire family. It is filled with lights, motorized characters, puppets, and imagery that evoke memories of traditional as well as new Christmas images.  They also do a great job of throwing in some pop culture displays like Frozen in 2016 and Trolls in 2017.  Displays do change, however, so photos that we have included might be a little different from what you will see when you visit.
For a low cost of only $3.99 per person you can walk through the Ice Caverns to see different themed displays.  Whether you like Mickey Mouse or Polar Bears, there is a window that you will find enjoyable.  At Mommy University we always look for those teachable moments and while the idea of walking through a Christmas display may seem fun, this particular one can offer several opportunities for learning for young children.  Last year when we visited the Ice Caverns we found ourselves walking through several times (you pay once but can keep walking through during that visit) to challenge ourselves to find the hidden treasures that can easily be overlooked.
Mommy University Presents
Benefits of Visiting the Christmas Ice Caverns
Increases Powers of Observation
Hidden within each display is Peppermint the Penguin (in the past it was Icey The Elf).  While this sounds easy, in some of the windows my husband and I found it difficult to locate the little guy thus multiple walk throughs.   When your eyes are overwhelmed with visual stimulation, it can be a challenge to find one little smiling Snowman.  Inviting children to find this character encourages them to focus on details while tuning out other visual stimulation.  The large space is a life-sized Look and Find book which builds visual scanning and discrimination skills!
Helps Develop Language Skills
For young children, there are so many little details to identify, label and name.  As you are walking through the Christmas Ice Caverns, ask your children to identify as many items as they can.  You can label the objects they don't know and have them repeat the word as well as have fun with prepositions and adjectives.  Remember a general rule of thumb: If your little one says one word, you repeat back two words. Always add an additional word to encourage their speech development.
Gross Motor Fun
As the weather gets colder closer to the holidays, this location invites children to walk and get their energy out while being visually stimulated by all the displays.  Walking through the Christmas Ice Caverns does not take long unless you have an early walker, but you can travel through many times in one visit which enables children to look and review to see what else they can find. Add to the gross motor fun, by having them march or skip while walking through the caverns!
This is an adorable and well cherished New Jersey tradition.  Each year, I can see people posting on Facebook that they have visited with proud photos of their kids visiting Santa.  If you are planning on visiting we offer these educational layers for you to enjoy as well as a Scavenger Hunt you can print and use for your trip!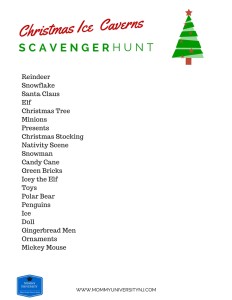 Christmas Ice Caverns is located at 437 Us Highway 46, Fairfield, NJ 07004 inside Jody's Silk Florist.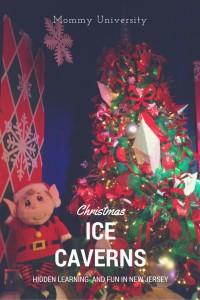 You may also enjoy: