We are so excited to bring you this year's Play and Learn Holiday Gift Guide. We are thrilled to partner with Wonder Forge, VTech, Spin Master, Crayola, Educational Insights, ALEX Brands and Creativity for Kids who provided many of the brain boosting toys on this list so we can share them with you this holiday season.
Since even before I was a parent, when I purchased a toy for a child, I made sure it had a purpose. For me, a toy has to encourage learning, development and growth in some way otherwise what is the point? Toys and games should stimulate the brain, make kids think and reason and/or spark the imagination. Children learn through play so we have to make sure that play is meaningful!
After careful consideration, and several Mommy University reviews, we have come up with a list of over 25 toys that you are sure to LOVE this holiday season. This list is broken down into 5 categories: Academic/Cognitive, The Arts, Science and Technology, Imaginary Play and Motor. Since EVERY toy chosen also encourages growth in the area of language development, a separate category is not needed for this area. Amazon affiliate links are included to make your gift buying experience easier!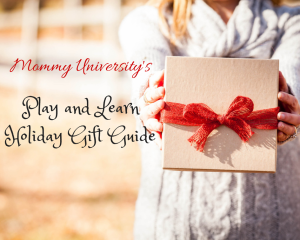 Academic/Cognitive
VTech Write and Learn Creative Center
I love VTech toys! They offer amazing opportunities for kids to learn through play and the Write and Learn Creative Center is no exception. While playing, kids will enhance letter recognition, letter-sound identification, object identification and spelling skills. Kids will also enhance their writing skills by writing letters and words on the board. There are also opportunities for artistic expression as kids can also draw pictures! You can purchase your own Creative Center for under $25 on Amazon.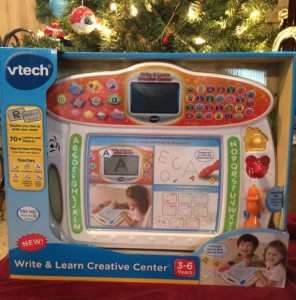 LeapFrog Number Lovin' Oven
Little chefs will have a blast playing with this pretend oven while also enhancing their number recognition, counting skills and early math concepts. While manipulating the pieces and the dials, kids are also boosting their fine motor and visual skills. Lastly, kids will engage in pretend play which helps foster creative thinking and sparks the imagination! You can get the Number Lovin' Oven right now for under $25 on Amazon.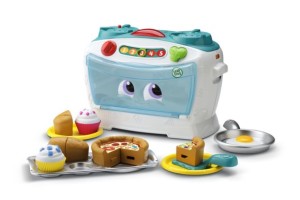 Wonder Forge Imagicadamy
As a very big Disney fan, these sets really caught my eye. Not only do kids get to explore their Disney Side, they also get to build their science, art and math skills! These sets such as Animals and Science let children delve into their artistic side while also enhancing wonderful academic skills. They are great for at-home learning, summer activities and homeschool projects!

SmartGames Three Little Piggies
SmartGames puts together some fun and mentally challenging games for children to adults.  The Three Little Piggies game includes a book so that story telling can be incorporated with the game which is ideal for children ages 3-6 years old.  It includes 48 challenges which translates into hours of fun!  This game also opens the door for cooperative play as well as developing problem solving skills. Read our Three Little Piggies review here. You can purchase this amazing game for under $25 on Amazon.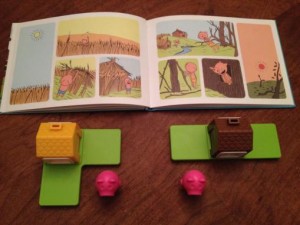 VTech Sit-to-Stand Ultimate Alphabet Train
Since my kids were little, they loved playing with their VTech Alphabet Train. Not only does it help kids build muscle strength and balance, it is also offers an amazing sensory learning experience. The new version, the Ultimate Alphabet Train (for ages 1-3 years old), comes with 10 brain boosting activities to enhance knowledge, language and motor skills, 13 double-sided alphabet blocks and over 100 songs, sounds, melodies and phrases. This train can be purchased for under $50 on Amazon.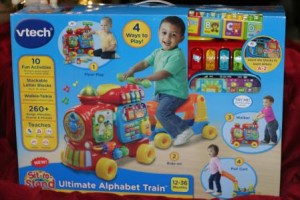 Learning Resources Gears!Gears!Gears! Sweet Shop Building Set
Gears!Gears!Gears! offers problem solving and critical thinking skills as children can manipulate pieces and devise their own creations.  It is a building toy that helps develop engineering skills as the pieces interlock and can be moved.  A new addition to this phenomenal collection from Learning Resources is Sweet Shop which has a sweet theme! Designed in bright colors to attract the eyes, children can create their own candyland with over 80 pieces.  Gears!Gears!Gears! Sweet Shop Building Set can be purchased on Amazon for $39.99.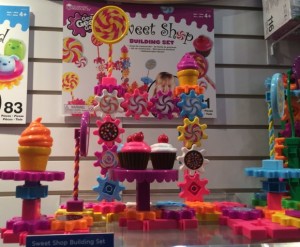 Wonder Forge Journey Through Time Eye Found It Hidden Picture Game
I love Eye Found It Games. They enhance visual scanning, problem solving, spatial awareness and visual discrimination skills. Games also help improve social skills such as turn taking. The Journey Through Time Eye Found It game, however, also enhances academic knowledge especially in the area of history. Kids (and adults) will learn about Ancient Egypt, the Medieval Era, the Wild West and more. This fun and educational game can be purchased on Amazon for under $30!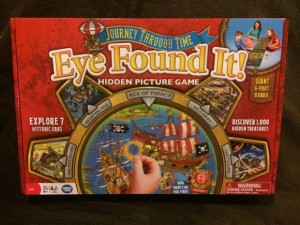 The Arts
Wicked Cool Toys Master Chef Junior Cooking Sets
This holiday season, Wicked Cool Toys is releasing a line of cooking tools just for kids. Your little chef be able to create meals just like their favorite Master Chef stars. Kits include burgers, breakfast, pizza and baking. They include kid-friendly cooking tools such as bowls, measuring cups, utensils, cutting boards and more. You can even get your child their own Master Chef Junior apron!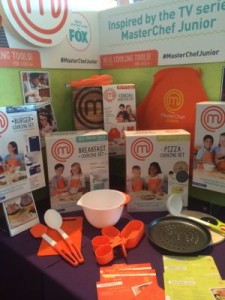 Creativity for Kids Fleece Fashions
There is nothing like wearing your own creations as designers, knitters, and crocheters all know.  Now children are invited to make their own fashion creations such as a scarf, headband and a pair of gloves (with touch screen friendly fingers) with Creativity for Kids Fleece Fashions. It has all the accessories needed for children to make a unique creation reflecting their personal style.  Fine motor skills, creativity, spatial awareness, and boosting confidence are all intertwined in this fun activity. Fleece Fashions is available on Amazon for under $25.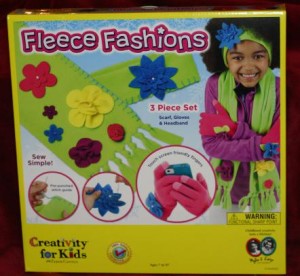 Spin Master Sew Cool Sewing Machine
Creative arts are not limited to paper and the Spin Master's Sew Cool sewing machine raises new possibilities for children to express their artistic side. Children ages 6 and older can use a sewing machine to make their own pillows and projects.  This is a wonderful introduction to sewing as well as developing a passion for textile appreciation. The Sew Cool Sewing Machine is under $55 on Amazon.
Crayola Creations Thread Wrapper
Kids ages 8 and up can show off their style and personality with the Crayola Creations Thread Wrapper. By using any thread along with Crayola Fabric Markers, the Thread Wrapper can make your old accessories and gadgets feel new again. Add style to items such as sunglasses, watches, pens, headphones and more. The possibilities are endless. The Thread Wrapper is only $14.99 on Amazon. You can also purchase the Fashion Edition, the activity kit and thread refills!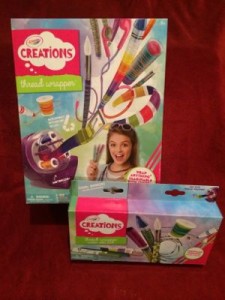 Creativity for Kids Sweet Dreams Catcher
Dream Catchers have been known to catch sweet dreams while allowing the bad dreams to pass through at the first morning light.  Children can now make their own dream catcher that reflects their style and imagination.  The accessories are included or you can add ones from your own collection. Fine motor skills and imagination are at the center of this gift designed for ages 7 and older.  Creativity for Kids Sweet Dreams Catcher is available on Amazon for $15.99.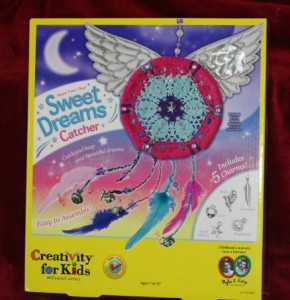 (back to the top)
Motor
PlaSmart Kick Flipper
The Kick Flipper is a plastic board almost 20 inches long that offers hours of fun AND learning! It is recommended for kids ages 5 and up; however, my 3-year-old also had a blast learning new moves. The kick flipper is a wonderful way to enhance several developmental skills such as motor planning, balance and coordination! You can purchase the Kick Flipper on Amazon for only $19.99. Read our review here.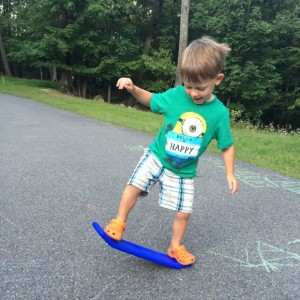 Little Tikes Giant Slide Bouncer
The NEW Little Tikes Giant Slide Bouncer is perfect for children ages 3-8 years old. It comes with an easy to use heavy-duty blower, repair kit, stakes and storage bag. The bouncer is simple to set up in the backyard and does not take much time to get situated before inflating. The Little Tikes Giant Slide Bouncer is not only fun, it also offers many opportunities to develop important skills such as balance, coordination and motor planning. It can be purchased on Amazon or your local Toys R Us. You can also read our review here.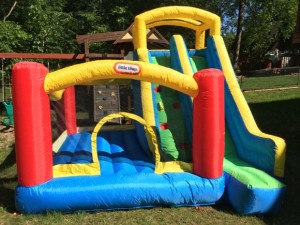 Ideal Centercourt Table Tennis (ALEX Brands)
Not only is the Centercourt Table Tennis game fun, it also helps improve eye-hand coordination, visual tracking and motor planning. Kids can also build fine and gross motor skills as they hit the ball back and forth to their friends or siblings. Playing with others also boosts social skills as well as teaches kids about healthy competition. This portable table tennis set from ALEX Brands is under $20 on Amazon!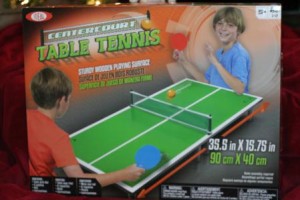 Creativity for Kids Food Flight
The blend of art, creativity, and motor skills take off in Creativity for Kids' Food Flight. Designed for children ages 6 and older, children are invited to color their own rockets which they can inflate and launch at targets. This unique gift can be used indoors as well outside which is the perfect for those of us looking for activities that children who are facing cabin fever from snow days. Fine motor, spatial and motor skills as well as imagination all take flight in Food Flight which can be purchased on Creativity for Kids website for $12.99.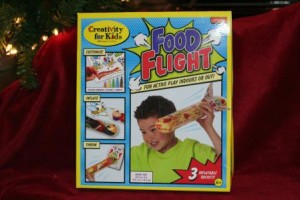 (back to the top)
Science and Technology
Uncle Milton Super Moon
If your kids love to learn about space, then this is the toy for you! Little astronomers will learn all about the real moon including its phases and solar eclipses. The Super Moon automatically syncs with the real moon outside! By using the remote, kids can click through all 12 lunar phases as well hear moon landing sound effects. What a great multi-sensory learning experience! The Super Moon can be purchased for under $45 on Amazon.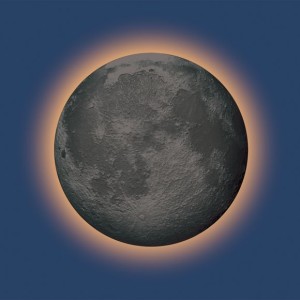 SmartLab Science Kits
We have found so many amazing science kits from SmartLab Toys that it was impossible to narrow it down to just one for this guide. If your kids love slime and disgusting science experiments then It's Alive Slime Lab and That's Gross Science Lab are for you. If they love learning about dinosaurs then you have to check out the Squishy T. Rex. If your child is like mine and loves learning about the weather then You Track It Weather Lab should be on your list!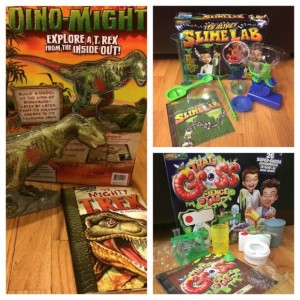 VTech Kidizoom Smartwatch DX
The durable VTech Kidizoom Smartwatch DX offers hours of learning through play for kids ages 6-9 years old. They will love playing games, taking pictures and completing action challenges. Kids will also enhance math skills by learning to tell time and how to use a calculator all while having fun. The touch screen makes playing and learning easy and fun! The splash proof Kidizoom Smartwatch DX is under $60 on Amazon and comes in blue, pink, camouflage, floral swirl and red flame.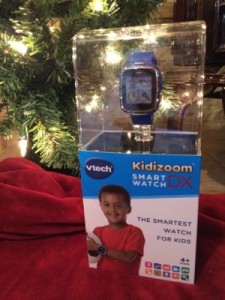 Scientific Explorer Kits (ALEX Toys)
We love doing science experiments at Mommy University so we LOVE the kits offered by Scientific Explorer. My kids have really enjoyed the My First Science, Tasty Science and Magic Science kits. At Toy Fair 2015, we were also introduced to the new Ice Age Creator kit where kids can make their own ice and snow. With this kit not only do kids get to learn about weather, they also get to travel back in time during the age of the Wooly Mammoth! This kit can be purchased on Amazon for under $20.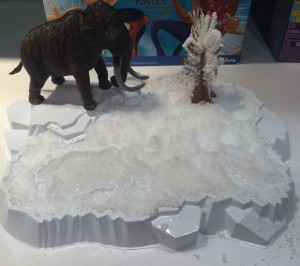 Educational Insights GeoSafari Jr. Collection
We love the GeoSafari Jr. Collection as it combines outdoor play and science in a way that makes learning fun and easy. For example, the Science Utility Vehicle has a magnifying glass on the bottom which allows children to explore nature while they push the truck around.  The My First Microscope is a wonderful way for kids to investigate the hidden world of science. Kids will also love the Bug Opticals, Periscope and Jungle Crew Lab Set. Every product in this line will keep your child engaged and intrigued by nature and science.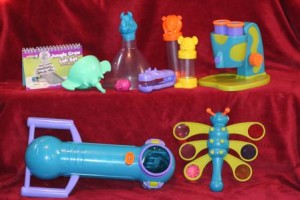 Meccano Mountain Rally 25 Model Set (Spin Master)
When kids combine the power of imagination with the power of engineering, the possibilities are endless. With the Meccano Mountain Rally 25 Model Set kids will enter into the world of STEM learning as they use their spatial reasoning, visual-motor integration and problem solving skills. Not only can kids build an amazing racer, they can use the 390 parts and 2 real tools to make other creations like an ATV, helicopter, pick-up truck or even something no one has ever seen before! The Meccano Mountain Rally is recommended for kids ages 9 and up, and it can be purchased on Amazon.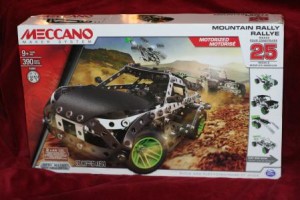 Wonder Forge Disney Imagicademy Storymation Studio
How cool would it be for your kids to make their own Disney movies at home? With the new Imagicademy Storymation Studio kids can become a Disney imagineer by combining their love of art, science and technology. This set comes with a FREE animation app which helps kids make their own Disney film full of wonder and magic!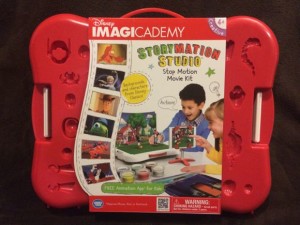 Pretend Play
Just Play Doc McStuffins Pet Vet Checkup Center
Kids can live out their dream of being a toy doctor just like Doc with this adorable checkup center. I love how this toy helps inspire kids to be veterinarians and allows them to learn more about the medical field. Kids can also enhance language development and story telling as well as build fine motor skills. It comes with an electronic stethoscope, kid-powered EKG, play thermometer, brush, play x-rays and more. The Checkup Center is under $90 on Amazon.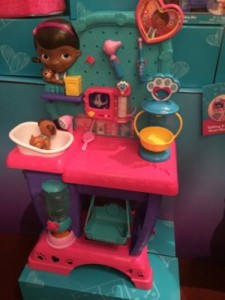 Little Tikes Sizzle and Serve Grill
Little Tikes Sizzle and Serve Grill is a round orange, grey and black grill that is easy to push or pull due to its built-in wheels. The easy to open and close lid makes pretend play even more engaging and fun. The set also comes with 2 burgers, 2 burger buns, 2 hot dogs, 2 hot dog buns, a bottle of ketchup and a bottle of mustard. Kids will also love flipping their burgers and easily removing them from the grill using the spatula and tongs. This adorable grill is only $24.99 on Amazon. You can also read our review here.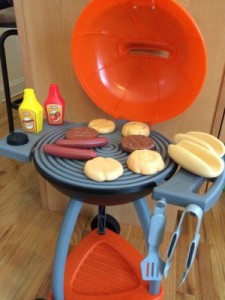 Melissa and Doug Costumes
Let your kids truly engage in the role playing experience with the adorable costumes from Melissa and Doug. Kids can live out their dreams of being a Chef, Train Engineer, Vet, Doctor or even a Pediatric Nurse. Let your child be a real life hero with the Police Officer and Fire Chief costumes or travel through space in the Astronaut costume. They can even create imaginary worlds with the Pirate, Knight and Princess costumes. These costumes can be found on Amazon and the Wholesale Halloween Costume or Costume Supercenter websites.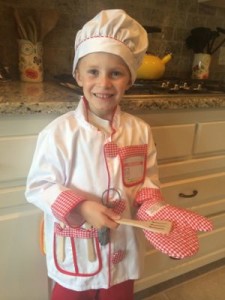 Spin Master Paw Patrol Collection
Your kids will have a blast pretending to be a fireman like Marshall, a police man like Chase, a construction worker like Rubble and more with the Paw Patrol collection from Spin Master. With the Rescue Dog Dough Play Set and Dry Erase Pup Pad kids will create and draw their favorite characters while enhancing fine motor skills. Kids can create their own Paw Patrol worlds with their own Hero Pups and Rescue Racers along with the Look-Out Playset.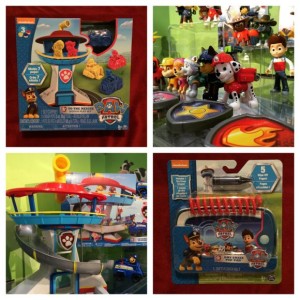 Learning Resources New Sprouts Stir Fry Set
The New Sprouts collection from Learning Resources has an extensive line of pretend food that is perfect for the child who loves to spend time and their imagination in their kitchen.  The Stir Fry Set is detailed and durable which encourages a child's creativity.  Designed for children 2 and older, they can develop their fine motor skills as they use the tong to move food around the wok or pack up food in the to go container.  The Stir Fry set is available on Amazon for less than $20.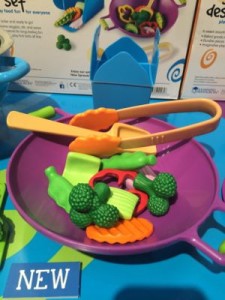 Spin Master Kinetic Sand Volcano Island
We love tactile toys at Mommy University and Kinetic Sand is one of the best on the market. The Volcano Island provides a diorama scene that invites children to make their own volcano that oozes shimmery red sand. The kit is designed for children ages 5 and older and includes: 2 packets of kinetic sand, 4 molds, and 1 sand box.  Children will love digging into this toy! The Volcano Island set can be purchased for $14.99 on Amazon.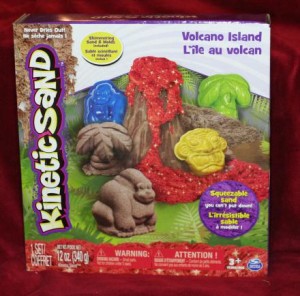 We hope you have enjoyed looking through this year's Play and Learn Holiday Gift Guide. Have fun learning through play this holiday season!