Most families have holiday traditions. Whether it is one that has been passed on for generations or one that was just created, traditions are a fun way to bring family members together to celebrate. Some popular traditions are cutting down a Christmas tree, baking cookies, hiding an Elf around the house and sprinkling reindeer food outside on Christmas Eve. Recently, however, I was introduced to a new tradition: The Christmas Pickle Elf.
At a recent blogger event, I was lucky enough to learn all about The Christmas Pickle, and I instantly fell in love. You can imagine my surprise and excitement when a couple of weeks later I received an unexpected package. Yes, this amazing company sent me my own The Christmas Pickle Tradition gift set. I am so excited to share this tradition with my family and with all of you!
What does a pickle have to do with Christmas, you may ask? Let me explain! Legend has it that for over 100 years Santa has been hiding pickles in Christmas trees around the world. The first child to find the pickle on Christmas morning gets to open the first present. It is unclear how or where this legend began, but it sounds like fun to me!
Our friends at The Christmas Pickle Tradition, a Philly based company, have taken this wonderful tradition a step further. The gift set not only comes with a pickle ornament, it also comes with an adorable storybook written by Tammy Lee Dwyer and illustrated by Tom Newson and Eduardo Paj. The keepsake box that houses the ornament and book also provides a place to write down who found the pickle each year.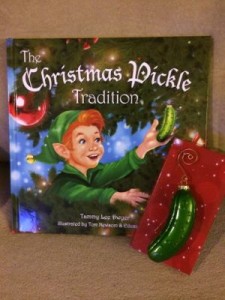 The Christmas Pickle Tradition story is a whimsical and magical tale about an elf named Pickle. He was a mischievous elf who lived at the North Pole but he had a lot to learn about the spirit of Christmas. After Pickle learns what this special holiday is really all about, Santa declares a new Christmas tradition at the North Pole. He will hide a pickle in the Christmas tree and the elf that finds it first, will open the first present.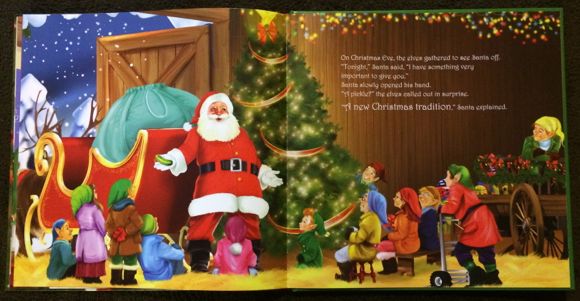 I love how this book helps kids understand not only the meaning of Christmas but the meaning of this new tradition. I recommend reading this book several times during the holiday season then again on Christmas Eve. This will help build excitement and anticipation for embarking on this new Christmas experience. It also makes for a wonderful bonding experience!
On Christmas Eve, after reading the story, read the note from Santa located in the keepsake box. Then have the kids put their pickle ornament next to the cookies and milk so Santa can hide it in the tree. The next morning the kids will squeal in excitement as they look for the pickle and see who gets to open the first present of Christmas!
This is a tradition I will definitely enjoy this Christmas and for many Christmases to come. I hope you will enjoy it as well! You can purchase your own Christmas Pickle Tradition gift set for under $30 by using our Amazon affiliate link. You can also learn more by visiting The Christmas Pickle Tradition website!
Merry Christmas!
You may also enjoy:
The Importance of Family Traditions
Holiday Giveaway: Custom Cookie Plate (and mug!)