We are so unbelievably excited to partner with Chef It Up to bring our readers all their brain boosting culinary arts experiences. We have been invited to take classes in exchange for our honest review.
"Mom, I want to be a cooker!" That is what my son says each time I ask him what he wants to be when he grows up. He has also added in that he wants to open his own restaurant with a dinosaur and Avengers theme. Well, he is still only 6 years old!
To help my son gain the skills he needs to reach his dream, I have enrolled him in several cooking classes at Chef It Up in Mount Olive. You have read about our exciting cupcake class as well as our Mommy and Me adventures but in this article I want to tell you all about their amazing Junior Chef Kid Cuisine classes. This 2-hour class offered to kids ages 6 and up provides training in various culinary skills while also introducing kids to different techniques and food interests.
Each class has a different menu usually offering an entrée, side and dessert. This can vary, however, based on the time of year. For our most recent class, my son learned to make pumpkin raviolis, garlic knots and a candy apple. Fancy right? I loved that this class exposed my son to food he has never tried before. Although he was hesitant to try the raviolis, I was proud of him for stepping outside his comfort zone to try something new.
The Junior Chef Kids Cuisine class offers so many opportunities for kids to learn and grow through cooking. Not only is the class fun, it also provides many teachable moments!
5 Benefits of the Jr. Chef Kids Cuisine Class
Enhances Math Skills
Each time my son measured out the flour, salt and oil to make the dough for the raviolis, he gained important math skills. He learned the difference between a teaspoon and a tablespoon as well as how heavy a cup of flour feels. Measuring ingredients helps kids learn number sense as well as math calculations especially when they need to figure out how many cups or teaspoons they have left to measure.
My son also gained math skills when counting out the exact number of ricotta cheese spoonfuls he needed to make the raviolis. This helped increase his one-to-one correspondence as well as his ability to follow directions.
Increased Understanding of Scientific Concepts
What happens when you mix oil and water? What happens to all the ingredients when you mix them together? Why are certain ingredients so important? People have always said that baking is a science and I agree! Without certain ingredients, your beautiful loaf of bread will just look and feel like a giant rock or a flat pancake. The Kids Cuisine class helps kids understand the reactions that certain foods have with each other as well as the importance of that ingredient in the baking process.
Introduction to Various Cooking Techniques
Of course kids will learn to measure, mix and knead dough, but they also learn more complex techniques. For example, my son learned to use his 2 fingers to push in the dough to make individual raviolis. He also learned how to use a fork to make a design in the edges. Kids also learn various decorating techniques such as creating decorations out of fondant.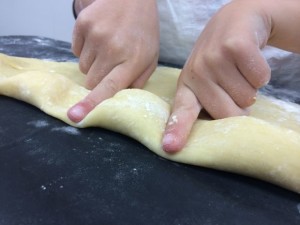 Enhances Creativity
Yes, the kids have to follow directions exactly to get the recipe just right; however, this class also offers opportunities for self-expression and creativity. For example, kids are able to decorate their dessert in a way that shows off their personality. In Tyler's class, each child ended up with a completely different candy apple which was an expression of themselves.
Builds Confidence
When a child sees their homemade pizza, raviolis or cake come out of the kitchen, a sense of pride and accomplishment comes over them. This translates into increased self-confidence. As kids see and feel success, they gain more confidence in themselves. When my son left his class, he said, "Mom, did you see? I did such a good job!"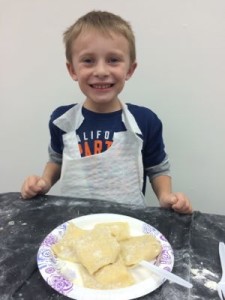 We cannot wait for our next Junior Chef Kids Cuisine class at Chef It Up. We are excited to make spaghetti and meatballs and all the other amazing meals they have lined up! Visit their website for a schedule of classes.
You may also enjoy:
Mommy and Me Fun at Chef It Up