In full disclosure, we were provided the Millennium Falcon UV Light Laser from Uncle Milton Toys in exchange for our honest review.
Now you can destroy the Death Star from your own home!
While the Millennium Falcon may not have looked like a lot to Luke Skywalker, let's be honest, it is one of the coolest space ships ever imagined.  Mommy University was lucky to receive their own Millennium Falcon UV Light Laser from Uncle Milton which is a newly released toy this year.  The combination of science, imagination and possibility is a strong reason why we love Uncle Milton toys.  Uncle Milton does not create replicas with their Star Wars Science collection but rather there is a layer of academic information.
Millennium Falcon UV Light Laser is designed for children ages 5 and up; however, my 4 year old loves playing with his (with adult supervision of course).  Housed inside the handheld Millennium Falcon is a UV laser light.  The set also includes a UV screen to create light battles or your own light drawings as well as glow-in-the-dark ship decals such as a Star Destroyer and Tie Fighters.  The Millennium Falcon requires batteries to use the laser and does come with some sound effects at a moderate volume.  The screen and decals are applied to the wall and the laser light can be used with the battle scene film to imprint on the screen or your child can just make their own drawings.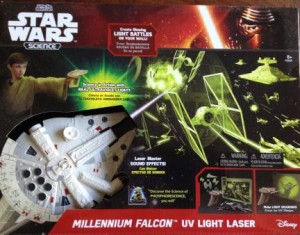 Mommy University Presents
Three Benefits of the Millennium Falcon UV Light
Enhances Hand Eye Coordination
The Millennium Falcon UV Laser Light has two light features: fine point and a diffused larger light.  In either instance, children need to maneuver the laser light using their fingers to press the buttons which turn the various lights on.  As well, in order to light up the tie fighter and star destroyer decals it requires hand eye coordination.  This has a positive reinforcement component because if the light is not directed at the screen or decals it will not light up.  This toy invites the young padawan (Jedi in training) to practice while having a great time.
Promotes Academic Learning
Uncle Milton always includes educationa information attached with their instructions which enhances the academic learning with each toy.  This particular toy offers academic information on laser and ultraviolet lights  as well as phosphorescence. Children will learn about locations where laser lights are used as well how phosphorescence works.
Stimulates the Imagination
As much as making an imprint of the famous Death Star battle scene is cool, children can also have fun by making various images on the screen just using the laser light.  Children can practice writing their name, words, numbers, or just make drawings.  You can also encourage them to draw different shapes based on their age.
For the Star Wars family, this is a fabulous addition.  Each night there is someone in my family playing with this toy as they draw on the screen or shoot tie fighters.  It is a simple toy that does not require a lot of accessories or supplies.  I will say that I wish there were films of additional scenes because it is fun to see the imprint but at the same time not using the film invites children to make their own drawings.  However, if Uncle Milton was ever to add additional films to this collection I would be definitely tempted to purchase them.  Young children who love this franchise will enjoy pretending to be Hans Solo as they fly the Millennium Falcon through the galaxy.
Uncle Milton Millennium Falcon UV Light Laser is available on Amazon (affiliate link) for $24.98.
You may also enjoy:
Out of this World Fun with Uncle Milton's Death Star Planetarium