Elf on the Shelf either raises cheers or groans and in some instances both occur in the same household.  The concept is simple: an elf from Santa's workshop visits your home usually after Thanksgiving until Christmas Eve.  Children name the elf (or elves if there are multiple children) and his role is to report back to Santa if the child they have been assigned is behaving.  While this may seem off-putting to some parents, the fun part for children is finding the Elf each day in a new location in the home.
Parents can become frustrated with finding a creative scene for the Elf as well as having to relocate Santa's helper each night until he or she returns back to the North Pole.  Other parents dislike how the Elf can be a trickster which detracts from the true meaning of Christmas.  At Mommy University, however, we emphasize learning through play and last Christmas we incorporated Professor Elf into our routines by structuring this toy in teachable moments.
We have compiled some of our favorite ideas from Mommy University's Educational Elf on the Shelf which you can borrow, mimic, or inspire you to come up with your own scenes for the Elf.  As well, don't forget that as parents you can assign the message you want the Elf to convey.  If you feel the Elf should communicate a message of kindness than center each day around Random Acts of Kindness or giving back.  Most importantly, this is intended to be a fun and engaging activity for the entire family. We have included some Amazon affiliate links in this article to make planning easier!
Mommy University Presents
Elf on the Shelf Ideas
Cooking
Play food is a classic toy that can be used by your Elf. You can use this to discuss cooking and the importance of eating healthy. You can place your Elf in various spots throughout your kitchen or your child's pretend kitchen to spark an interest in cooking.
Melissa & Doug See & Spell Puzzles
The simple words spelled using See & Spell are a great introduction for young children to learn the alphabet as well as develop problem solving skills.  We set up our Elf putting together some of the puzzles.
Musical Instruments
Music teaches children many skills and the Elf can be propped up with a musical set or even just a bell or drumstick.  You can ask your children what music they think the Elf would like to hear.
Play Jenga
Jenga is a great toy that your Elves can play together. It's perfect for households with more than one Elf on the Shelf.  Jenga is great for enhancing visual spatial skills, teaching young children about gravity and building problem solving skills.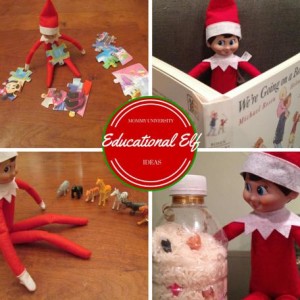 Solve a Puzzle
An easy display to set up is to give your Elf some puzzle pieces.  Ask your kids to help solve as much as the puzzle as possible.  You can also play hide and seek with some of the pieces.
Read a Book
This is hands down the easiest display to set up, so I advise using this during nights of exhaustion or mornings when you wake up and say "I never set up the Elf!".  Grab a book and place on his lap or sit the Elf on a stack of books.  Ask your children what the Elf thought of the story he read. Another fun idea would be to have your Elf give your child a book each day to read. What a fun way to enhance reading skills.
Learn about Animals
If you have animal figurines, you can set up a scene, like the one in the picture collage above, where the Elf is facing the animals. You can also incorporate farm houses and stables into your scene.  Your children might have theories on the Elf's favorite animal (and why). You can also ask them to describe the scene and create a story around it.
Play I-Spy
Have your Elf look at an I-Spy jar or even hide a few things around the room and have the Elf hold the legend of what is hidden.  This might be a more elaborate set up but what a fun one!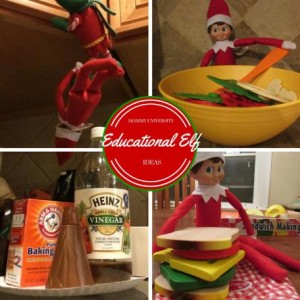 Make a Volcano
We love volcanoes and with mixing vinegar and baking soda it is incredibly easy to make.  If you set up your Elf to suggest a project like this or a science experiment, make sure to have him near the project but not touching (again, this goes back to the story if children touch the Elf he doesn't report back to Santa). You can see in the picture above that the Elves are dangling above the volcano trying to escape the eruption.
Make a Salad
If you have a toy set like the salad set from Green Toys, the Elf can be set up as if he is making or eating the salad. This can spark a discussion about what goes in the salad and what is considered healthy food.
Make a Sandwich
The Melissa and Doug Sandwich Set is the perfect toy in the play kitchen.  Children can build their own sandwiches which helps build fine motor skills and visual spatial awareness. Have your kids make a sandwich that looks like the one the Elf is eating or  you can talk about what kind of sandwiches they like to eat.
Hopefully, these ideas help inspire some fun and more educational Elf on the Shelf ideas.  As we come up with more ideas this year, we will add them to this list!
Aside, from running out of time and placing the Elf in the Christmas Tree, what have been your go to Elf scenes? Share your pictures on our Facebook page!
Need an Elf? Here are some you can get using our Amazon affiliate link!