We are so unbelievably excited to partner with Chef It Up to bring our readers all their brain boosting culinary arts experiences. We have been invited to take classes in exchange for our honest review.
We recently had the pleasure of participating in a fun and exciting Mommy and Me cooking class at Chef It Up in Mount Olive. I was able to enjoy this time with both my boys, ages 3 and 6. It was a packed class with eager children and engaged parents waiting to learn to cook as a team!
Chef It Up in Mount Olive offers a variety of Mommy and Me classes with each class providing a wonderful bonding experience. For each class, families will make one entree, a drink and a dessert. The class is one hour which is perfect for the attention span of little ones. It is recommended for children ages 2 and up and costs $40/parent-child pair. Families can eat their culinary master pieces in class or take it home, but as you know, most kids can't wait to eat yummy meals especially when they involve cookies or cupcakes!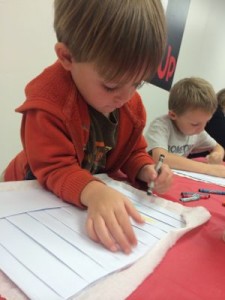 For our Mommy and Me class, the menu consisted of homemade individual pizzas, fresh squeezed lemonade and a Halloween cupcake. The class began with the boys decorating their own chef hats and aprons. This helps build anticipation, gets kids feeling like real chefs and encourages creativity. Once the gear was decorated, the kids put on their hats and aprons and the culinary adventure began!
The first menu item we worked on was pizza. The boys engaged all their senses in this hands-on learning experience. Trevor had so much fun flattening the pizza with his hands and then using his own rolling pin to stretch it out even more. He was focused and worked hard as he added the tomato sauce and cheese to his dough. When completed, the pizza was placed in a small tray and put in the oven. Trevor could not wait to devour his master piece!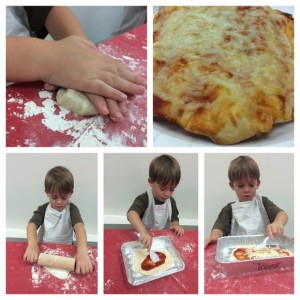 Now you have to have a drink to wash down your pizza right? We had so much fun learning how to make fresh squeezed lemonade. This task helped my boys build fine and gross motor skills while also teaching them that fresh food is healthier than processed. They were both so proud of their finished products!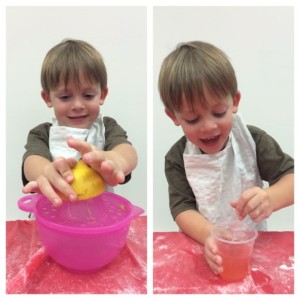 No meal is complete without dessert! For our Mommy and Me class, the kids were instructed on how to make green icing by adding green food coloring to white icing. Next, the kids worked their fine motor and visual skills by spreading the icing on the top of a cupcake. Trevor learned that if he pushed too hard, then some of the cupcake would come off. It was a great lesson in problem solving.
Once the cupcake was iced, the class participants learned how to make a fondant pumpkin. They rolled the fondant like play doh then, with the help of the teacher, added lines and a stem to make it look like a pumpkin. Then they placed the pumpkin on the top of the cupcake like a pumpkin in a pumpkin patch.
We had so much fun at our Mommy and Me class at Chef It Up. I have always enjoyed taking classes with my kids as they offer so many amazing developmental and educational benefits. This was my first Mommy and Me cooking class, and I thoroughly enjoyed it. I cannot wait to bring my kids back for more culinary adventures as a family!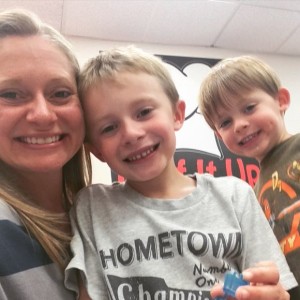 You may also enjoy:
Amazing Cupcake Creations at Chef It Up
10 Benefits of Cooking with Kids