In full disclosure, we received a JJ Cole Collections Bundleme in exchange for our honest review.
Before my son was born this past August I envisioned myself going for walks with my baby a week after he was born. The weather would be wonderful I thought. Walking woud be good for me. Well, apparently in New Jersey we get two types of weather: blazing hot or freezing cold. I felt like Goldilocks without the "just right" part of the story.
My little guy did not like the hot weather at all so that eliminated most days in August and September. Once October came around the nights were below freezing and the times I could actually get out to go for a walk was pretty limited. That is until I tried out the Bundleme from JJ Cole Collections.
Basically the Bundleme is a mini sleeping bag designed to fit inside an infant carrier to keep babies warm and safe from the elements. The Bundleme allowed me to go for a walk in the morning or evening when the weather was definitely on the cooler side. My son was snug as a bug and I was able to get my exercise. And as you read, you'll find that I have expanded my views on what a "walk" really is.
4 Great Places to Get Active with Your Bundleme
Local Park or Track
I found that my son loves being outside in the fresh air. It may just be me, but I found that even at two months he was sleeping through the night on the days we went outside. I couldn't tell you if there is an actual connection there, but if there is then Bundleme is worth its weight in gold! My town has a very nice mile and a half long loop that goes around all of the soccer fields behind the school. I found that it only took about 15 minutes to walk around the track and it was enough time to settle my baby down for a nice nap. Plus, I was happy knowing he was warm and cozy in his Bundleme.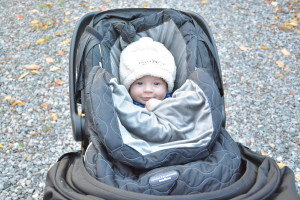 The Zoo
Kids love the zoo even as infants. They love to see and hear all the animals as well as take in the fresh air. The zoo is great for moms because it offers not only bonding time, but a chance to walk and get active. Many shy away from the zoo during colder months but with the Bundleme, families can enjoy a day at the zoo knowing their little one is warm, cozy and comfortable. Zoos are also wonderful learning experiences which we LOVE at Mommy University.
Hiking Trails
I am very fortunate that my property backs up to an Audubon Society with a path that goes up to a scenic overlook. My son has such a great time looking at all the wildlife and nature from his stroller, but without the Bundleme this was a bit of a pain. Our blanket that we used caught on twigs and sticker bushes because it wasn't attached to the stroller which became a nuisance.   The Bundleme was perfect because not only is it only fuzzy on the inside so it avoided all the twigs, but it surrounds the baby so even when a branch grabbed at it, it stayed in place. For even a quick trail walk, the Bundlme is a must.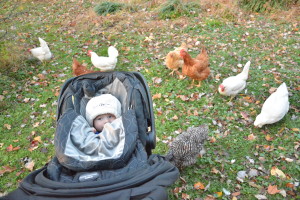 Department and Grocery Stores
I found out very quickly that my baby did not like going from super hot Jersey weather outside, to the frozen tundra of overly air-conditioned stores. Babies like to be warm so I thought, even though it was warm outside, maybe my baby would still like to be snuggled up in his carrier inside the store. Turns out he absolutely loves his Bundleme inside and was probably more comfortable inside than he was outside. On top of my baby being cozy and calm, he got so much attention from other shoppers because he "was the most content baby they have ever seen." Thanks Bundleme!
To be completely honest, once work started up again, I didn't have the time to spend driving around to find the "perfect" places to go for a walk with my baby. What I've come to realize is that there is no set "perfect" place to go for a walk. The perfect place is wherever and whenever you have time even if it means going to the grocery store! The Bundleme eliminates all of those excuses like, it's getting dark and cold out or it's a little too windy today.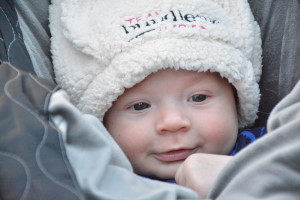 Until I got a Bundleme I probably only went on two or three walks on the most perfect days of the year. For someone who really likes to be outside, this is very impractical. I also found myself a little afraid to go out anywhere because I knew that if my baby got too cold, even in a store, he would get very cranky and I certainly didn't want that. I would highly recommend the Bundleme to any mom that just wants to be able to get out of the house knowing her baby will be warm. I'm so happy that I can get back to my "normal" routines and have my baby right there with me.
Happy babies = happy mommies and when it comes to cold weather I really owe the Bundleme a huge thank you!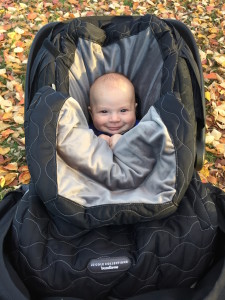 This coming Sunday (November 1, 2015), I am excited to announce that I will be walking with my son in the JDRF One walk to raise money for Type 1 Diabetes research. We will be proudly showing off our Bundleme by JJ Coles Collections and letting everyone see just how practical it really is! Follow our team's adventure here: JJ Cole #Bundleme Moms!
The Bundleme that you see in all of the pictures is JJ Cole's Urban Stealth Bundleme in an infant size ($34.92 using our Amazon affiliate link).  JJ Cole also offers Bundleme's in a toddler size as well so you can continue to enjoy all the benefits that come along with owning a Bundleme.