Looking for Moo-re Farm Books?
At Mommy University, we love readings books.  We enjoy reading as a personal interest but we also recognize that for children to fall in love with reading they need to be read to on a regular basis.  There are philosophies that encourage reading thirty minutes a day while others encourage parents to read 1,000 books before the children enter kindergarten.  The common theme is that by demonstrating to our children that reading is fun they will be passionate readers.
Since visiting farms is a favorite pastime for the writers at MU, we compiled a list of books that we have personally enjoyed in our homes.  We will bring you more topic oriented book lists which can be used to select books for your child's reading corner.  It is always good to have a diverse selection of books by topic and purpose. We have included Amazon affiliate links to make purchasing easier and faster!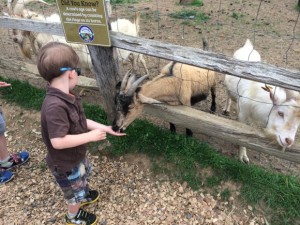 Mommy University Presents
10 Awesome Farm Books
Big Red Barn
This is one of my favorite books to read to my children before bedtime.  The tone and pace is calm and peaceful which I find the perfect complement as the last book.  Big Red Barn is written by Margaret Wise Brown who also wrote Goodnight Moon.  We have also found this book great to accompany farm figurines.
Moo
Touch and feel books are a favorite with the preschooler crowd and Moo, by Matthew Ven Fleet, is an interactive book.  There are plenty of options for kids to touch different types of fabric as well as push and pull on levers.  As well, there is an introduction to vocabulary of the different animals and their roles.
Little Blue Truck
The Little Blue Truck has a clear and simple message wrapped up in beautiful graphics.  Parents will enjoy this story of helping those in need and community.
Pete the Cat: Old MacDonald Had a Farm
While this is the lyrics to the Old MacDonald song, it is accompanied by Pete the Cat and his characters.  This is a great option to bring music and reading together.  Pete the Cat is a favorite character in our household so Pete the Cat: Old MacDonald Had a Farm is a must have book in our at-home library.
1,001 Things to Spot on the Farm
You might call them Look and Find books or I-Spy books, but whatever description you might apply they are perfect in our home.  Children are challenged to find hidden items in the pictures which is great for enhancing visual skills and observation. 1,001 Things to Spot on the Farm is one of our favorite Usborne books, and we know you will love it too!
TouchThinkLearn: Farm
The bold colors of TouchThinkLearn: Farm will definitely attract little one's eyes, but it also introduces concepts through a multi-sensory approach.  With cutouts, children can trace shapes as parents reinforce new vocabulary to help boost language development.
Color Farm
If you are looking to introduce colors and geometric concepts, then Color Farm by Lois Ehlert is the book for you! As you turn the pages, the colors of the pages change and each page introduces a different shape.  It is an engaging book that is fun to read.
Barnyard Dance
Sandra Boynton brings her humor and rhythm to the farm in Barnyard Dance.  The book is upbeat, quirky, and kids love the humor and rhymes.
And the Cow Said
Children love to read books with humor.  And the Cow Said by Katie Cotton has a lot of humor as the main character who cannot sleep has the animals of the farm come visit him, and they are not very quiet.
Around the Farm 
Books and noises?  Of course! Eric Carle's Around the Farm is a fun book with different sounds that can be used on the pages of the book.  Children will love the sounds while we love Carle's artistry!
There are many more farm books that might entice your kids to read to them again (and again and again).  This was a list of books that have made it into our homes and still live with worn spines and bent pages.
What have been your favorite books about farms?
You may also enjoy:
10 Educational Benefits of Visiting a Farm
10 Ways to Encourage a Love of Reading