We are so excited to share that Mommy University has partnered with the Liberty Science Center to bring you their latest learning adventures that the entire family will love. In exchange for sharing information on their latest brain boosting event, we will be attending the Halloween Camp In during which we will bring you all the excitement live!
At Mommy University, we are always looking for fun brain boosting events that the entire family can enjoy so when we found out that the Liberty Science Center was hosting a Family Halloween Camp In we just knew we had to share it with you! On Friday, October 23, families with children of all ages are invited to the Liberty Science Center for a spooktacular evening they will never forget.
Beginning at 6pm, families can explore all the amazing exhibits all throughout the Liberty Science Center. From traveling exhibits such as The Hidden Life of Ants and Dora & Diego to current exhibits like Communication, Eat and Be Eaten, Energy Quest and Skyscraper to even experiences such as the Touch Tunnel and Infinity Climber, families will experience excitement at every corner. Families will also enjoy a movie in the world's largest IMAX Dome Theater and a captivating RealD 3D movie.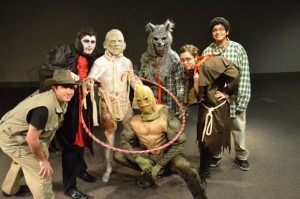 But that's not all! Lurking behind every corner and down every hall, families will encounter Halloween spooks and thrills like they have never experienced before. With monster performers, a zombie autopsy and a wizard workshop, just to name a few, families are in for a spooktacular good time at the Halloween Camp In at the Liberty Science Center.
5 Spooktacular Activities at the Liberty Science Center Halloween Camp In
Witness a Zombie Autopsy
Families will finally learn the truth about zombies as scientists take a closer look at zombie organs. How fun would it be to uncover the mystery of these frightful creatures?
Make a Wax Hand
Kids and adults will love creating their own creepy Halloween decoration/prop. Guests will be able to dip their hand in paraffin wax to cast a mold resulting in their very own wax hand. How cool is that?
Participate in a Wizard Workshop
Ever want to be a wizard or a witch? Well now you can at the Wizard Workshop at the Halloween Camp In. The LSC apprentice wizards and witches will teach guests how to become these infamous creatures. Learn all about chemical compositions needed to make erupting apples, invisible ink and even elephant toothpaste! Now that sounds like a spooktacular time!
Enjoy Monsters Alive Performances
Nothing says Halloween quite like spooky and scary monsters! At the Halloween Camp In, guests will learn about some of Hollywood's most famous monsters. Do you want to know if the Creature from the Black Lagoon is a cousin of the salamander? How about how the Wolfman is like a butterfly? The performances are suitable for all ages, but if your kids scare easily then adult supervision is recommended.
Engage Your Senses with Touchy Tricksters
At Mommy University, we love when activities engage all the senses. Not only is it fun but it is a great way to learn. At the Halloween Camp In, if guests dare, they can place their hands inside mystery boxes and discover what lurks inside. I wonder what you will find!
Sounds like fun right? Where else can you have such an amazing time with family while learning all about the science behind your favorite Halloween tricks and spooky characters? For only $60 per person, families will have an experience of a lifetime! So put on those costumes and head over to the LSC for an unforgettable evening of thrills, excitement and, of course, learning!
For more information and to register please call 201 253-1310. You can also visit the LSC website.