Ahoy, Me Hearties! Are you looking for a swashbuckling good time? Are you ready to put on your hat, pull up your boots and sail off on an adventure full of excitement? In other words, who is ready to call themselves a PIRATE?
In honor of Talk Like a Pirate Day which takes place every year on September 19, I decided to make a list of places where kids (and adults) can be a pirate in NJ. As I started my research, I knew of a few places, but who knew there were so many buccaneer adventures right in our own backyard (literally)!
Of course, at Mommy University, we love activities that offer learning through play. We believe that pretend and imaginary play is vital for healthy child development. The benefits are endless as kids enhance language skills, social awareness, creativity thinking and so much more! So go ahead and let your child be a pirate for the day! (For all adventures, please check their websites ahead of time as some locations are seasonal!)
10 Places to Be a Pirate in NJ
Tuckerton Seaport
One of our favorite places to visit down the shore is Tuckerton Seaport. It's the perfect place for kids to not only be a pirate but to learn about pirate history. Inside they offer a an area with historical information as well as pirate costumes for kids to enjoy. Outside kids can have a blast playing in the pirate ship playground. Plus, every year families can put on their best pirate gear and attend their annual Privateers and Pirates Festival.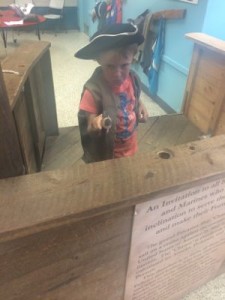 Jersey Shore Pirates
Located in Brick, Jersey Shore Pirates offers a swashbuckling adventure for all ages! Set sail on the Sea Gypsy for an interactive treasure hunt. Passengers will learn to read a treasure map, find secret messages in a bottle, battle enemy pirates and learn the rules of a ship. Each child will go home with a handful of loot too. There are even fun activities before and after your ride!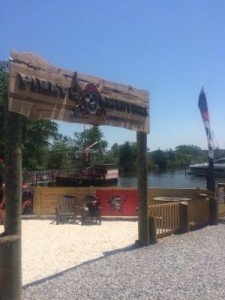 Land of Make Believe
Although Land of Make Believe is only open in the summer I had to include it on this list because of their amazing pirate themed waterpark. Pirate's Cove is a fun area boasting a large pirate ship where kids can climb, play and slide while Blackbeard's Pirate Fort offers hours of water fun including a 1000 gallon dumping bucket! It's a fun place for parents and kids to live out their pirate dreams!
Imagine That Museum
Located in Florham Park, Imagine That Museum offers endless learning fun for kids. They have numerous hands-on exhibits and play areas including a wooden pirate ship playground that your little buccaneer will LOVE. My kids always have fun at Imagine That Museum pretending to be a pirate as they climb up and then slide down the ship. Kids can also have a pirate themed birthday party which offers a really fun learning experience.
Pirates on the Manasquan
Sea dogs of all ages are invited to set sail on a pirate adventure they will never forget with Pirates on the Manasquan. Participants can look forward to pirate training, exploring Treasure Island, learning pirate lingo, firing real water cannons and so much more! At the end, families will also enjoy a fun dance party.
Pirate Voyages
Pack up the family and head down to gorgeous Ocean City for a day of singing, story telling, treasure hunting and adventure. At Pirate Voyages, families will climb aboard the Sea Dragon where the Captain is USCG certified with a Master's USCG license. Kids can enjoy a hands-on learning experience all while having fun and using their imaginations!
Playgrounds
Many playgrounds across NJ offer fun pirate and aquatic themes. Let your child put on their favorite pirate hat, eye patch or bandana and explore their imagination. My kids love pretending to be little buccaneers and making each other walk the plank. Not only do playgrounds allow for imaginary play, they also help boost gross motor and social skills! My boys love the Regatta Playground in West Orange and Mount Playmore in Flanders, but there are countless pirate themed playgrounds for you to explore in NJ!
Black Pearl Pirate Tours
If you want to learn how to talk, sing and even dance like a pirate then the Black Pearl Pirate Tours is for you! Located in Beach Haven, this adventure will offer a fun interactive experience for all ages. While aboard the Black Pearl, passengers will chase after Pirate Pete who has stolen the keys to the treasure chest. Guests will have fun using the water cannons as they battle this pesky pirate and lead their crew to victory!
Dark Star Pirate Cruises
Calling buccaneers of all ages! The Dark Star, located in Wildwood Crest, is looking for new pirates who aren't afraid of adventure and excitement. Passengers will learn to talk and act like a pirate as they hunt for treasure. It is a wonderful way to engage in imaginary and pretend play while also enhancing language development! Did I mention that the Dark Star is the newest addition to The Starlight Fleet Deep Sea Fishing & Dolphin-Whale Watching Center? Now you know it will be a learning adventure you will never forget!
Your Very Own House!
Look no further than your own backyard, living room or playroom for your next exciting pirate adventure! Turn your swingset into a pirate ship, your sandbox into a treasure hunt or even turn your train table into Pirate Island. Let them dress up like pirates, search for treasure under your bed, play with pirate toys or read books about famous buccaneers. The possibilities are endless when kids use their imaginations.
So dress up those little "sea pups" (as said on Jake and the Neverland Pirates), and embark on a pirate adventure!
You may also enjoy: