In full disclosure, we received the SmartMax Mega Ball Run in exchange for our honest review.
At Mommy University, we are always looking for amazing brain boosting toys that offer opportunities for kids to learn and grow. I was first introduced to SmartMax at Blogger Bash in July 2014. Soon after I reviewed SmartMax Rescue Team which my kids loved to play with. We met up with this incredible company again at Toy Fair NY in February 2015 at which time we were introduced to the new Mega Ball Run building set. We could not wait to learn more!
This past summer at Blogger Bash I was lucky enough to receive a sample of the Mega Ball Run. Even though I carried the box 10 blocks through New York City, I knew it would be worth it. When I arrived home and saw the look on my boys' faces, I was so happy I took that trek. They immediately wanted to tear open the box and begin building!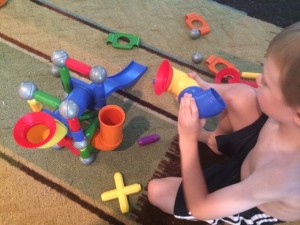 The Mega Ball Run comes with 74 pieces making for hours of endless building AND learning fun! It is important to note that Mega Ball Run does not come with a manual offering step-by-step directions on how to make different ball runs. SmartMax prides themselves on encouraging kids to use their imagination and creativity to create their own designs and masterpieces. This also fosters the development of critical thinking skills.
Although we did replicate some designs on the box, we also had a blast creating our own ball runs. Creating your own designs helps enhance so many developmental and educational skills. Kids first need to learn patience and determination as it takes time to create a good working design. They learn cause and effect as they see what happens when the ball goes through the run. Kids also learn what happens if you use one piece over another and how that can change the entire outcome.
While playing, problem solving skills are also enhanced as kids have to decide what works and what does not. They have to make adjustments and figure out how to make their run work efficiently. Lastly, it's a great introduction to design and architecture. Kids learn that using triangles helps create a stronger tower as well as what happens if the sides are slightly crooked.
Now, of course we loved making ball runs, but what's great about this set is that it can be used for so much more! It can also be used in conjunction with other sets so we pulled out our SmartMax Rescue Team for more building fun. After reviewing a booklet about SmartMax, we came up with some fun ways to learn while playing with our SmartMax pieces.
5 Ways to Learn While Playing with SmartMax
Shape Recognition
A fun way to play with your SmartMax pieces is to make shapes. This helps kids verbally identify shapes as well as learn what makes each shape different from each other. This helps increase language skills while also introducing kids to basic geometric concepts. Have older kids? Try making more complicated shapes like a nonagon and decagon. They can also try to make 3-D shapes like cubes and triangle pyramids.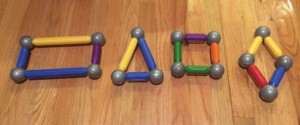 Making Comparisons
While making shapes, you can make them small, medium or large. Talk to your kids about the different sizes. They have to use their visual discrimination skills to compare the shapes as well as visual scanning skills to decide what pieces are needed to make the shape the size they want it to be. Problem solving and critical thinking skills are also used while building various sizes.
Letter Identification
When looking through the Instructions Booklet which provides some ideas to get you started, I noticed that you can make letters using the SmartMax pieces. This is a great way to enhance letter recognition. Like making shapes, making letters also involves the use of visual skills, problem solving and fine motor skills.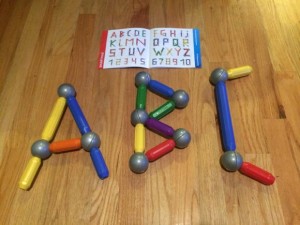 Create Words
Once your kids have mastered letters, you can move on to making words. You can start with building your child's name. This helps them identify the order of the letters as well as knowing the visual representation of their name. Building words is also great for kids learning to read as you can start with basic sight words. Parents can make the word and ask their child to read it, then, as kids become more advanced, they can make the words themselves.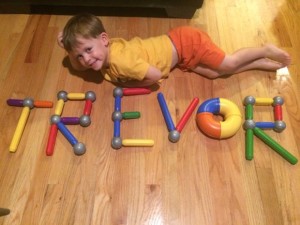 Number Identification
If you can make letters, then of course you can make numbers too! We had so much fun making numbers and putting them in order. This a great way to teach kids number identification as well as sequencing. You can also ask them to build the numbers that represents their age, address or phone number. For older kids, you can create simple math equations. The possibilities are endless!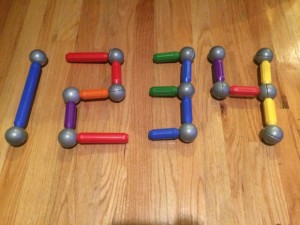 We had so much fun learning through play with SmartMax, and I know you will too! SmartMax Mega Ball Run can be purchased on Amazon using our affiliate link.
You may also enjoy:
Brain Boosting Building Fun with SmartMax Rescue Team
Build, Create, Play: The Benefits of Playing with Building Toys