We are so excited to partner with Hershey, PA and The Hershey Story to bring you all the brain boosting fun they have to offer families. We received passes for the museum but all opinions are my own.
One of my absolute favorite experiences when vacationing in Hershey, PA is visiting The Hershey Story: The Museum on Chocolate Avenue. We have visited The Hershey Story several times now, but this summer was our favorite visit so far. We were initially drawn to the museum during a winter stay when they offered a chocolate ornament making activity. Once there, however, we were amazed by all the fun and interactive experiences they had for kids and adults. Although we did not make chocolate ornaments this summer, we found plenty to do to keep the family engaged and, as they say, Hersheypark Happy!
The Hershey Story opened in January 2009 and opens its doors to around 160,000 guests each year. From the moment you walk into the Grand Lobby you can just sense the love and respect felt for Milton Hershey in this town he put on the map over 100 years ago. I love the 2-story "Trompe l'oeil" mural that embodies Mr. Hershey's love of children and his desire to help them succeed in life. Each trip to the museum, my boys take a picture in front of the mural as if they were a child listening to the stories of Mr. Hershey.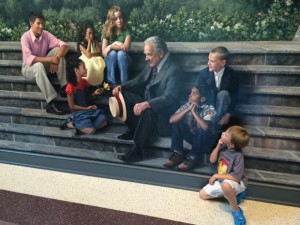 The Hershey Story is 2-floors full of hands-on learning fun! The first floor houses the Chocolate Lab, Museum Shop, Cafe Zooka, Chocolate Workers Wanted exhibit and Countries of Origin Chocolate Tastings. It is also where you will find the front desk to purchase tickets. The second floor features the Museum Experience which is 10,500 square-feet of exhibits showing the legacy of Milton Hershey from his birth to his impact on the present day. It is a fascinating step into the past!
At Mommy University, we believe that kids learn best by being engaged in the learning experience. Being able to touch, feel, smell, see and taste the world around them, allows children to truly understand and take-in an experience. By providing fun interactive activities for kids, The Hershey Story really allows children to understand the legacy of Milton Hershey.
5 Sweet Learning Experiences at The Hershey Story
Chocolate Workers Wanted Exhibit
With this fun hands-on exhibit, visitors can experience what it would be like to work in Mr. Hershey's factory from 1905-1925. When you first arrive, you are given a New Worker Training Card. As you complete each of the 4 training activities (Roasting, Refining, Knock-Out and Wrapping), you stamp your card. There are an additional 3 areas to explore as well before the training is complete. At the end, you see the supervisor for a department assignment. For my training experience, I was hired in the Knock-Out Department for $.09/hour. Imagine making that kind of salary?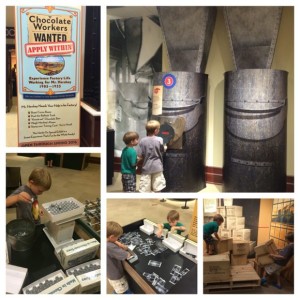 The Chocolate Workers Wanted adventure is my kids' favorite experience at The Hershey Story, and we usually explore it when we first arrive AND right before we leave. My boys LOVE weighing the Hershey kisses to make sure the box is exactly 2.5 pounds, filling the boxes with 24 candy bars and pushing the bathtub. Did you know workers used a bathtub to move chocolate around the factory? Their favorite area, however, is Packing where they get to stack up large wooden crates. Each area helps kids gain skills in different academic and developmental areas. When done playing, kids will have enhanced math skills (counting, measurement, weights and basic facts), vocabulary, muscle strength and historical knowledge.
I Spy
As guests enter the Museum Experience, located on the second floor, they can take a FREE I Spy booklet if they would like to play. My entire family enjoyed playing I Spy while walking around the exhibits. My mom was especially determined to find EVERY item on the list. This is a fun way to get kids engaged in the learning experience. It also teaches family members to work together to find each item. You can enhance your experience by asking your kids questions about each item on the list such as what color is the object, what is it used for and is it something that is still used today! There are 12 items in total to find, and once completed, a staff member will give you an "I Spy" sticker.
Apprentice Program
The Apprentice Program is a step-up from the I Spy game as it involves critical thinking, problem solving and even math skills. After paying the additional $3 fee, your child will receive The Official M.S. Hershey Apprentice Guide booklet which provides several pages of learning fun. This interactive scavenger hunt requires kids to really become engaged in the experience and pay close attention to details. Players have to answer questions about Milton Hershey's parents, solve some math problems, answer trivia questions such as "What was the bathtub used for in the factory?" (Hey, you know that answer now!), find pictures on the displays and much more. It also encourages guests to interact with certain exhibits such as the Explore Hershey section that has an interactive electronic map of Hershey, PA.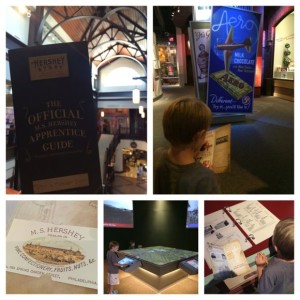 While playing, there are checkpoints along the way where the kids can get souvenirs to place in their book such as a replica of Milton Hershey's business card and a stamp. At the end, each child will get a coin along with a copy of an old newspaper with their picture on it. I absolutely loved the Apprentice Program. I felt it really engaged my son as well as myself, and we learned a great deal about the Hershey legacy.
Chocolate Tastings
My favorite experience during this recent visit was the Chocolate From Around the World Tastings. Located on the first floor, the Tastings experience allows adults and kids to savor and indulge in the power of chocolate. It was a multi-sensory learning experience that the entire family enjoyed together. The Tastings area offered two areas to try the chocolate: at the bar or at tables. We decided to sit at the bar which I felt added to the experience.
The kids tastings included warm milk and 2 chocolate star lollipops. The child then stirs the milk with the lollipop to create hot chocolate. The richness of the hot chocolate will depend on how much of the lollipop the child allows to melt in the milk. My kids chose to stir one lollipop in the milk and eat the other lollipop. They had a blast! The Kids Tasting costs $6/child.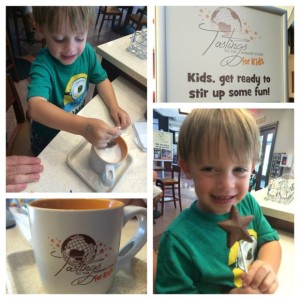 The adult tastings include either a flight of 3 or 6 warm drinking chocolates from around the world. We chose to try all 6 which included Mexico, Venezuela, Ghana, Tanzania and Java along with the traditional Hershey milk chocolate. Your taste buds will explode with flavor as you experience blends of cocoa beans from some the finest cacao-growing areas in the world. My favorites were from Venezuela and Tanzania which each contained over 70% cacao while my husband preferred Ghana which had only 21% cacao. The adult tastings are $10/flight of 6 and $6/flight of 3.
Hershey Kiss Production Line
A fun problem solving experience at The Hershey Story can be found within the Museum Experience. In front of the Hershey Kiss production line exhibit, guests can find a station with a touch-screen computer. After reading some interesting facts about the history of how Kisses were made, guests can move parts around to try to create a working Hershey Kiss production line. This task is much harder than it looks as it took several times to get it right. It was a great lesson in trial-and-error, cause and effect, spatial-organization and visual skills.
I hope you have enjoyed taking a peek into some of the amazing learning experiences The Hershey Story has to offer. The museum is open daily from 9am – 5pm and admission is $10/adult, $9/senior and $7.50/child ages 3-12. Teachers, veterans and families of active military personnel get a $3 discount with proper identification.
You may also enjoy:
5 Educational Experiences in Hershey, PA
5 Brain Boosting Reasons to Visit Hersheypark