Updated for 2018!
The smell of donuts, baskets full of apples, hayrides through fields full of pumpkins and animals to feed and pet. Where can you can enjoy all of these experiences? At a farm of course! Now I love all of these farm fun activities, but there is another brain boosting experience that can set a farm apart from all the rest. An activity that involves problem solving, teamwork, spatial awareness and, of course, fun!
I am talking about a corn maze! Some are long, some are short. Some are during the day and some are at night. Some offer riddles and stories while others offer multi-sensory fun. New Jersey offers a wide variety of farms as we are the Garden State of course, but it also boasts some amazing corn maze experiences!
10 Brain Boosting Corn Mazes in NJ
Alstede Farms
Located in gorgeous Chester, Alstede Farms is known for its wide variety of farm fun. They offer hayrides, a corn pit, wagon rides, a hay pyramid and more. Their corn maze, however, is something you cannot miss! This year's maze offers 2 mazes: kiddie maze and giant 10-acre maze. It is a fun, interactive learning experience for all ages. The corn maze opens August 31!
Stony Hill Farms
Also located in beautiful Chester, Stony Hill Farms offers one of the most unique maze experiences. This year, their 10-acre corn maze is themed Age of Edison, celebrating the life and inventions of Thomas Edison. Stony Hill Farms does not stop with just a corn maze though. They also offer a 1-acre mini corn maze, rope maze and tile maze. In addition, families can enjoy a life-sized barnyard board game, gemstone mining and a playground. Did I mention on Saturdays you can also explore the giant corn maze at night? The mazes open September 1!
Happy Day Farm
If you are looking for something fun and exciting to do this fall, then head over to Happy Day Farm in Manalapan. Besides the corn box, hayride, pig races, zoo, tire mountain, pedal carts and corn stalk tunnel, they have an a-MAZE-ing 13-acre corn maze. While exploring, guests can play Maize-O-Poly, Corn Text and GPS Locator. What a fun way to learn and play! The maze is expected to open in mid-September.
Heaven Hill
Being Sussex County residents, we love visiting Heaven Hill Farm each year. Located in Vernon, this farm offers a full day of fun on the farm for the entire family. From carnival rides to hayrides to a petting zoo, there is something for everyone. Their corn maze is a wonderful multi-sensory experience for the entire family, and this year's Pirate Treasure theme will be sure to delight all ages. As you walk through the maze, guests can play various games, but the game we love the best is the Fabulous Finger Find game which is for the smallest of corn maze goers. Throughout the maze, there are stations where kids can choose a finger to place on a color. By the end of the maze, each finger will be painted in a pattern of the child's choosing. The child can then look up their pattern on a chart to see what silly action they have to perform like be T-Rex or hop like a bunny. What a fun way to play and learn! The maze opens September 15!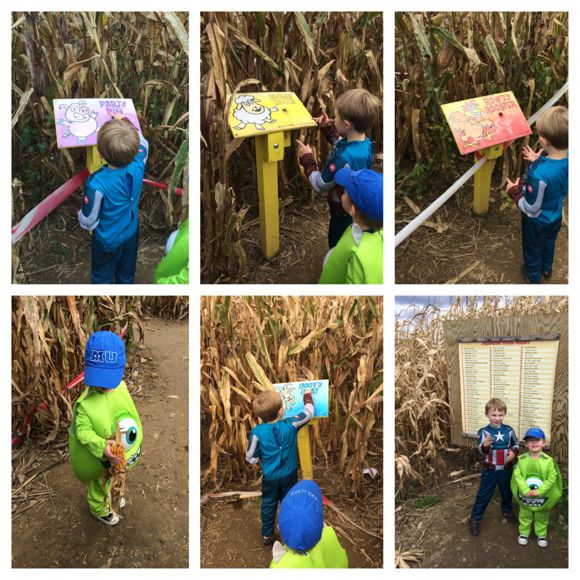 Etsch Farms
Etsch Farms in Monroe Township is a 4th generation family owned farm that offers a wonderful fall experience for guests. You can pick a pumpkin, sample some apple cider or just enjoy a hayride with family on a gorgeous fall day. Their 8-acre corn maze is another fun activity to enjoy with friends and family. Hidden throughout the maze is a crossword puzzle game to add even more challenge to your adventure. There is also a smaller maze if the large maze is too much for you or the kids. Families can also explore the maze at night for more spooky fun! This year's maze theme will be announced soon. The maze opens September 22!
Springdale Farms
For over 60 years Springdale Farms has been selling farm fresh produce to their Cherry Hill community. This fall, head over to the farm to try some fresh food, enjoy an educational hayride and explore their amazing corn maze. This year's corn maze theme will be announced soon.
Terhune Orchards
Found in gorgeous Princeton, Terhune Orchards offers endless fall fun for individuals of all ages. What I love are all the educational activities offered such as their Read and Pick programs. This fall, after exploring the barnyard animals, tractors and picking apples, take a stroll through their corn stalk maze. In the past, we had to find pictures that represented each season of the year. What I liked about the simplicity of this concept is that it sparked conversations with my kids about the seasons. This helped them build their language skills including vocabulary and turn-taking.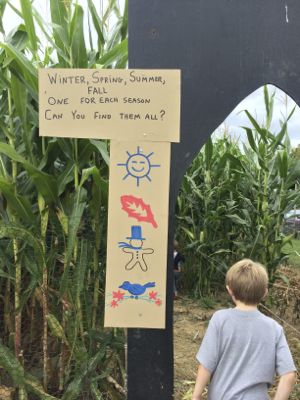 Von Thun's Country Farm
(Information to be updated soon for 2018) Located in Monmouth Junction, Von Thun's Country Farm offers a 3-mile long corn maze full of twists and turns. This year's MAiZE (as they spell it) theme is Minions. Von Thun's offers several challenging ways to enjoy the MAiZE which adds to the brain boosting fun. Guests can do the Total Challenge (complete the MAiZE without any help), receive some assistance from the Cornundrum signs, use the fun interactive game of Corn Texting, complete the MAiZE Passport or just follow the map on the MAiZE instruction booklet. Other fun activities include the giant Spookley the Square Pumpkin Storybook which offers a great anti-bullying message and Simon Says spinning wheels located throughout the MAiZE.
Howell Living Historical Farm
Located in Mercer County, Howell Living Historical Farm takes families back over a 100 years ago to show what farming life was like for people of that time period. This fall, besides exploring the wonders of the past, visitors can also enjoy the longest running corn maze in NJ! As guests work their way through the maze, they can collect 10 puzzle pieces to add to their game board. They also have to answer chicken trivia questions, but don't worry, the answers are also hidden within the corn maze. When done, you can enjoy pumpkin picking, a hayride and more!
Donaldson Farms
One of our favorite farms to visit during any season is Donaldson Farms located in Hackettstown. We have already introduced you to their Sunflower Tour so now we want to share information about their amazing corn maze too! This year's maze is themed "Brighten Someone's Day," and $1 from every entry fee will be donated to Tomorrows Children's Fund, an organization that supports families during times of illness. The maze opens September 23!
We will continue to update this list as more information becomes available! Have fun experiencing this fun fall activity with your friends and family! Visit our Facebook page and tell us what your favorite corn maze experience was this fall. Feel free to share some pictures too!
You may also enjoy: