I am so unbelievably excited to share that Mommy University has partnered with Hersheypark and Hershey, PA to share with you all their sweet learning adventures. This summer, we were provided with passes to Hersheypark in order to bring you all the brain boosting fun this amazing amusement park has to offer!
My family loves visiting Hersheypark which you have probably figured out by now if you follow Mommy University. We love to visit during any season of the year as there is always something new to see, ride and learn about. Now we all know that Hersheypark is a SWEET amusement park with rides and thrills for all ages, but what many people may not realize is there are numerous educational and developmental benefits of visiting the sweetest place on Earth.
As a parent, I am always trying to expose my children to new ideas and concepts. I want them to learn but have fun while doing it. Going on vacation is no exception. I love when a resort, playground or amusement park offers a fun learning adventure. That is exactly what Hersheypark offers families. While playing and having a blast, kids are learning about the world around them and developing important academic, social, motor and cognitive skills needed for success in school and in life!
5 Brain Boosting Reasons to Visit Hersheypark
Free Admission to Zoo America
One of the greatest educational benefits of visiting Hersheypark is the included admission to Zoo America. While exploring, guests will learn about the 5 regions of North America and the animals that live there. There are also opportunities to meet and greet animals throughout the week. Another wonderful feature is the scattered signs provided by Stouffers that offer interesting and unique facts about animals. While exploring, kids are boosting their vocabulary, becoming more aware of their environment and being exposed to animal science. This can help them be more successful in school.
Provides Health Tips
While walking around Hersheypark make sure you read the Health Tip signs scattered around the park. Provided by the Milton S. Hershey Medical Center, each sign offers advice on how to get fit and stay healthy. From where to store medicine to encouraging the use of sunscreen to ways to treat sunburn, there is so much to learn. To expand upon these tips, use them to spark conversations with your kids about health and what they can do to stay healthy.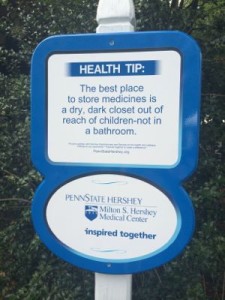 Encourages Family Bonding
The greatest benefit of visiting Hersheypark is the opportunity for family bonding. Whether it's relaxing in a cabana, floating down the lazy river or zipping around a roller coaster, Hersheypark allows families to spend time together and enjoy each other's company. A day at the park lets parents learn what their kids like and dislike and kids learn their parents may be cooler than they thought. Hersheypark is also a great place to visit with multiple generations. It's fun for grandparents AND babies!
So why is family bonding important? When children bond with their parents they feel safe, secure and loved. The lines of communication are open which allows for a greater support system especially during difficult times. Family bonding also helps members grow an appreciation and respect for one another which helps create a more meaningful relationship.
Enhances Language Development
As children walk through the park, they build their basic language skills by labeling objects such as trains, airplanes and cars. The use of descriptive words are also enhanced as kids can describe a ride as fast, slow, scary or exciting. Another fun way to enhance language is to have a scavenger hunt. To play, have your children find specific items around the park as well as answer certain questions such as "How far is the drop on the Wildcat?" and "What was the first ride at Hersheypark?" You can also ask them to read the signs around the park. Letting them use the map to read and decipher is another way to enhance language as well as spatial skills.
Builds Confidence
When a child rides a roller coaster for the first time or wins their first carnival game, they are building confidence which leads to greater self-esteem. My older son has always been afraid of rides so when he asks to go on one that seems a bit daring, I immediately say "YES!" The look on his face when he gets off, so full of proud and happiness, is the reason I LOVE amusement park rides. It's not for the thrill and exhilaration, well maybe that's part of it, but it is really for the confidence I see in my kids each time they try something new. When a child is confident, they are more likely to be successful in school and in life!
As you can clearly see, there are so many amazing benefits for bringing your family to Hersheypark for an hour, a day or a week. Each season offers new possibilities for fun and learning. I know we can't wait to come back soon!
You may also enjoy:
Our Sweet Learning Adventure at Hersheypark
5 Educational Experiences in Hershey, PA
Dinner for Two at The Hotel Hershey
Relax, Unwind and Rejuvenate at The Spa at The Hotel Hershey