I am so unbelievably excited to share that Mommy University has partnered with Hersheypark and Hershey, PA to share with you all their sweet learning adventures. This summer, we were provided with passes to Hersheypark in order to bring you all the brain boosting fun this amazing amusement park has to offer!
Since I was a little girl I traveled to Hersheypark with my family. Whether it was just my immediate family or with cousins, aunts and uncles, we always had a blast and created memories to last a lifetime. As a parent, I wanted to continue this tradition with my own children. I wanted to create new and exciting memories with my family.
Each summer since my kids were born we have planned a trip to Hershey, PA. This summer we decided to stay at the Hersheypark Camping Resort in a deluxe 2 bedroom cabin. My mom and stepdad also joined in the fun as they too love Hersheypark. What's great about staying at a Hershey resort is that you are able to enter the park an hour before the rest of the public. That means you can enter at 9am instead of 10am. Plus, during the preview the night before, guests are able to enter at 6:30pm instead of 7:30pm. That's not just one but two more hours of sweet learning fun!
We arrived to Hershey on a Friday but decided that Sunday would be our day at the park. That means our preview would be Saturday night. After enjoying Saturday at The Hershey Story Museum and relaxing by the pool at the resort, we packed up our sweatshirts and headed to the shuttle. Did I mention another great perk of staying at a Hershey resort is FREE shuttle service to and from the park? My kids love taking the shuttle and even waited in line happily until the bus arrived.
We arrived at the park around 6:30pm giving us 3.5 hours to explore the park before it's 10pm closing time. My kids each grabbed a park map and began planning out what we would ride. It was a busy night at the park so many rides had long lines. As a result, our mission turned into waking around, taking in the sights and sounds and deciding what we would ride the next day. We were also very excited to catch a strolling music show by the Cocoa Rhythm Factory, a drum group full of talent and charisma!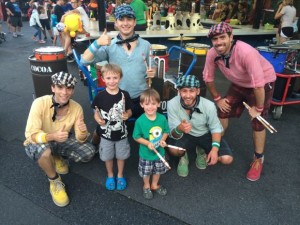 We left the park around 9:30pm full of ideas of what we would enjoy the next day. The boys were happy they were able to ride the train (Dry Gulch Railroad), Mini Scrambler, Balloon Flite and Livery Stables (mini carousel) so those rides were already checked off their list. My little Reese's and Hershey Kiss had a blast and could not wait to enjoy the park even more the next day!
The next day we hopped on the shuttle and arrived at Hersheypark around 9am. We immediately walked to The Hollow area so my husband and I could ride Skyrush. One of the great perks of getting into the park an hour early is riding roller coasters without any lines! After the exhilarating rides on Skyrush and the sooperdooperLooper, we let the boys ride the Sweet Swing and Tea Cups which were new rides last season.
Once 10am rolled around the rest of the park opened so we walked over to The Boardwalk to get our cabana which we reserved in advance. (If you are traveling with kids and/or grandparents, I highly recommend getting a cabana. It offers a great place to store your belongings and relax throughout the day. It also provides private lazy river access!) Once situated, my boys wanted to play in the wave pool. It was early so the crowds were small making it much easier for the boys to enjoy themselves. What I love is that Hersheypark provides life vests making the experience safer!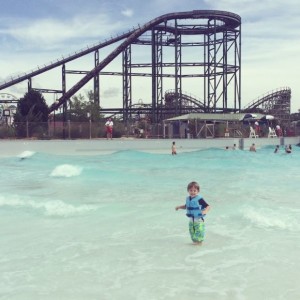 Our next adventure involved my kids facing their fears and riding a roller coaster. Both boys were tall enough to ride the Trailblazer, and they were so excited to do so. We rode together as a family which was a wonderful bonding experience. After our ride, we decided to catch a show at the Aquatheater. Even though we have been to Hersheypark many times, this was our first time seeing the seal and sea lion show. It was so much fun to watch the animals perform as well as learn interesting facts about them such as what makes a seal different from a sea lion. The trainers also shared that these amazing animals love to learn through play just like kids!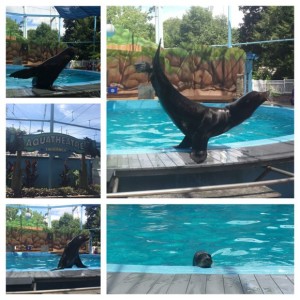 After the show, we returned to The Boardwalk to cool off. The boys first played in the Sandcastle Cove then ventured over to the East Coast Waterworks for more fun and exploration. I love how this area helps kids boost their motor, visual and social skills as they play. They also enhance problem solving skills as they decide how to escape the water falls as well as how to maneuver the spouts to hit unsuspecting people below. My kids also worked passed their fears by taking on various water slides!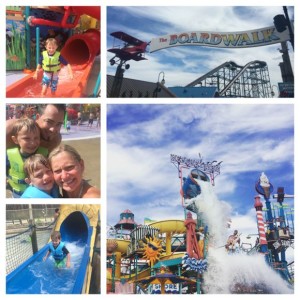 After all the waterpark fun, my kids took a nap which allowed my husband and I to ride two more roller coasters while the grandparents watched the boys at the cabana. At 6pm, when the cabana area closed, we headed over to Zoo America. Did you know entrance into Zoo America is FREE with your Hersheypark ticket? Guests can take a break from the park and stroll through the zoo to learn about animals and plant life found in the five regions of North America. We had a great time seeing the bears, prairie dogs, elk, fish and more. Zoo America is always my youngest son's favorite part of our trip!
When we returned to the park, the boys rode some more kiddie rides before heading over to the last ride of the night, the Kissing Tower. If you only ride one ride at Hersheypark, make sure it is the Kissing Tower, and, if you can, try to ride it at sunset. Not only is this ride educational as it provides facts about the Hershey legacy, it also provides the most breathtaking view in Hershey, PA! Don't forget to give your loved ones a kiss when you get to the top!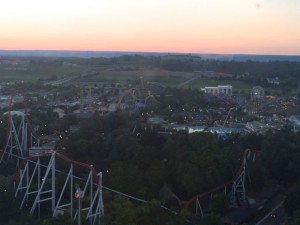 I hope you have enjoyed reading about our SWEET learning adventure at Hersheypark in Hershey, PA, the SWEETEST place on Earth!
Hersheypark is open for the Summer Season daily through September 7, 2015 then weekends only through September 27, 2015. Additional seasonal attractions are available throughout the year!
Coming Soon: 5 Brain Boosting Benefits of Visiting Hersheypark
You may also enjoy:
Dinner for Two at The Hotel Hershey
Relax, Unwind and Rejuvenate at The Spa at The Hotel Hershey
5 Educational Experiences in Hershey, PA