In full disclosure, we received passes to the Audubon Aquarium in exchange for our honest review.
As you know by now, we love to travel! This summer, we have been all over the state of NJ, explored parts of Pennsylvania and took a road trip to Louisiana (just to name a few). When we travel, we always look for fun and exciting experiences for our family to enjoy that also offer opportunities for learning. I want my kids to be able to learn about the state or city we are exploring and be able to bring that knowledge back home to share with friends and expand upon through reading and other activities.
When we decided to travel to Louisiana this summer, I knew we had to check out the Audubon Institute located in New Orleans. We have already shared our experience at the Audubon Zoo which was AMAZING, so now it is time to share our wonderful experience at the Audubon Aquarium. After spending several hours at the zoo, we hopped in our car and headed to downtown New Orleans to go on an underwater adventure.
All day my son kept saying, "When can we see the sharks, Mommy?" Well, he was going to get his wish and so much more! From the moment we walked into the Audubon Aquarium, my son's wish came true as he looked up in awe at the various sharks hung from the ceiling. I was impressed that he was able to name each one of them! Next, we took a walk "underwater" through the 30-foot long tunnel where we were able to observe sea life all around us. We saw sea creatures of all shapes, sizes and colors. It was amazing!
The tunnel led us to the 4200 square-foot Great Mayan Reef area. From ancient ruins to exotic sea creatures, there was so much to see and learn about during our journey through this magnificent world. After our Mayan adventure, we traveled into the gorgeous and mysterious Amazon Rain Forest complete with tropical birds, piranhas, an anaconda and freshwater stingrays. I loved the signs placed around this area that shared facts about the rain forest and the various sea creatures found there. We also learned how we can help save the rain forest!
After touring the rain forest, we watched the penguins waddle and hop around, and then looked for "Nemo" in the Living in Water exhibit. We saw so many colorful and gorgeous fish such as clownfish, royal blue Tangs and lionfish. The Seahorse Gallery was next which I found to be one of the most interesting and informative areas. Did you know that the male seahorse is the one who gives birth? What an exotic and mystical sea creature. I was in awe looking at them and learning more about them.
After learning all about seahorses, we explored Beyond the Green which was all about frogs! This interactive, hands-on exhibit helped my children learn all about frogs as well as their importance in our culture. We were shown the roles frogs have played in literature and theatrical performances. A large exhibit also helped my kids learn all about the anatomy of a frog. (I guess they will be ahead of the game when they dissect a frog in school!)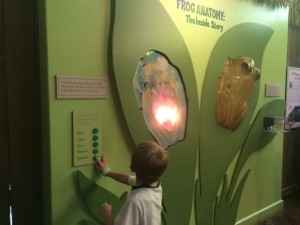 Next, we observed sea otters and eels before heading to my kids' favorite area, Geaux Fish. This interactive area focused on the amazing fishing industry in Louisiana. Guests are able to observe marine life typically caught by local fishermen as well as learn about the art of fishing. We also gained knowledge about the importance of fishing on the economy and ecosystem. In Geaux Fish area, my kids enjoyed hands-on activities such as "driving" a boat, casting a virtual reel and getting "inside" a fish tank. It was a wonderful learning experience for the entire family!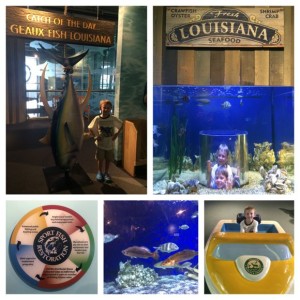 The next learning experience we encountered was the Mississippi Gallery which included the world-famous white alligator. This area also featured paddlefish, sturgeon and catfish. While walking through this exhibit, my son also had the opportunity to pet a turtle which was very exciting. Another wonderful learning aspect of this exhibit is the historical facts placed throughout the room. Families are able to read about the Louisiana Purchase and the expeditions of Lewis and Clark. We even learned about the animals and plant life that Lewis and Clark encountered on their journey.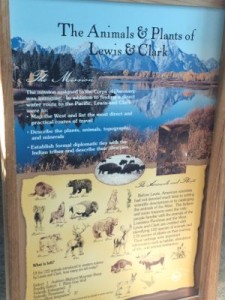 After exploring the sea life of the Mississippi River, we walked downstairs where we were mesmerized by the glowing jellyfish and giant sharks. We spent a great deal of time standing in front of the floor to ceiling glass wall that allowed us to see the sea creatures in all their glory. Not only did we see sharks and stingrays swimming around in this 400,000-gallon exhibit, we also saw an endangered sea turtle. The Gulf of Mexico exhibit was by far my son's favorite part because, as we know, he wanted to see sharks!
The Audubon Aquarium was an amazing underwater adventure that the entire family enjoyed. It was a wonderful hands-on learning experience that allowed us to gain knowledge in all aspects of sea life from penguins to piranhas to frogs to, of course, sharks! There are so many amazing benefits for visiting this wonderful aquarium. As stated above, guests can enhance their knowledge in the areas of science and history as well as literature and art. Kids can expand their language development by learning new vocabulary words and enhancing their comprehension skills. Guests also learn how important their roles are in taking care of the environment.
What I love the most, however, is the opportunity for family bonding. These days it can be hard for family to have time together. The Audubon Aquarium is a wonderful place to explore for an hour, 2 hours or all day. Whether you are on vacation or just taking a day trip, visiting the aquarium is a great way for families to spend time together while learning and having fun!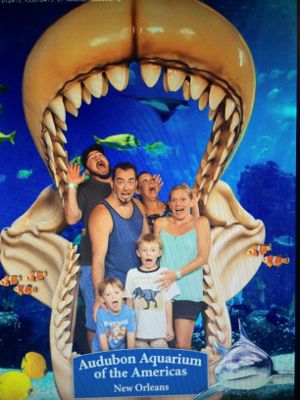 The Audubon Aquarium is open daily from 10am – 5pm through September 7, 2015. Beginning September 8, 2015, the aquarium will be open Tuesday – Sunday from 10am – 5pm. Ticket prices are $23.95/adult, $17.95/children ages 2-12, $18.95/seniors and FREE for children under the age of 2.
Have fun exploring!
You may also enjoy:
Explore, Discover and Play at the Audubon Zoo
10 Educational Benefits of Visiting an Aquarium