My family has recently sparked a great love for Philadelphia. We have traveled there twice this year and are visiting again this month. There are so many fun and exciting things to do that we will never run out of places to visit and explore. Being a New Jersey resident, a trip to Philadelphia is not difficult which affords us the opportunity to visit more readily than other historic cities. We are able to have a fun family vacation while also exposing our children to amazing learning experiences!
This summer, Philly offers some wonderful family friendly experiences that you do not want to miss. We are so excited to return and cannot wait to explore our favorite places before the summer is over. Not only are these experiences fun, they also offer wonderful learning opportunities for my family.
5 Must Do Experiences in Philly This Summer
Visit a Museum
Philadelphia is well known for it's amazing museums, and that is one of the reasons we love to visit so much. This summer don't miss Dinosaurs Around the World at the Academy of Natural Sciences. This breathtaking exhibit includes life-size animatronic dinosaurs that offer a unbelievable sensory learning experience. Also, make sure you check out Marvel Universe of Superheroes at The Franklin Institute. This amazing exhibit gives a behind-the-scenes look at the creativity of Stan Lee and the characters that he has created such as Captain America, Iron Man, Black Panther and Captain Marvel.
Spruce Street Harbor Park
One of our favorite adventures during the summer in Philly was walking to Spruce Street Harbor Park (twice)! Our first visit was at night during which families can relax on hammocks while enjoying delicious food and drinks from various food trucks and stands. There were also oversized building blocks for kids to play with as well as a DJ that sparked my son's inner dancer. We had a wonderful time watching the sun set while spending time together as a family.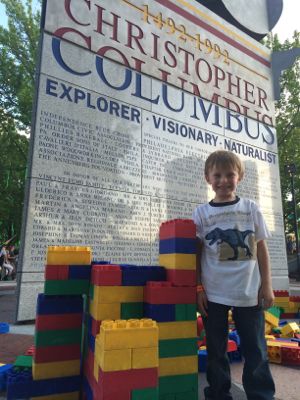 We also visited the following day which brought about an entirely different experience. Vendors were lined up selling homemade crafts and the calming atmosphere was very inviting. We relaxed on a hammock before starting our day of exploring Historic Philadelphia. It is a wonderful place to unwind and have a picnic with your family while taking in the gorgeous views.
Once Upon a Time Storytelling Benches
Located all throughout Historic Philadelphia, families can sit and enjoy stories about the history of this great city. It is a fun and interactive story telling experience that really helps kids understand the history of Philadelphia and our nation. There are 10 benches scattered around Historic Philadelphia. At each bench, kids can get a sticker placed on their flag provided by a storyteller. When they receive 10 stickers, they get a certificate and a prize. My boys received tickets for the carousel at Franklin Square Park. Once Upon a Time Storytelling Benches are available Memorial Day Weekend through Labor Day. Check their calendar for dates and time.
Franklin Square
Franklin Square is a fun and exciting place to visit with your family during your visit to Philadelphia. Not only does it have plenty of open space to run around and play, it also boasts a playground, carousel and mini-golf course. There are also wonderful special events offered throughout the summer such as movie nights, pop-up yoga and festivals. My kids loved riding the carousel, and we are looking forward to playing mini-golf on our next trip!
Art Splash
This summer make sure you check out Art Splash at the Philadelphia Museum of Art. From July 1 through September 5, 2016, families can explore the world of art and engage in creative play. Families can enjoy the Art Splash Gallery, Splash Studio, Family Tours and Family Art Cart. It is a wonderful opportunity to engage all your senses and foster a love of learning through play!
So there you have it! These are 5 amazing places to visit this summer in Philadelphia! What is your favorite place to visit in Philly?
You may also enjoy:
Upcoming Events at the Academy of Natural Sciences
10 Benefits of Visiting a Museum