In full disclosure, I was provided with the Chef costume from Wholesale Halloween Costumes in exchange for my honest review.
At Mommy University, we believe that cooking with kids offers valuable life lessons as well as academic and developmental benefits. Whether it's stirring the pancake mix, making a sandwich, decorating a cupcake or even putting together an elaborate 3 course meal, cooking allows kids to learn and grow in so many amazing ways!
My son loves to cook. In fact, he frequently says that he wants to be a "cooker" when he grows up. Now, I am not much of a cook but I let my son help in the kitchen as often as I can. When he cooks, he loves to wear the chef hat he made in preschool. He also loves to wear an apron he received at a gingerbread house event at the Hershey Lodge when he was about 2 years old. When dressed up, he feels more like a real chef and gets even more involved in the cooking process.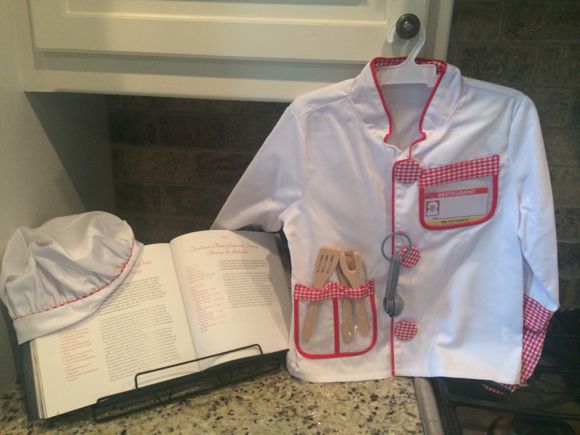 When I saw the Melissa & Doug Chef costume through Wholesale Halloween Costumes, I knew he would love it. Many people only navigate through Halloween costume websites when it's nearing fall, but I find that costumes can be used year round. They are wonderful for sparking a child's imagination, allowing them to tap into their creative side and engaging in role-playing activities. The Chef costume allows for all of those wonderful things to take place. By engaging in pretend play, my son not only gets to live out his dream of being a chef, but he also enhances his creative thinking skills.
I have always been a very big fan of Melissa & Doug products so I knew the quality and durability of the Chef costume would be excellent, but what I really loved was the attention to detail. The Chef costume consists of a white and red chef coat and hat that truly mimics that of a real chef. I especially liked the detail in the checkered buttons. The set also comes with 3 wooden utensils, measuring spoons and a red and white checkered oven mitt. I love how the utensils fit perfectly in the pockets of the chef coat and the measuring spoons hang from the coat. This decreases the chance for losing these cooking tools.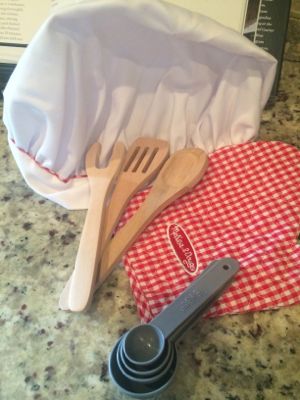 Now you may think these utensils are just for play, but we found out that they serve as real cooking tools as well! My son had a great time using his slotted spatula to carefully place ingredients in a bowl and then mix them together. He also used his spoons to measure ingredients before adding them to the mix. This means that this adorable Chef costume is not only wonderful for pretend play, it offers a practical use as well! In fact, there are many brain boosting ways to use the Melissa & Doug Chef Costume.
4 Fun Ways to Use the Melissa & Doug Chef Costume
Get Cookin'
This Chef costume is perfect for getting your little one excited about cooking. My son felt like a real chef when he wore his costume to prepare a meal with his uncle. His brother also joined the fun by wearing the chef hat. They used the wooden utensils to add ingredients and stir them up. It was a fun experience for everyone!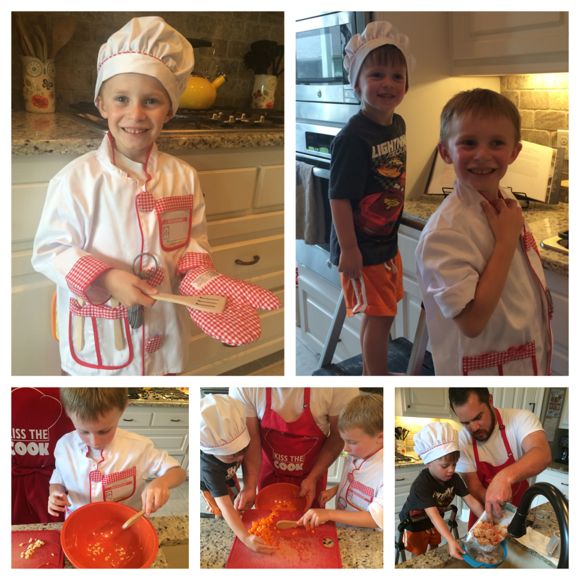 Design Your Own Restaurant
My son loves creating his own restaurant complete with menus. By wearing the Chef costume, my son can feel like the executive chef of his own establishment. He can channel his inner Gordon Ramsey or Bobby Flay by developing unique dishes using his pretend food and kitchen. He can also greet his tables (full of family members of course) in his chef outfit to continue with the role-playing feel.
Attend a Cooking Class
This costume would be so fun to wear to a cooking class such as those offered at Wegmans and ShopRite. It will help the child really engage in the lesson and become more involved. To find some places to enjoy cooking classes check out our article: 10 Brain Boosting Places to Cook with Kids in NJ.
Pretend Kitchen Play
Pretend and imaginary play is so important for children as it enhances their creative thinking skills and language development. This Melissa and Doug Chef costume is perfect to wear when playing in a play kitchen at home or creating meals with a pretend grill. Wearing a costume allows kids to become more engaged in the role-playing activity and helps spark their imagination.
We have had so much fun playing and cooking while wearing the Melissa and Doug Chef costume from Wholesale Halloween Costumes. To purchase your own, please visit their website. Remember, costumes are not just for Halloween but for year round learning through play!
You may also enjoy:
10 Benefits of Cooking with Kids
10 Ways to Introduce Kids to Cooking
10 Brain Boosting Places to Cook with Kids