In full disclosure, we received passes for the Audubon Zoo in exchange for our honest review.
As soon as we finalized our trip to Louisiana, I began researching fun adventures for my family. When I found the Audubon Institute it immediately went to the top of our "must-do" list. It offers everything my family loves: our favorite animals, sea creatures, dinosaurs and even a water park! Better yet, it's located in New Orleans which was another "must-do" experience for us. The Audubon Institute is the perfect brain boosting experience for the entire family!
I was so unbelievably excited when the Audubon Institute offered us passes to explore, discover and play! I knew that my kids would not only have fun, but they would also learn and grow as they took in all the sights and sounds. During our visit, we explored the Audubon Zoo which included Cool Zoo and Dinosaur Adventure as well as the Audubon Aquarium. Since there was so much to see and do at these two amazing locations, we were unable to visit the Insectarium but it is on our "must-do" list for our next visit!
Our first stop was the zoo. We arrived at its opening, 10am, as I knew there were so many things we wanted to see and do. My boys each grabbed a map and began shouting out all the animals they wanted to see. My little one was so excited to see the rhinos and giraffes while my older son couldn't wait to see the alligators. We planned out our route and off we went!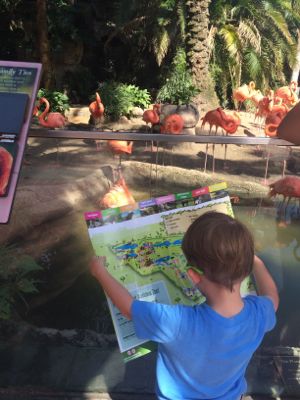 The first exhibit near the entrance was the flamingos which were absolutely stunning. They were a vibrant pink color and very easily visible. Next, we explored the Asian Domain which included leopards, sun bears and a white tiger. In this area from 10am-12pm visitors can also see the elephants. This was my favorite experience on the trip. We were able to get close enough to really see each detail of these magnificent creatures. We also watched in awe as they performed various tricks such as dancing and bowing.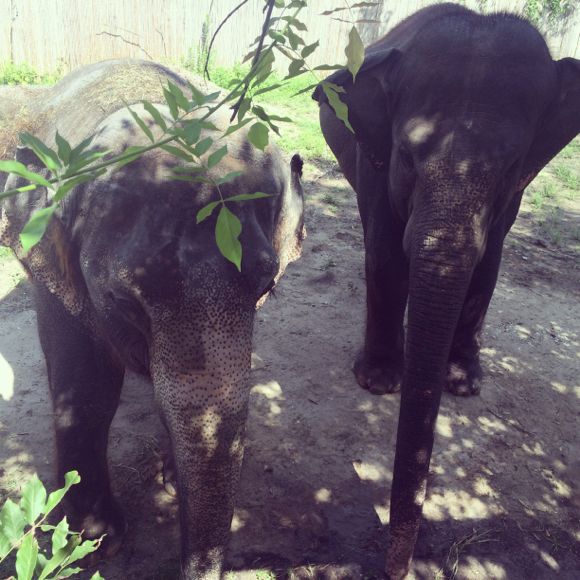 Next, we walked passed the gorgeous elephant statues and fountain and entered the Bambu Village where we saw cockatoos and turtles. We also learned about village life on signs located around the path. As we walked to our next adventure, the African Savannah, we encountered a peacock freely roaming the courtyard. My boys were fascinated by this and so excited to see one up close. Once we reached the savannah, we were so excited to see one of our favorite animals, the rhino. There were actually 4 rhinos to admire! As we explored, we also saw monkeys, zebras, red river hogs and gazelles.
As you know it is really hot in Louisiana, and on this particular day it was 100 degrees. With that said, you can imagine our happiness when we discovered Monkey Hill which offered shade and a water to cool off in. It was a fun place to explore, get your feet wet and recharge your battery. It was also near Twiga Terrace which houses my favorite animals, the giraffes! This unique viewing area offered seating, educational signs and a television showing informational clips all about giraffes. It offered a great space to admire the 3 giraffes as they walked around and ate.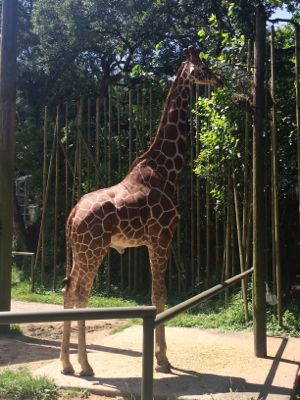 Our next adventure was the Louisiana Swamp which was my older son's favorite area. Not only did we see alligators, bears, cougars and raccoons, but we also learned about life on the swamp. We stopped for lunch at the Cypress Knee Cafe where we dined on Louisiana favorites such as red beans and rice, jambalaya and crawfish pie. Did I mention it's air-conditioned too?
After lunch we explored the Jaguar Jungle which offered a wonderful learning experience for the entire family. Not only did we see animals such as jaguars, sloths, anteaters, spider monkeys and toucans, we also entered into the sacred Mayan world. As we walked through the replicas of Mayan ruins, we learned all about their culture and the animals they loved. My kids also had fun being archeologists digging for lost artifacts. In my opinion, the Jaguar Jungle was the most breathtaking sections of the zoo!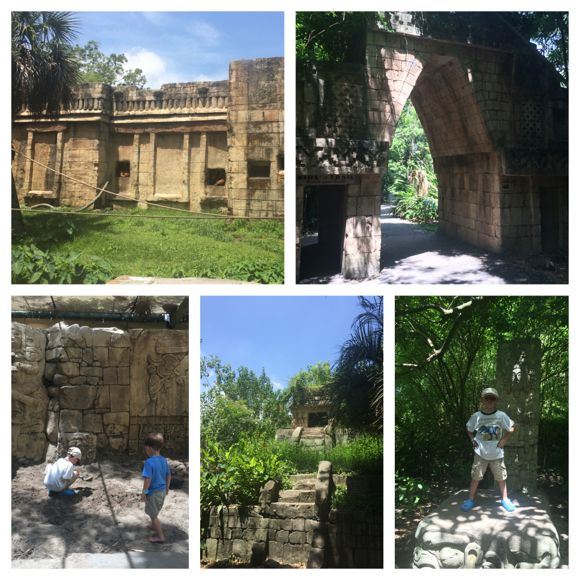 By this point in our adventure, we were definitely ready to cool off. Luckily, the Audubon Zoo has a water park right inside its gates! Cool Zoo, which is an additional fee of $12, offers a wonderful space for families to cool off after a day in the Louisiana heat. It also allows for a great break in between animal adventures. My kids LOVED the splash area that consisted of water-spitting snakes, an alligator slide, a giant dump bucket, several small slides, water spouts, fountains and much more! Cool Zoo also has a very refreshing and inviting 750 foot lazy river that was enjoyed by the entire family. What I loved is that life jackets are available for free allowing children to have a fun and safe experience!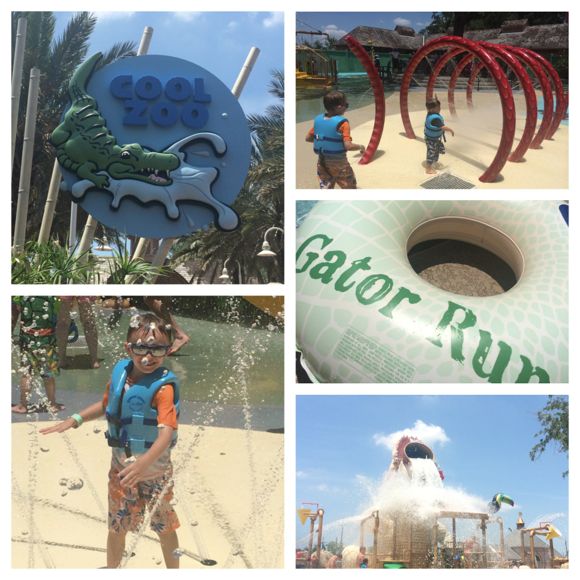 The last stop on our Audubon Zoo experience was Dinosaur Adventure. For an additional $4/person, families can step back in time millions of years ago and enter into the world of dinosaurs. Inside we discovered giant moving and roaring replicas of dinosaurs such as Therazinosaurus, Stegosaurus and Citipati. Outside, we got up close and personal with dinosaurs like Alioramus, Amargasaurus and Brachiosaurus. It was an amazing experience that my children will NEVER forget!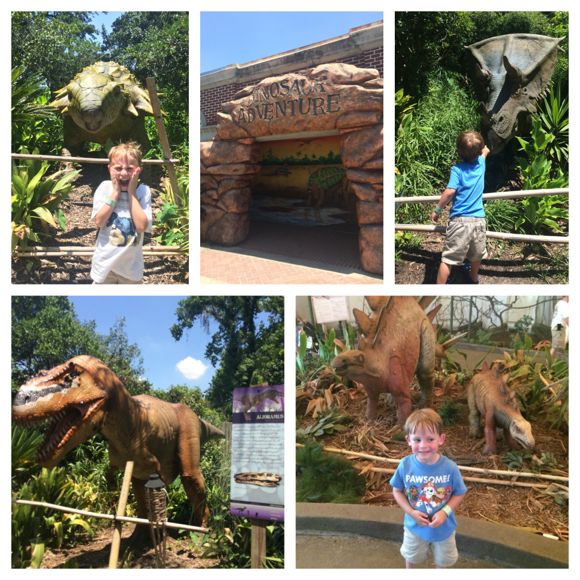 As you can clearly see, there is plenty to discover and explore at the Audubon Zoo. There were even areas we were unable to get to like the Primates, Watoto Walk and Audubon Aviary which we will definitely get to during our next visit. Now no Mommy University article would be complete without discussing the educational benefits of our travel experience so here you go:
Educational Benefits of Visiting the Audubon Zoo
Enhances Academic Knowledge
It is clear that visiting this zoo will enhance any child's academic knowledge especially in the area of animal science. My boys learned a great deal about what animals ate, what their habitat looked like and the impact humans have on the animal's survival.
Fosters an Appreciation for Poetry
Did you know that your kids will also be exposed to poetry during your journey through the zoo?  As part of the Language Conservation project, various poems were placed around the zoo in May 2010. This program was initiated by the Institute of Museums and Library Services and was implemented to "deepen public awareness and appreciation of environmental issues through poetry." By reading these poems together as a family, kids can begin thinking in a new way and gain a better appreciation for art and nature.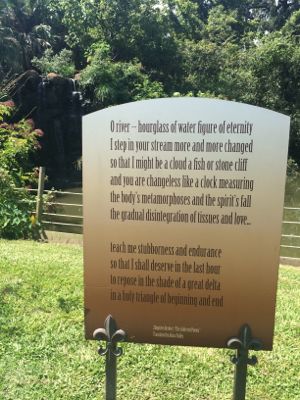 Offers Interactive Learning Fun
I have always said that children learn best when the experience is interactive. The zoo offers an up close and personal experience with the animals allowing children to better understand the details of that animal. The Watoto Walk allows kids to brush and pet animals making the experience even more hands-on. What I love the most about this zoo is that most areas offer unobstructed views of the animals. With exception of few animals, there are few bars, gates or fences to look through. We were able to get a clear visual of each animal which added to my kids understanding.
Fosters Language Development
As my children explored the zoo, they learned several new vocabulary terms and concepts. Not only did they learn animal names, they also learned the names of different parts of the world, various plant life, different cultures around the world and much more. Little ones can enhance their understanding of the concepts of bigger, smaller, tall and short as well as color recognition. Older children can expand their language by describing what they see and talk about what life must be like for each animal.
Introduction to Louisiana History
All throughout the zoo, families will get glimpses of Louisiana history from various historic buildings to the architecture to exploring the Louisiana Swamp area. In fact, the sea lion pool was built in 1928 and is iconic part of the zoo today. Also, did you know that the zoo was built on the site of the Bore Plantation? It is where Bore first granulated sugar in 1795!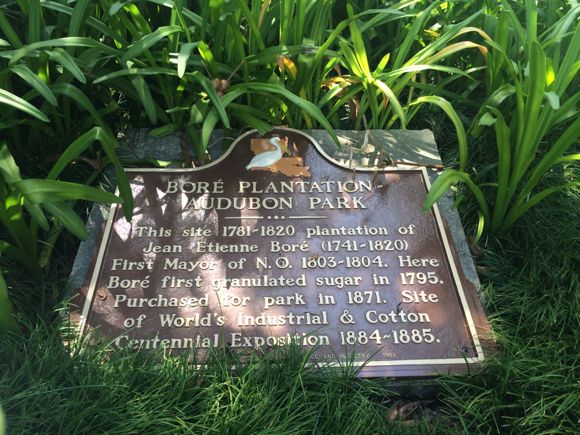 I hope you have enjoyed reading about our adventures at the Audubon Zoo! For more information, please visit their website.