It's great to talk to our husbands but let's be honest, it's not the same as good old-fashioned girl talk. Men don't want to delve into their emotions, think about things way too deeply or gossip. They certainly don't want to hear about how our bodies have changed since we had kids and how our ability to hold our pee will never be the same. They don't want to talk about how this season of the Bachelorette is totally ridiculous!
Moms need girl time. We need our feelings to be validated. We need to whine, bitch, moan and complain. We need someone who understands what it's like to go through the array of emotions that comes along with being a mom. Even though our children need us 24/7, we often times feel so alone. I have frequent conversations about what toy Doc is helping, why dinosaurs no longer exist and what is making that sound outside the bedroom window, but I often long for a good adult conversation!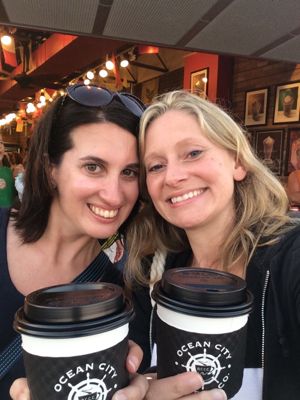 I recently spent 2 days with my friend Julia from Wine in Mom Blog. While our kids played, we drank coffee and talked about our lives and our blogs. We bragged about our kids but also complained about different aspects of our lives. We sat in our pjs, watched the Bachelorette and made fun of EVERYONE on the show. We drank raspberry beer and ate wheat thins after realizing we barely ate all day even though the kids never stopped eating. Now that may sound boring to some, but for me, it was exactly what I needed.
Moms need moms! Moms need time together as I needed those 2 days with my friend. Sometimes the company of a good friend can help put your life back into perspective and make you appreciate what you have. A good friend will encourage you and support you. A good friend will let you gossip, complain, groan, moan and eat lots of carbs! Best of all, a good friend will inspire you to be a better person and mom.
Spending time with girlfriends and other moms also allows you to let your hair down and be silly. You can remember a time when you were young and crazy (well maybe not too crazy). Moms need time away to be silly again and reconnect with the person they once were. While spending 3 days in the city with some good blogging friends, I took funny pictures, hugged a Care Bear, drank coffee while it was still fresh and wore a cute dress without worrying what my kids would get on it. Although I missed my family, it was nice to get away!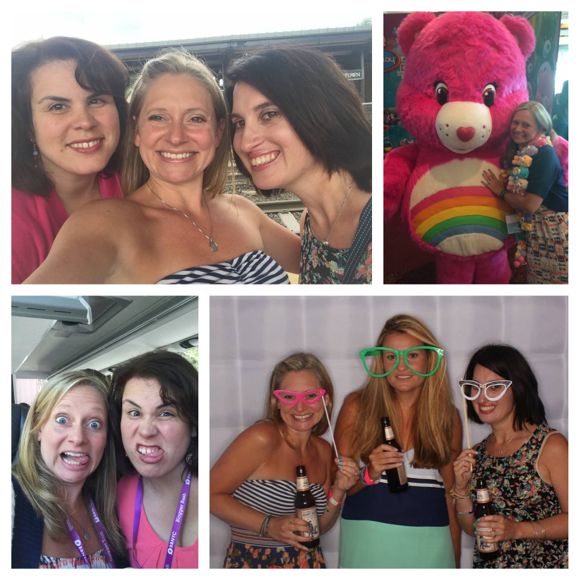 So take some time and relax with friends. Get out for coffee, a pedicure or a trip to the mall. If possible, plan a girls weekend away! Talk about stupid things and important things. Comfort your friend in need and support her through tough times because she will do the same for you. We all need girlfriends and, most of all, other moms to help us stay sane!
Thank god for girlfriends!