In full disclosure, I was provided one adult ticket in exchange for my honest review.
Are you looking for a unique, inspiring AND educational experience your entire family will LOVE?
Of course your answer is YES so I have just the adventure for you! Lake Hopatcong Cruises offers a relaxing day on the lake complete with an amazing meal and gorgeous views. Leaving out of Nolan's Point six days a week, Lake Hopatcong Cruises offers excursions to meet everyone's interests.
Lake Hopatcong Cruises started last year in 2014 and has been a hit among residents and visitors from the start. Each cruise takes place on the beautiful Miss Lotta, a 57-foot SkipperLiner dinner cruise vessel. It boasts a completely refurbished dining room with a full bar. Miss Lotta also offers a covered upper deck allowing guests to feel the wind in their hair and the sun on their face. The gyro stabilization system allows for a smooth and relaxing ride.
Lake Hopatcong Cruises' mission is to "provide you with the highest quality service, while treating you to a truly delicious meal and a relaxing cruise, which you and your guests are sure to remember."  That is exactly what we experienced on our first excursion on Lake Hopatcong Cruises. Since we love educational experiences at Mommy University, we chose to enjoy the Weekend Narrated Brunch Cruise which is a narrated tour of Lake Hopatcong by historian Marty Kane. It also includes an amazing brunch catered by Alice's Restaurant. We could not wait to learn about the history of the lake.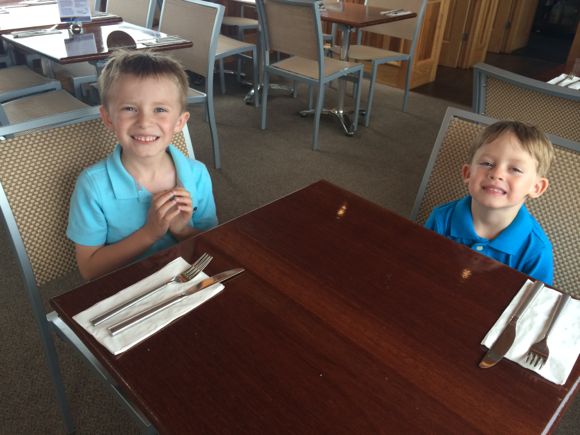 When we first arrived on the boat, we were seated at a table next to the window with a great view of the lake. Each table was provided a copy of the book Then and Now, written by the historian who was narrating the cruise, Marty Kane. It was a wonderful way for the guests to see what an area looked like many years ago and compare it to what it looks like now. It was also another wonderful way to help guests visualize and understand the history that was being discussed.
Once Miss Lotta left the dock, our drink orders were taken as we listened to the narrator provide facts about the lake and point out interesting landmarks. Then each table was called up one at a time to help themselves to the brunch buffet. The meal included: salad, fruit, rolls and butter, scrambled eggs, bacon, sausage, chicken, macaroni and cheese, potatoes and vegetables. They also offered my children chicken tenders and fries. The meal was absolutely delicious. My kids ate every bite on their plate and even asked for seconds.
When we were finished eating, we decided to check out the top deck. The boys were provided life jackets as a safety precaution which made my oldest more comfortable as he was nervous to ride on top of the boat. We enjoyed a gorgeous, uninterrupted view of the lake while listening to the historian share stories about the past. I loved looking at all the old homes as well as the new and more modern houses. We also loved watching all the boats and jet skis whiz by us as we calmly moved along the lake.
I found the Narrated Brunch to offer a unique and educational experience for myself and my boys. As you know I am always looking for teachable moments and ways for my family to grow and learn. Lake Hopatcong Cruises definitely provided that opportunity!
Benefits of Enjoying the Narrated Brunch on Lake Hopatcong
Encourages an Appreciation for Nature
We often don't take the time to stop and look at the world around us. This cruise provides families the opportunity to soak in the beauty and wonder of Lake Hopatcong. We learn the importance of keeping the lake clean so it can serve as a home to people and wild life. We also learn the importance the lake serves to its surrounding communities.
Enhances Historical Knowledge
The Narrated Brunch Cruise allows families to learn all about Lake Hopatcong's history while seeing it firsthand. By listening to the stories and then seeing the landscape firsthand, guests can better grasp the history of the lake. It is also important to understand how the lake came to be and its impact on society. It was so interesting to learn about the Ice Houses and booming hotel industry. It was also interesting to learn that although Lake Hopatcong is a natural lake, man did help it along in rising 12 feet higher than its original state.
Introduction to Wildlife
As families cruise along the lake, they learn about the various wild life that can be found in and around it. Lake Hopatcong is known for its year-round fishing opportunities, but did you know it had a Knee Deep Fishing Club with about 1000 members including kids? During the cruise, you also learn about various ducks and birds. We were lucky enough to see 2 Bald Eagles perched in the trees. We even saw one fly down and grab a fish right out of the lake. It was an experience we will never forget.
At the end of the cruise, we enjoyed delectable desserts. While the boys polished off chocolate mousse with whip cream, I enjoyed fabulous lemon meringue. It was the perfect end to the perfect afternoon. Not only were our bellies happy, our minds were full of new knowledge, and we created memories to last a lifetime!
For more information, please visit the Lake Hopatcong Cruises website!