In full disclosure, our dining experience at Trevi 5 was covered by The Hotel Hershey in exchange for our honest review.
I have been visiting Hershey almost every year since I was a little girl, but I have only stayed at The Hotel Hershey once over those 30+ years. After my most recent trip to Hershey, PA, however, I am now begging my husband to stay there in the very near future!
Although we love the Hershey Lodge and Campgrounds there is something so magical and enchanting about The Hotel Hershey. It's like taking a trip back in time when Milton Hershey created this amazing new world. The grandeur and glamour are breathtaking and inspiring. What's interesting is that I felt this way just by visiting, not by being an overnight guest. I can only imagine the whimsy and excitement felt when staying in one of their lush rooms with a gorgeous view of Hersheypark or the Hershey Gardens.
Although it was a rainy day when we first arrived at the hotel, it was still a breathtaking sight. We walked through the check-in area and up to the lobby which was magnificent. Since our mission was finding a great meal, we perused the hotel for options. Since our son's name is Trevor (with a nickname of Trevi), we felt it was only fitting to choose Trevi 5 as our dinner destination. We made reservations for 4pm and decided to check out another location for a cocktail.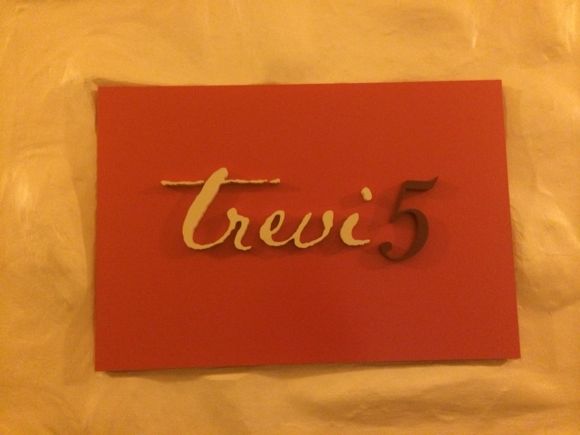 After looking at the menus that are available online for each dining establishment at The Hotel Hershey, I knew exactly what drink I wanted and where I would have it. The Harvest, located by the amazing Woodside Cottages, offers a variety of drink selections in a golf club like atmosphere. What drink did I want you ask? The Reese's Peanut Butter Cup Martini, of course! This fabulous drink is made with Castries Peanut Butter Rum, 360 Chocolate Vodka and Marie Brizard Chocolate Liqueur. Doesn't that sound delicious?
When we arrived at The Harvest, I found it to be warm and inviting. The hard wood and stone fireplaces made it a very cozy atmosphere for any season. My husband and I sat at the bar and were greeted by a very friendly bartender. Without hesitation I ordered my martini and my husband ordered a beer. While waiting, we were given a bowl of mixed bar nuts and snacks. They were delicious! I then watched as the bartender placed 2 mini peanut butter cups in the glass and poured the cocktail over them. The rim of the glass was coated with chocolate syrup which added to each delectable sip. It was everything I dreamed it would be and more!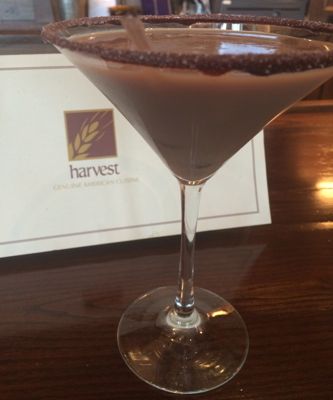 After finishing our drinks, we took a nice and relaxing walk back through the fountains and gardens to the main hotel. It was time to enjoy a dinner for two at Trevi 5! I loved the decor and atmosphere of this restaurant. It was modern but welcoming. I loved the clean lines and crisp white walls with the pop of bright color found in the gorgeous chandeliers. We sat in the dining room due to the rain, but the outdoor seating area looked amazing and had a great view!
Trevi 5 offers authentic Italian Cuisine with a contemporary twist. It is open daily for lunch (11am-5pm) and dinner (5pm-10pm). Since our reservations were at 4pm, we chose meals off the lunch menu which offered a wonderful selection of delicious Italian dishes. To start our meal, we were provided a large bottle of water along with a basket of warm rolls. We then poured the olive oil provided in a Trevi 5 bottle onto a plate which we enjoyed dipping the bread into. We happily ate our bread as we looked over the menu.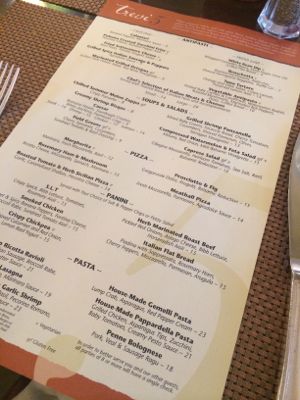 For my meal, I chose the House-Made Papparella Pasta with grilled chicken, asparagus tips, zucchini and baby tomatoes in a creamy pesto sauce. Sounds amazing right? Well, it was! When my meal arrived, I was in awe. The generous sized portion boasted bright green and red colors making it look like art on a plate. With each bite, I was more and more in love with this dish. The sauce was fresh and creamy while the asparagus added a nice crispness and the tomatoes added a burst of flavor. I loved all the different textures and flavors working together to make one stunning Italian meal.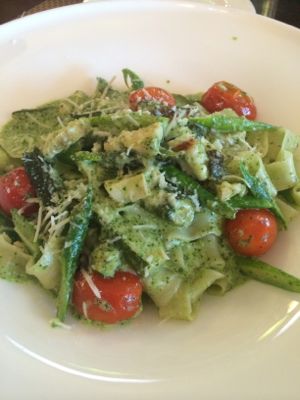 My husband decided to take pieces from two different meals to create his own. He ordered the ravioli with the bolognese sauce which was made from pork, veal and sausage. When his meal arrived, we were quite impressed. Good thing we saved some bread because there was definitely enough sauce for dipping! (As Italians, this is often our favorite part of the meal!) The sauce offered a wonderful balance of flavors while the raviolis were cooked to perfection. Needless to say, there was nothing left in my husband's plate when he was done!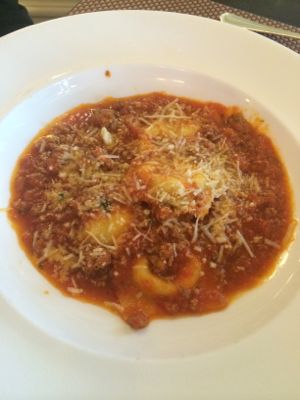 We were comfortably full by the end of our meal. That meant, however, we did not have room for dessert. Although their selection looked divine, we had to pass this time around. We definitely plan on returning in the near future, and I am looking forward to trying their Classic Tiramisu and Abruzzo Chocolate Torte. My husband is looking forward to trying their Chocolate Hazelnut Cheesecake.
These days it is so hard to find time together as a couple, and date night is a rare occurrence. It was so nice to spend time together and enjoy each other's company without worrying about what the kids needed (and wanted). It was just about us! I am looking forward to many more date nights and getaway weekends at The Hotel Hershey!
Also check out these articles:
Relax, Unwind and Rejuvenate at The Spa at The Hershey Hotel