Are you looking for something fun and exciting to do this summer that will also boost your child's academic and cognitive development?
Well, of course your answer is YES!
There are so many wonderful activities, events and places to see over the summer in New Jersey that it is hard to narrow down the choices. As you know by now, I am always looking for a learning experience for my children. I want them to have fun, but I also want them to grow and develop into well-rounded individuals. The best way to do that is to expose them to as many educational experiences as possible.
This summer I thought it would be fun to focus on expanding our children's' imaginations. As Albert Einstein once said, "Creativity is intelligence having fun." Being able to use your imagination to create new ideas and new worlds is how the greatest minds of our time have developed the things we enjoy today such as computers, iPads and, my favorite, Disney World! Allowing our children to explore their creative side also helps expand their intellectual ability and will prepare them for great success in life. So what are you waiting for? Go Play!
10 Brain Boosting Summer Experiences for 2015
Wild West City
From Stagecoach rides to bullwhip shows to even a barnyard zoo, Wild West City has enough fun and excitement to keep your family entertained all day! Located in Netcong, Wild West City allows guests to step back in time and explore the old frontier. With 22 live action shows including a Stagecoach Hold Up, kids and parents can truly imagine what life was like over 100 years ago. Wild West City is open daily from 10am-6pm and admission is $16.75/adults, $14.75/children ages 2-11 and $12.75/seniors.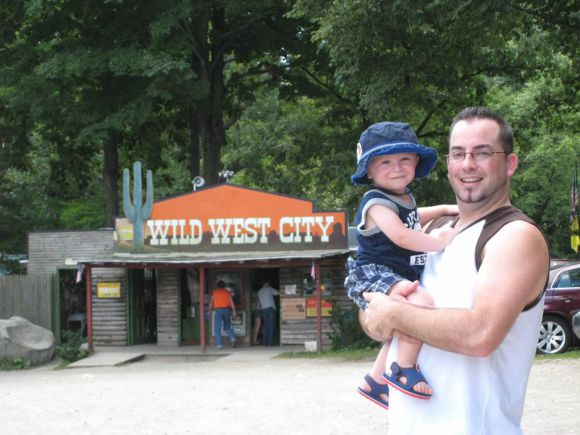 Medieval Times Dinner and Tournament
Located in Lyndhurst, Medieval Times sparks the imagination for the moment you pull into the parking lot and see the magnificent castle. Once inside, kids and parents will feel transported to another world where Kings and Queens ruled the Kingdom and knights had to fight for their honor. Families will have a blast cheering on their knight while dining on an amazing meal using only their hands (you can ask for utensils, but where's the fun in that?). Families will be entertained by breathtaking horsemanship, jousting competitions, falconry and more! It is an experience your family will remember forever! Check their website for prices and show times.
The Land of Make Believe
Located in Hope, The Land of Make Believe offers a day full of fun, adventure and excitement. It's where parents get to be kids again and kids get to, well, do what kids like to do, have fun! Guests can pretend to be pirates on the Buccaneer Pirate Ship, alligators hiding in the water or train conductors while riding the train around the park. Where else can you see Santa in the middle of the summer? Yes, you heard correctly. Guests can explore Santa's Enchanted Christmas Village and get a head start on giving Santa their Christmas list! Land of Make Believe is open daily from 10am-6pm and admission is $26/adult, $28/child ages 2-18, $24/seniors and children under 2 are FREE!

Cohanzick Zoo
As you know, we LOVE zoos at Mommy University. They offer so many amazing benefits for children, and they are the perfect place to spend a summer day. Cohanzick Zoo, located in Bridgeton, was NJ's first zoo as it opened in 1934! It may be a small zoo, but it offers around 100 animals from more than 45 different species. The zoo is open every day from 9am-5pm and admission is FREE! This summer, let your kids explore the world of animal science and zoology at the Cohanzick Zoo. Let them pretend to be zoologists at events such as Tiger Talk and Animal Encounters or maybe even enroll them in Zoo Camp!
Storybook Land
Celebrating 60 years of family fun, Storybook Land is a must see attraction this summer. Kids imaginations will go wild when they step out of the car and into their favorite storybook. As stated on their website, "Storybook Land has been keeping the spirit of childhood alive in an entertaining and educational atmosphere." Children will be elated as they get to walk through their favorite nursery rhymes. This interactive story telling approach is wonderful for enhancing the comprehension of these classic stories. Storybook Land also offers exciting rides and fun special events such as Christmas in July (7/18), Pirate and Princess Adventure Weekend (7/25-7/26) and Alice in Wonderland Tea Party (8/1). Storybook Land is open daily 10am-5:30pm and admission is $24.95/ages 2 and up and $21.75/senior.
Ellis Island
There is an ongoing debate as to what state Ellis Island and the Statue of Liberty are in, but for our purposes let's just say they are in New Jersey! Ellis Island is an amazing historical site that will transport families to another time in American History. Kids can imagine what it was like to come to America by ship and how difficult it was to create a new life in a new world. By allowing kids to engage all their senses while exploring Ellis Island, they will be able to better understand our country's history as well as empathize with the people of that time. It is a wonderful learning experience for the entire family! Ellis Island can be reached by taking Statue Cruises and is open daily from 9am-5pm with extended hours in the summer.
Lake Hopatcong Cruises and Golf Club
Enjoy the day on beautiful Lake Hopatcong this summer! An exciting and unique way to explore the lake is do enjoy a trip on Miss Lotta with Lake Hopatcong Cruises. Families can enjoy a wide variety of cruises such as a Historical Breakfast Tour, Narrated Brunch Cruise, Scenic Cocktail Cruise and more! We recently enjoyed a wonderful Narrated Brunch Cruise during which my family and I learned about the rich history of Lake Hopatcong. My kids also imagined what it would be like to live on the lake as well as what the lake looked like when it had Ice Houses and magnificent hotels.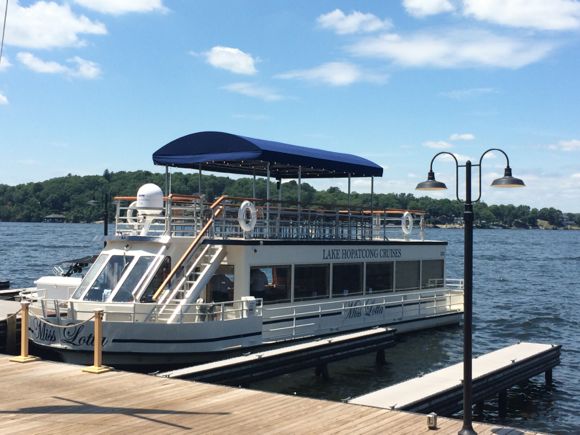 After enjoying a wonderful cruise on the lake, let the family play an exciting game of mini golf at Lake Hopatcong Golf Club. Kids will enhance gross and fine motor skills, visual-spatial skills and patience while playing a game of golf. While playing, guests can also learn about the history of Lake Hopatcong at each hole. It also has an amazing view of the lake!
Ocean City
I would be remiss if I did not include at least one Jersey beach in this list! After visiting for the first time this summer, I completely see what all the hype is about with regard to Ocean City. It is a beautiful family-friendly town full of brain boosting summer fun! The beach offers endless possibilities for imaginary play and sparking a child's creative side while the boardwalk offers excitement and wonder. The many mini golf options allow kids to have fun while boosting motor and visual skills. If you are planning a trip to the Jersey Shore this summer, make sure you check out Ocean City!
Garden State Discovery Museum
Although we love to be outside in the summer, there are many days that being inside is the perfect way to spend the day. This summer, take a trip to the Garden State Discovery Museum in Cherry Hill where kids can engage in hands-on learning fun. On their website it states, "We are a celebration of imagination for children ages infant through 10 years old!" Now that is exactly what we are looking for at Mommy University. From pretending to be a paleontologist in the Dinosaurium to being lifeguards in the Down the Shore area to dressing up like a prince or princess and exploring a castle, there is something to spark everyone's imaginations! The Garden State Discovery Museum is open daily in July and August from 9:30am-5:30pm. Admission is $12.95 for guests over 12 months old (seniors are $11.95).
Monmouth Park
You may be wondering how a race track is either family friendly or brain boosting. Well, let me tell you, it is definitely both! At Monmouth Park families can enjoy a beautiful summer day watching the horses, playing in the playground and enjoying a picnic together. Also, every Sunday is Family Fun Day which offers FREE pony rides, face painting, clowns, a bounce house and more! Monmouth Park also allows kids to imagine what it's like to ride or own their own horse. They can also pick their favorite horse to win and cheer him on as he races by. For older kids, they can work on their math skills when figuring out the odds of their favorite horse winning the race. It's a fun day for the entire family! Admission is only $3 for visitors ages 13 and up!
You may also enjoy:
10 Brain Boosting Summer Experiences in NJ 2014
Free Brain Boosting Summer Fun
Upcoming Events at Wild West City
10 Brain Boosting Spring Experiences in NJ
Discovering the Wonder of Science in NJ