We are so unbelievably excited and honored to partner with the Academy of Natural Sciences in Philadelphia. Mommy University was provided a membership in exchange for sharing with our readers all the amazing Academy adventures for the entire year including brain boosting exhibits, events and programs. I hope you will follow us along this incredible journey!
Did you know…
A favorite food around the world is broiled, barbecued and baked bat?
Cowboys used to cook up grasshoppers for dinner?
Tapeworms can grow up to 60-feet long?
These are just a few of the facts you will learn as you explore the Animal Grossology Exhibit at the Academy of Natural Sciences in Philadelphia. This gross and icky exhibit will engage all your senses as it takes you on a disgustingly fun learning adventure!
The Animal Grossology Exhibit is inspired by the best-selling children's book series Grossology by Sylvia Branzei. It is a wonderful way to bring stories to life and allow children to jump into the pages of their favorite book. Allowing kids to touch, feel, smell, see and explore their favorite stories helps them better comprehend the concepts and ideas shared by Ms. Branzei.
From the moment you enter the Animal Grossology Exhibit you are swept into the world of everything gross! From learning how cows digest food to seeing what strange things people eat around the world to investigating owl poop, you are sure to be grossed out. What I love the most about this exhibit is all the interactive experiences it provides. My kids love museums, but they especially love when they are engaged in the learning process.
The Animal Grossology Exhibit offers several multi-sensory, hands-on experiences for kids. Amongst the displays full of pictures and factoids, there are activities that help kids truly understand the disgusting side of life. There are trivia games as well as giant toilets to look in. The displays are bright and colorful which draws kids in even more to look at everything around them. Here are some of our favorite hands-on exhibits:
Belch-a-Baby
This was the first interactive exhibit my kids gravitated towards. While learning why frogs belch and how the babies are born, they played a fun game that involved gross and fine motor skills, problem solving and visual-spatial skills. My boys filled a frog with plastic balls and then launched them out of the frog's mouth trying to get them to safety. They had so much fun trying to save the frogs!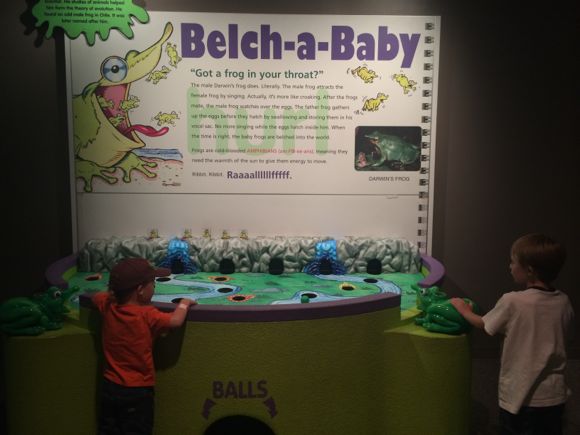 How a Cow Digests Food
In the center of the room is a giant cow where one side is open so kids can learn how food is digested. By pushing certain buttons, the inside lights up and shows the way the food moves through the cow's body. The button-board also displays a drawing of the inside of a cow with various organs labeled. My kids were mesmerized by the lights and sounds of this exhibit. It was a great learning experience.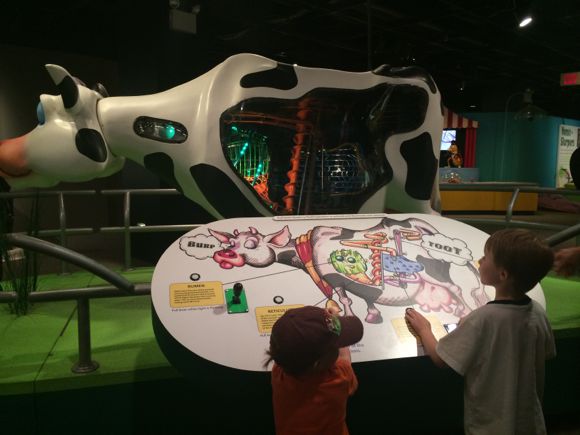 Scents
This exhibit engaged the sense of smell which is a very important sense for animals. It explained how animals use their sense of smell to communicate with other animals. They also use scents to mark their territory and attract a mate. This exhibit offered 4 smelling stations where guests could smell a specific scent then guess what it is. They also learn what that scent is used for.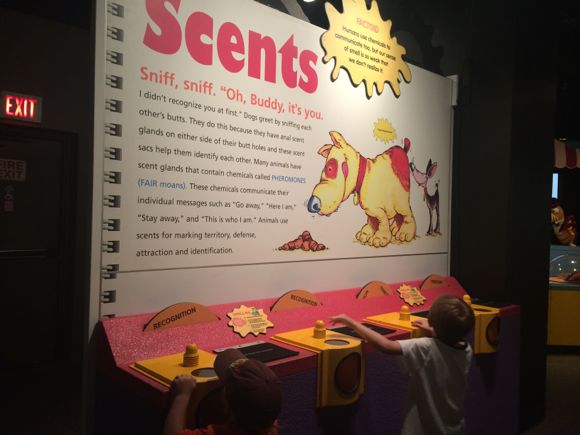 Vomit Slurpers
For this exhibit, each time a person presses a button on the podium, a giant animatronics fly will tell a story. My kids learned how and what flies eat as well as how they digest food. They also learned how to protect their food from flies.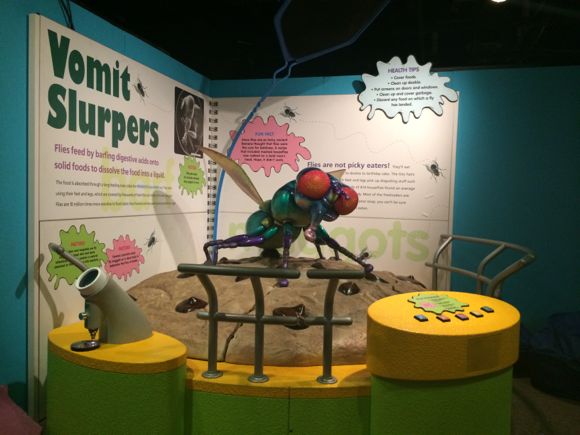 Grossology Zoo
Who wants to learn about poop? Kids do of course. This exhibit offers a fun way to learn about animal poop. Kids have to decide what pile of poop matches which animal. There is even a recipe on the wall for how to make edible poop. I am going to have to try that at home!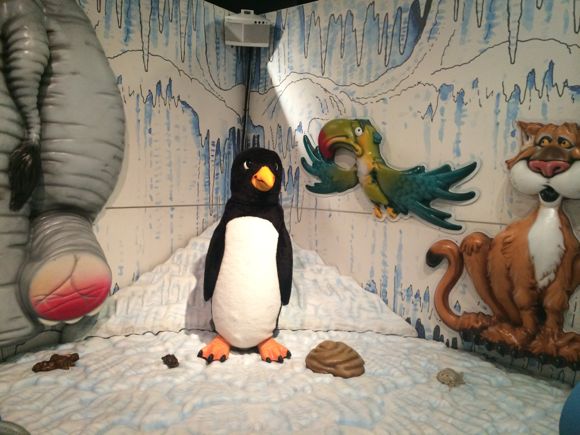 Not only are there interactive areas throughout the Animal Grossology Exhibit, there are also disgusting activities scheduled daily and throughout the week. Here are some of the gross fun you and your family can enjoy:
Cart of Curiosity
This cart allows families to get up close and personal with disgusting but useful animals and animal products. Guests can learn about how honey, perfume and silk are made as well as visit with maggots. On Saturdays and Tuesdays, guests will get to see exciting reptiles on the cart as well!
Dissection Wednesday
Every Wednesday from 10am – 1pm guests can watch the dissection of animals such as a sea urchin, worm or squid. You may even see the dissection of a cow's eye!
The Power of Poop
They really love poop at the Animal Grossology Exhibit! With this cart of curiosity, guests will get to match rubber poop with their animal origin as well as learn about the pooping patterns of animals. How gross AND cool is that?!
The Animal Grossology Exhibit will be grossing people out until August 30, 2015. General admission is needed to enter this exhibit along with an additional $5 entry fee for this special exhibit. If you have a museum membership then the exhibit is FREE! Another great reason to get a membership today!
For more information, visit the Academy of Natural Sciences website. Also, check out our Facebook Photo Album!
You may also like:
Upcoming Events at the Academy of Natural Sciences
Learning Through Exploration and Discovery at the Academy of Natural Sciences